Meet Arizona Agriculture's Mark Spencer Family
By Liz Foster and Justen Ollendick, Arizona Farm Bureau: Starting out as a family-owned business for years and at one time the largest independent citrus growing, packing and marketing operation in Arizona this family citrus business has a great tradition in the agriculture industry in Arizona.
Tell us about your agribusiness operation(s): Associated Citrus Packers, Incorporated grows and harvests citrus fruits, mostly lemons. They used to package and market them in-house.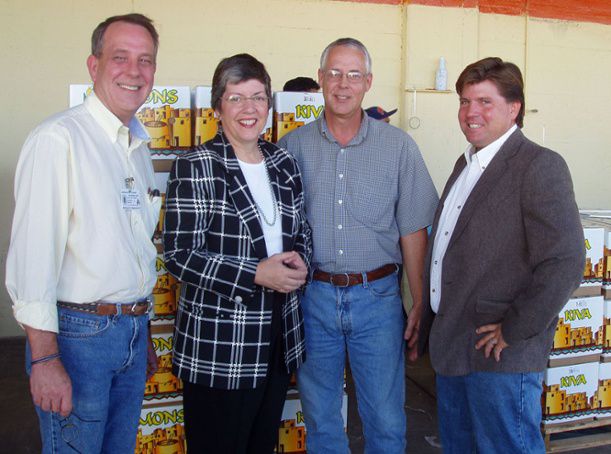 Always representing Yuma agriculture to our political leaders, brother Bill Spencer (far left), Former Arizona Governor Janet Napolitano, Mark, and Farm Bureau member and Yuma farmer Tim Dunn met several years ago with the governor to show her Yuma's multi-billion dollar agriculture industry.
Why did you choose to go into agriculture? The family agriculture business needed my help back in 1983, I was a CPA.
What changes have you seen in your lifetime as it relates to farming, ranching, or agribusiness? Increased technology, increased globalization, and increased regulatory and administrative requirements. Increased technology and globalization were for the better, however regulatory and administrative aren't beneficial.
Will anyone in your family - younger generation - pursue farming, ranching, or agribusiness? No, we merged our company into a larger entity. I now work for Associated Citrus Packers. My four children love agriculture, but were not interested in working in it. Maybe one of my seven grandchildren will be.
Would you ever consider changing your business model? Maybe. Most times, it's better to stay with what works.
What are your community activities? Yuma Mesa Irrigation Drainage District board, Yuma Mesa Citrus Pest Control board, Yuma County Pest Control Abatement District board, Arizona Citrus Research Council, Treasure of the Christ Lutheran and Yuma Lutheran School, and Treasurer and board member of the School Tuition Association of Yuma.
What do you do really well? I sustain my interest. I am curious about people, places, and things – including history and politics.
What is one achievement/experience/fact that no one knows about you? I played music semi-professionally since I was 16. I joined a rock 'n roll band in 2009 but had to quit after 18 months – the gigs went way too late.
Why are you a farm bureau member? To continue my education and to associate with other Yuma and Arizona farmers.
How will the next generation of agribusiness leaders have to operate? Within a very large organization or a micro business. The small agriculture industry is steadily being squeezed out of existence.
What's the best business advice you've ever been given and/or experience? Or, what business-oriented advice would you give young farmers/beginning farmers?
Keep it simple.
You can't always be right, but you can be consistent.
A good deal is a good deal for everyone.