Meet Arizona Agriculture's Milton Smith Family
By Milton "Le" Smith, farmer from Maricopa County farming in San Tan Valley (between Queen Creek and Florence): The first connection my family had to Arizona Agriculture was in 1901. My mother's grandfather, William Hannibal Stewart, was indirectly involved with establishing the Verde Water and Power Co., which was similar to Salt River Project but on the Verde River. I still have a leather bound copy of its bylaws and prospectus from 1901. William was a preacher and his written opinion on the project from God's point of view was included in the book. Later Verde Water and Power became part of Salt River Project.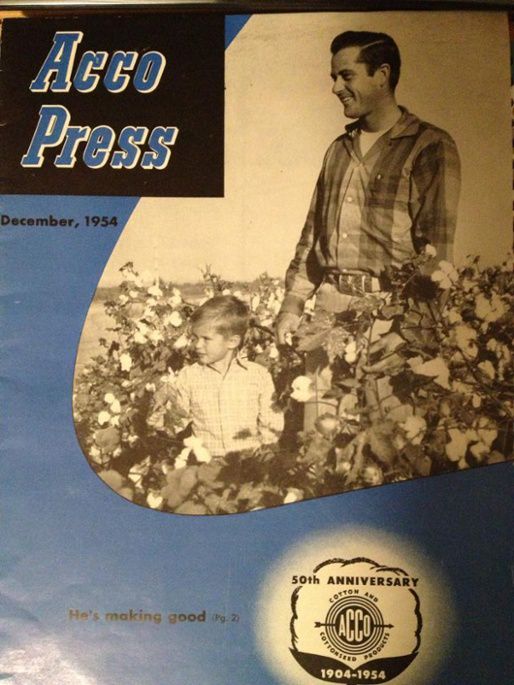 Le Smith as a young boy with his dad, Milton P. Smith Jr. (Bud), on the cover of ACCO Press.
My grandfather, Milton P. Smith, a cotton broker from Rhode Island, came to Arizona to buy Pima cotton. Dr. A J Chandler, who had developed a variety of long staple cotton, was one of the people with which he did business. Soon after that in 1919 my grandmother, Fannie, moved to Phoenix to join him. She used to tell the story about her trip out to Arizona on the train in August. There were no direct lines to Phoenix, you had to get off in Maricopa and take another train to Phoenix. She soon discovered the wool suits she wore in Rhode Island were a bit warm for Arizona. The water tanks used back then to fill the steam locomotives are still standing in Maricopa by the tracks.
My father, Milton P. Smith Jr. (Bud), was born in Phoenix in 1926.
In 1943 Milton Sr. bought 5 sections of raw desert land 10 miles south of the town of Maricopa and 10 miles west of Stanfield. He then cleared the north half of the property, drilled wells, put in concrete ditches and leveled the ground for irrigation. Cotton was the main crop.
While studying agriculture in 1948 at the University of Arizona, Bud married Vada Le Stewart. They moved to a small house on his father's partially developed cotton farm. Bud spent the next few years farming the north half while he finished developing the south half. Dale Pixler, the father of a good friend Lance, did some of the well drilling on the later developed south side. The farm is now part of the Maricopa Stanfield Irrigation District, which gets most of its water from the Colorado River via the CAP.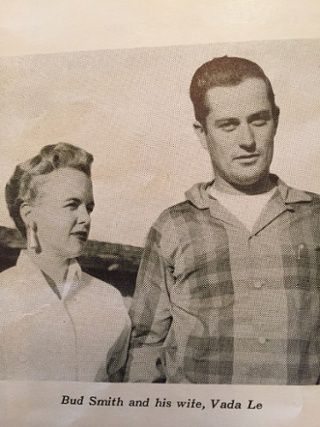 Two years later, I, Milton "Le" Smith, was born.
Milton Sr. was a pilot and in 1951 while flying from Phoenix to the farm he went down in his plane and died in the crash. I found out many years later that where he crashed was on the farm owned by my wife Jacque's grandfather, Tom Kunze. Tom was the first person on the scene of the crash. Small world.
After Milton's death the farm was divided between my grandmother, my dad and my two aunts, Winifred Erickson and Marilyn Orme Jessup. Bud farmed everything but the Jessup piece. Martin Talla farmed that ground for many years then his son, Pat, took over. My Aunt Marilyn had another connection to Arizona agriculture; she was married to Mort Orme and lived on the family cattle ranch near Mayer, Arizona. Mort Orme's nephew, Paul Orme, is now the attorney for three CAP irrigation districts: NMIDD, MSIDD, and CAIDD.
The first house on the farm that Bud and Vada lived in was a small, Gunite (mix of cement, sand and water applied through a pressure hose), tin roof house built by Milton Sr., which had no cooling, no phone and only had electricity when the generator was running. Later, Bud built a nice home on his part of the farm. My three younger brothers, Stewart, Mike and Gary, were born after we moved to the new house. Vada had her hands full.
Our first mechanical cotton pickers were one row International Harvesters made from an M tractor facing backward with a basket mounted on it. Before that I can remember "Braceros" coming from Mexico to hand pick our cotton. Bud and Milton Sr. had built a camp for them to live in complete with its own grocery store. There were times at camp that things got out of control so Bud had to be peacekeeper.
Sometime before he died, Milton Sr. sold approximately 20 acres of land to El Paso Natural Gas Co. They installed a huge gas line across the farm and put in a pump station called the "Gas Plant". When completed the farm sold them water to fill the pipeline to check it for leaks. There were eight houses on the property for the families of the men that ran the station. It was a great place to hang out; there were many kids around the age of the Smith boys and we became close friends. The Gas Plant is still there today but is now fully automated and no one lives there.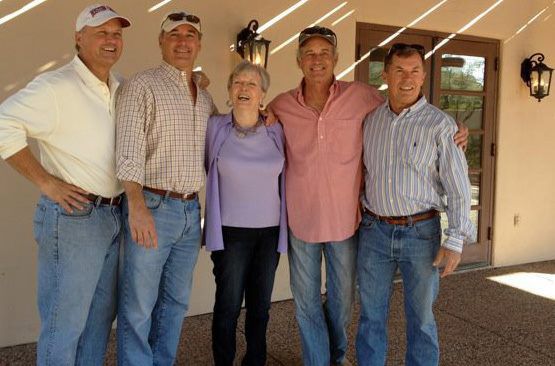 Vada Smith surrounded by her boys Gary, Mike, Stewart, and Le. Vada was a recognized artist among her peers and her paintings and murals grace the walls of many places in Arizona including farm family homes.
Not long after we moved into the new house Bud went into the cattle business. He built a feedlot next to the farm and purchased the Vekol Valley Cattle Ranch located on the west side of Table Top Mountain, 25 miles southwest of the farm. The ranch brand was the V up V down. He bought a registered herd of Brahmas because he thought the best breed for the rugged terrain of the ranch would be a cross between a Brahma and a Herford. This new venture helped the farm because it was then in the business of growing feed for the feedlot. The ranch was mostly BLM grazing lease but it included two old homesteads. Oliver and Ava Sloan, the ranch manager and his wife, lived on one of the homesteads in an old ranch house built in the late 1800's. The source of water was a 4'x4' hand dug well with a windmill. Their electricity came from a diesel-powered generator. There were many items found on the ranch from early settlers and Indians. One of these items was a metal sign that indicated the number of miles to Ajo, Gila Bend and Maricopa Wells. I think at one time the lower homestead on the Vekol may have been a stagecoach stop. There are also some Indian ruins at a place on the ranch Oliver called "Paradise" located a few miles south of his house. He found some Indian clay pots; a few complete some partial. There is a spring not far from the ruins that was their source of water.
On one of our trips to the ranch, Bud and I pulled into the lower headquarters and Harry and Toby (Oliver's two sons) had something to show us. They had head and healed a very large bobcat and put it in a cage. I would have loved to have seen that rodeo. Most of the time we moved our cattle by truck. A couple of times we herded them from the farm to the ranch. My cousin, Chas Erickson (another Smith family Arizona Ag connection), was on a few of the cattle drives to help. He later bought part of and runs cattle on the Salome ranch located on the north side of Roosevelt Lake.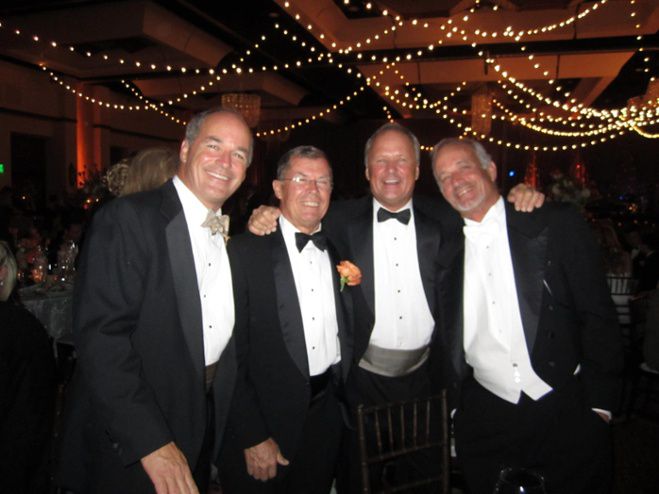 A more recent picture of the Smith brothers.
Another business venture of Bud's was "Engine Service Co." in Casa Grande that originally bought and sold Navy surplus PT boat engines called Hall Scotts. Then he got the dealership for Roialine engines. Both of these engines were used for power to pump irrigation water. Later the motors used for pumping irrigation water were electric. Engine Service Co. also had the dealership for Allis Chalmers tractors.
While growing up I worked one time or another at all three places; the farm, the ranch and Engine Service and It was a great learning experience.
While I was studying Agronomy at the U of A, in 1976 the family farm was sold. It was my secure place on earth and it was gone. It was a tough time for me; I had lived in five different houses on the farm since I was born. The farm was home and it broke my heart to see it go.
In 1977, Bud invested the money from the farm sale into the Sun Lakes development with John Norton and Ed Robson. The property was originally the old Woodrow Lewis farm, just south of the Bogle and Ryan farms near Chandler. There were many acres left to farm some surrounded by the golf course. Most of the employees were from our old farm in Maricopa and my brother, Stewart, was the foreman. At the same time Bud ran the San Tan Ranch farm for John Norton.
Stewart and I picked up the lease on the Lehi farm on the Salt River Indian Reservation from 1980-1986. This was the first time we had ever farmed with SRP water, which cost a lot less than the well water we were using before. While farming on the reservation, my son, Channen and I did our part to save the environment. While fueling his tractor the driver left the diesel running. It overflowed and made a large puddle on the road to the shop that we would have to drive through. We had a brilliant idea. We would eliminate the mess by burning it. To be safe, we shoveled dirt over the stream going to the puddle and lit the puddle on fire. Everything was under control. We were standing there leaning on our shovels and watching the fire when all of a sudden a strong wind came up and blew the flames across our dirt barrier and up the filler hose to the 1000-gallon overhead tank. We tried unsuccessfully to fight the flames so then I screamed to Channen "run"! It made one hell of a fire. The next thing I knew we had the Indian police and fire department, the Mesa police and fire department and two news helicopters on the scene. They did not have a very good sense of humor. We made the evening news but not for saving the environment.
In 1982, I leased the Price Ranch and house another farm with SRP water. This is now where Chandler Mall is now located. This place had a lot of Arizona Ag history. Arthur Price was married to Louise Chandler, Dr. A J Chandler's niece. Living in the historical Price house, built in 1938, was quite an experience. The Price family later donated it to the city of Chandler and it was restored by the city as a museum. The same year that I started farming the Price Ranch I took on a partner and bride, Jacque Mason Smith. She has been a huge asset to the farm by keeping the books straight and helping with the financing. She also has been a loving wife and mother to our children and me. She has never forgotten the night not long after we were married when an Ag Cat, at about 2:00 in the morning while spraying our cotton, flew very low and fast over the house which is located in the middle of the farm. When she heard the first pass and saw the lights in our bedroom window she thought we were being invaded. Needless to say she didn't sleep well that night.
In 1993, Bud and I purchased some farm ground in New Magma Irrigation District that was originally owned by Joe Cooper and another piece owned by Mitch Maddox. In 1995 I leased the old Howard Arp place south of Maricopa and north of our old farm. I had made a complete circle back to Maricopa. Farming 3,000 acres and being so spread out was not easy and only lasted a few more years. The Maricopa farm lease had to go, and then we lost the Price Ranch and Sun Lakes to development.
In 2004, Bud and I sold the farm ground in New Magma and invested in the Stockyards Restaurant property. Phil Tovrea originally built the restaurant and offices next to his stockyards on 48th St. and Washington. It was the largest cattle feeding operation of its time. He also built the Stockman Bank next to the restaurant which back then did a large part of financing Arizona agriculture. We are now partners in the project with my brothers and a good friend, Mark Smith, from Yuma. My brother, Gary, is in real estate and he was the one who put the Stockyards deal together. He has also purchased and sold a lot of Arizona farm ground. My brother, Mike, is in construction and did a great job of restoring and adding to the Stockyards property. The Stockyards is an important part of Arizona agricultural history. I'm glad to be part of its preservation.
Over the years we have grown many things: alfalfa, sorghum, lettuce, melons, safflower, wheat, barley, guar, citrus and corn, but there has never been a year we haven't grown cotton.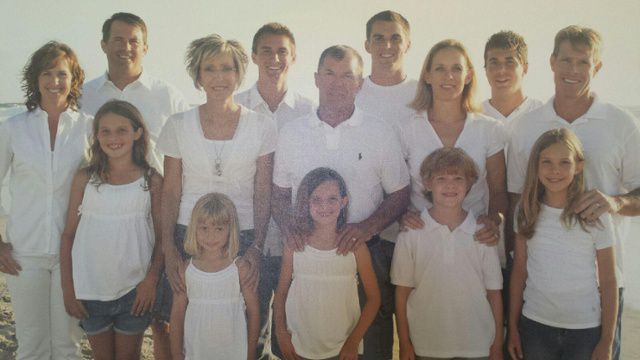 The author, Le, with his wife, Jacque, and their children and grandchildren.
I am still farming 500 acres in the New Magma area, mostly state lease, which is a lot different than the 3,000 acres that we were farming before. I guess you have to slow down sometime.
Editor's Note: We've also asked Le to answer the following questions we have for each farm family in the series.
An ongoing series about Arizona agriculture's farmers and ranchers.
Interview with Milton "Le" Smith of San Tan Valley.
What changes have you seen within your operation? Well, consider that originally, when we first farmed along with everyone else, we were picking cotton by hand, weeding by hand and thinning by hand. Today, everything is now done mechanically and we're using biotech crops, seed technology that has revolutionized farming in terms of sustainability, environmental stewardship and improved pest management.
Will anyone in your family – younger generation – pursue farming, ranching, or agribusiness? At this point, No. All of my 5 kids are doing other things.
What are your community activities? I've been a Lifelong member of Chandler Compadres. I've been in Farm Bureau for many years. I was on the board of Arizona Cotton Growers, I'm currently on the Board of Chandler Gin and past president. I'm on the Board of the New Magma Irrigation District, and also ED6. I was also a Maricopa County Farm Bureau president, and served on their board.
What do you love the most about farming, ranching, or the agriculture industry in general? I love working outdoors and working with my hands. I've always respected people that do that and they've always represented the kind of person I want to be. It's one of the most important industries there is. We feed and clothe the world.
What do you enjoy doing, and what is one fact/achievement that nobody knows about you? When I was 33, I decided I wanted to run a marathon, trained really hard and ultimately ended up running in the Phoenix Marathon and was very pleased with my time.
Why are you a Farm Bureau member? Dan Thelander was the one that got me started in Farm Bureau. I was complaining about things that were happening in the political arena and Dan said, "You need to join Farm Bureau." So I went to the first meeting and got put on the board. I just realized it was something that was important. We need to stick together and work to make a difference.
How will the next generation of agriculturalists have to operate? The future looks pretty scary to me. Some of the political things that are happening it's going to be difficult for the next generation. People don't realize that we can't produce food without creating a bit of dust. If America gives up our agriculture we're done.
What is the best business advice that you've received and/or have given? You've got to learn how to survive. I never wanted to be someone who was rich but wanted to be one that moved through the challenging times.