Meet Arizona Agriculture's Nickerson Family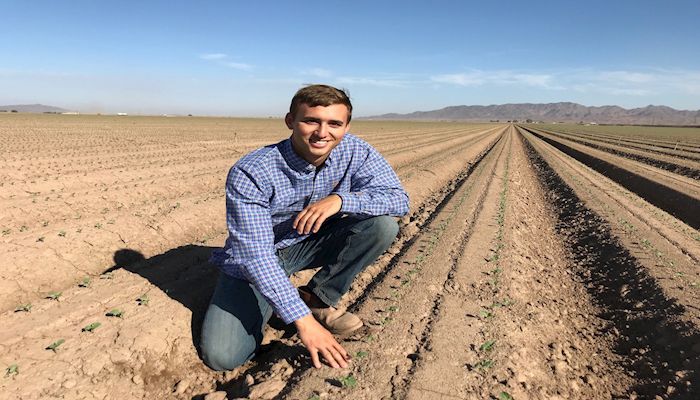 Last December, Arizona Farm Bureau's Ag in the Classroom program profiled the Arizona agriculture commodity, broccoli, and one of our farm families that grows it on a regular basis, the Nickerson family.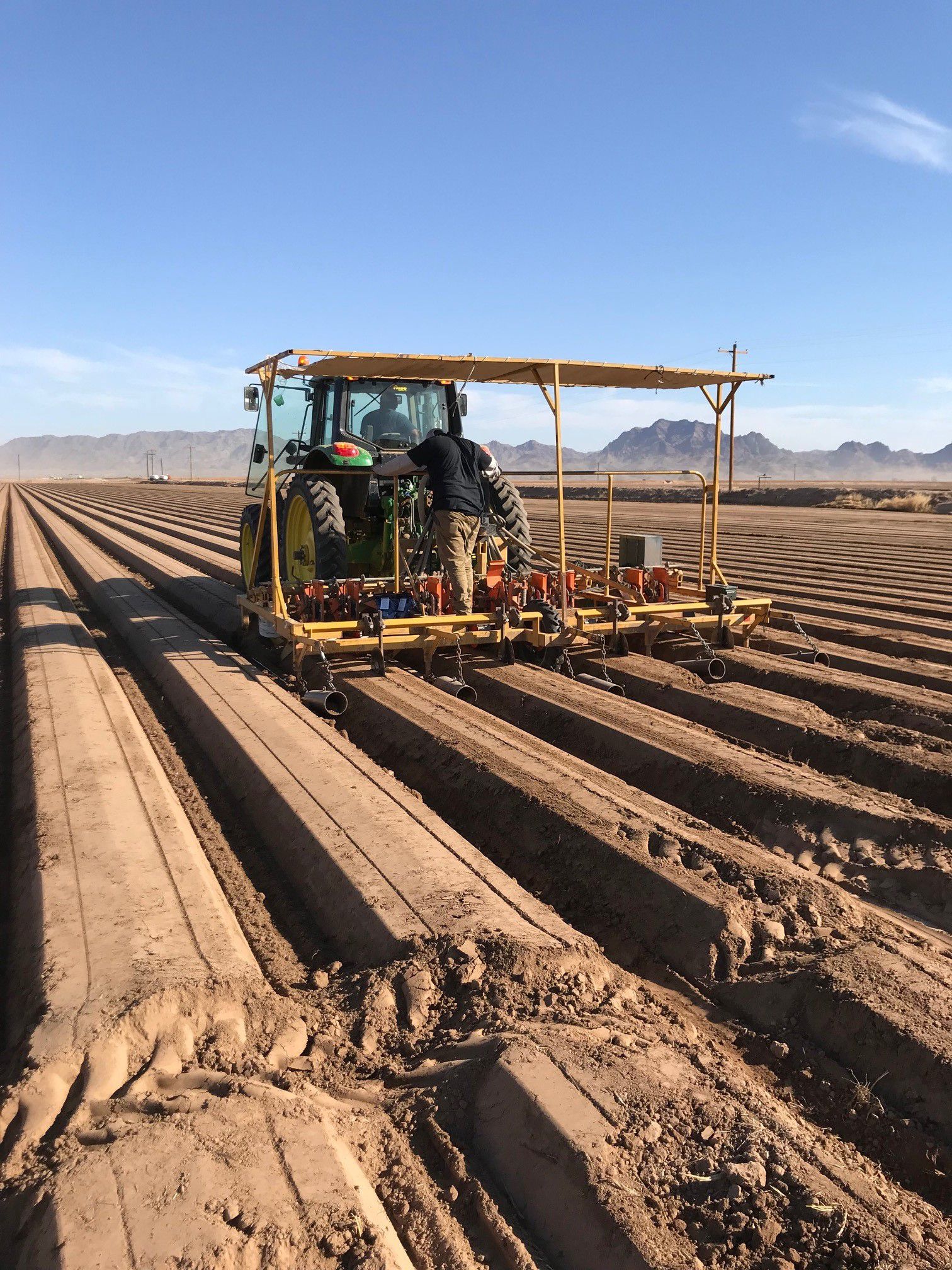 Planting the broccoli seed.
This generational farm family is enthusiastic about educating the public about the crops we grow and certainly one of their specialty crops, broccoli. Their farm, in the Dome Valley in Yuma County, can tout four generations of farmers. Though they grow a variety of crops, the value of sharing their story about growing broccoli was not lost on them based on their enthusiasm for sharing with Arizona students, teachers and parents.
As members of Arizona Farm Bureau, they understand the value of education, public outreach, and policy development. They advocate for agriculture with boots on the ground.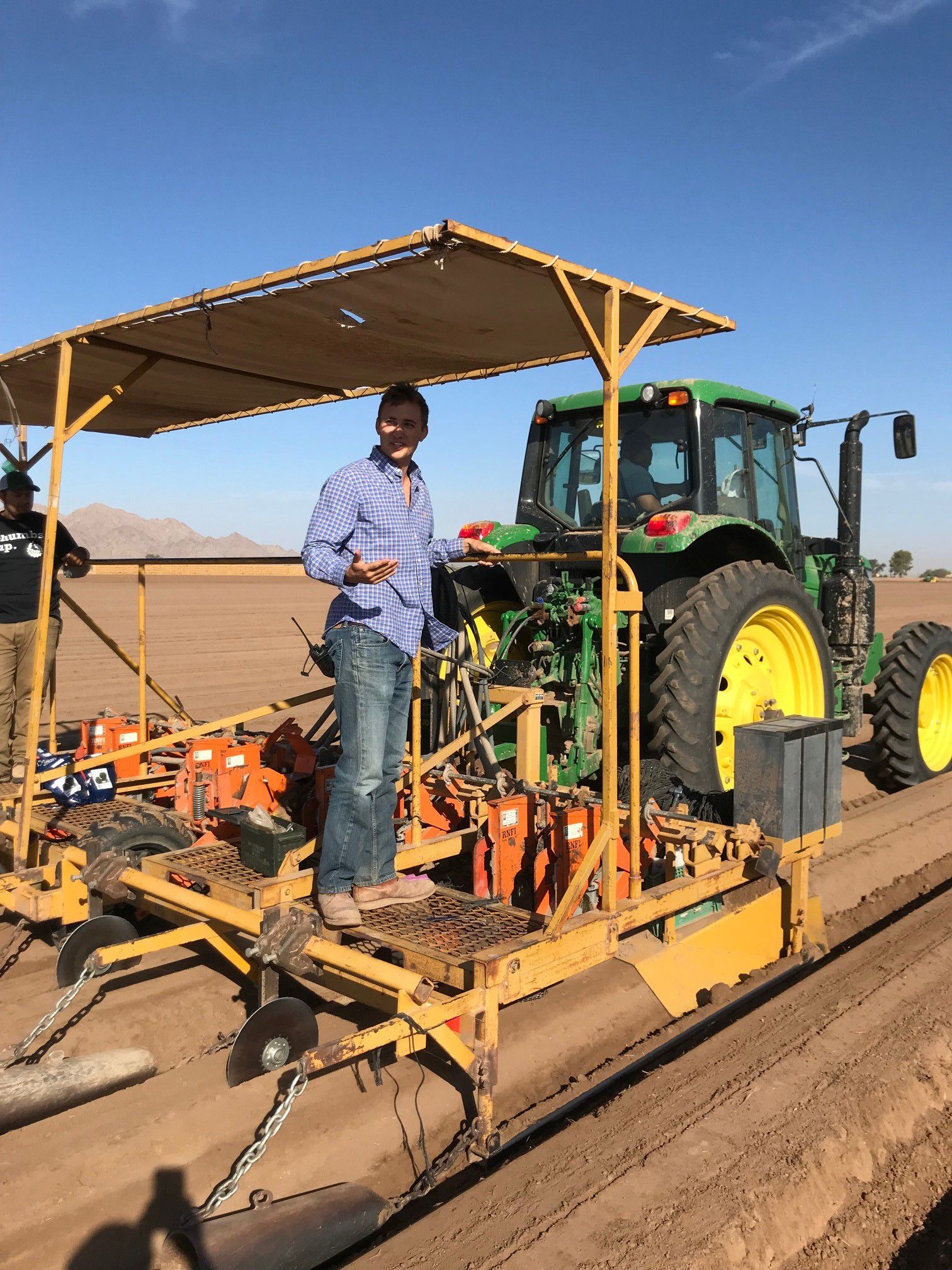 Scotty taking a ride.
Here is their story
An Interview with Scotty Nickerson, farm family partner with Nickerson Family Farms – Yuma, Arizona
Part of an ongoing series about Arizona Farming and ranch families.
Tell us about your family farm.
We are Nickerson Family Farms. We are a 4 th generation family farm here in Yuma. That means my great granddad, granddad, and dad have all farmed here. Today, two generations are still working on the farm!
We currently farm about 5,000 acres in Dome Valley. An acre is about the size of a football field. This means we have a lot of land and crops to care for! To make sure we are managing the land and crops the best we can, we rely on the help of 185 employees to keep Nickerson Farms Inc. operating. We grow lots of different crops depending on the time of year. To name a few, we grow romaine, lettuce, broccoli, cauliflower, spinach, kale, mustards, baby lettuces (spring mixes), cabbage, lemons, Sudan hay, Sudan seed, Bermuda hay, alfalfa hay, cotton, wheat, and sugar beets. Most people don't realize that some farmers grow seeds for other farmers (or themselves) to plant during future seasons. We grow seeds for Sudan grass, Bermuda grass, alfalfa, okra, onion, lettuce, broccoli, cauliflower, and cilantro!
Tell us a bit more about what it's like to grow the specialty crop, broccoli?
Although we grow lots of different crops, we thought we would share with you a little bit about our broccoli crop. We start planting our broccoli the beginning of September and usually finish planting around January. Harvest will begin in the middle of November and runs through April. Depending on the variety (the kind) of broccoli it only takes 75-110 days from planting to harvest.
Maybe you have seen our broccoli before? Our broccoli can be found being served in food service (restaurants and schools) and is also sold under the Taylor Farms label in the grocery store.
Our favorite thing about growing broccoli is the beautiful fields and well, eating the finished product! Broccoli is also disease resistant compared to lettuce so it is a great rotational crop. Compared to lettuce, broccoli is also less labor intensive so it is somewhat less expensive to grow.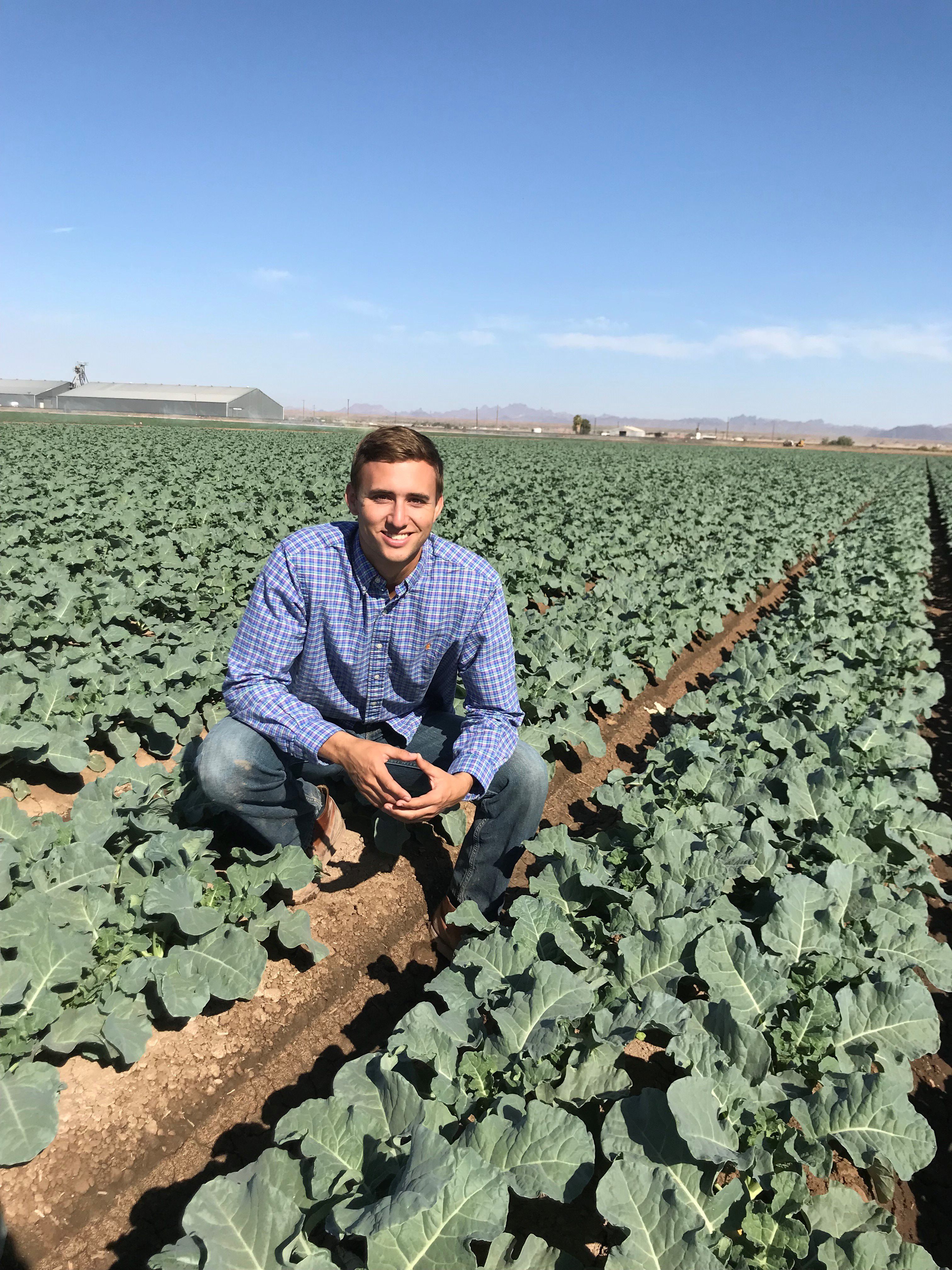 A healthy crop of broccoli is growing.
Why do you think Farm Bureau is important?
Often, farmers spend so much time working on their business and their crops, that we overlook the importance of taking the time to educate customers on what we're doing. Farm Bureau helps us with this. Outreach is even more important now at this time when our country is so stratified between urban and rural it's critical to the health of the nation to know the true source of our food. For people that never get to see where their food comes from or even meet a farmer, they need to know that the food we put in bodies is in good hands. Farmers are taking our job seriously. We're pushing the envelope on food safety to not only meet current standards but to continually be the standard amongst global producers, and that message needs to get out.
Farm Bureau is important because it's doing the messaging job for us.
If the farmer is doing his job farming, Farm Bureau can be doing its job advocating.
Tell us one thing most people don't know about you or your family farm? I graduated from ASU in 2017 and wrote my honors thesis on the economic feasibility of vertical farming. I collaborated with two Ph.Ds. one of them being from the U of A to develop more understanding of controlled environmental agriculture. I very much enjoyed the interdisciplinary work required to complete my honors project alongside my degree in business entrepreneurship, which has proven incredibly useful in my career in farming.
Also, I do a lot of carpentry. I make tables and bookshelf from old wood I find around the farm.
Tell us some fun facts about your farm.
We germinate using sprinklers which helps save water.
Sometimes we transplant (or plant seedlings that have already begun growing) into the field which saves water and limits exposure of the plant to bugs, weeds, and other pests.
Some farmers plant lots of seeds and then go back and thin the crop depending how many plants germinate (grow). On our farm, we plant to 'stand' which helps save on labor. What this means is that we only plant a seed where we want it so we do not have to go back and "thin" or chop the extra plants out.
Fun Facts About Broccoli
o Broccoli is a man-made vegetable. Plant scientist and breeders developed broccoli by intense breeding and crossbreeding of cabbage and other cruciferous crops.
o When you eat broccoli, you are eating the flower bud of the plant.
o Broccoli has been grown in America for about 200 years.
o The first broccoli grown commercially was harvested in New York.
o Broccoli contains Vitamin A, Vitamin C, potassium, folacin, iron, and fiber.
o Heads of broccoli actually signal shoppers how ripe and healthy they are. Dark green overall is the best color, but florets can span the color range from dark green to purplish, even bluish green.
o Yuma County grows 12,000 acres of broccoli.
o Broccoli needs cool weather, full sun, water and rich soil to grow well. Plant your broccoli where is will get at least 6 hours of sun daily. Apply 1 to 1.5 inches of water a week.
o Broccoli will keep for about a week in the fridge.
o Broccoli is a member of the cabbage family. Its name is derived from the Italian word broccoli, meaning the flowering top of a cabbage.
o 1 cup of broccoli provides the same amount of Vitamin C as one orange.
o California produces 90% of the nation's broccoli.
o The average American consumes over 4 pounds of broccoli each year.
Join Our Family