Meet Arizona Agriculture's Ollerton Family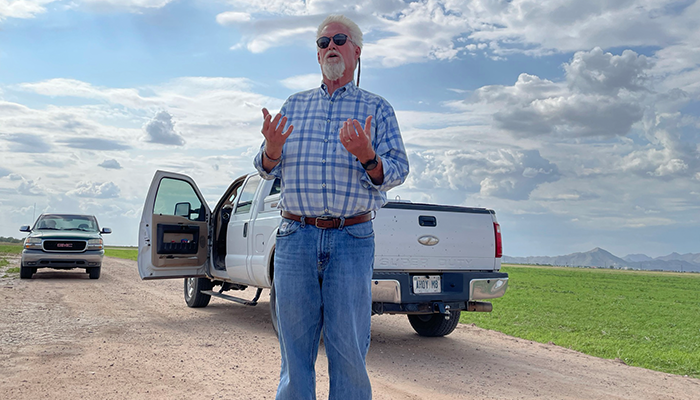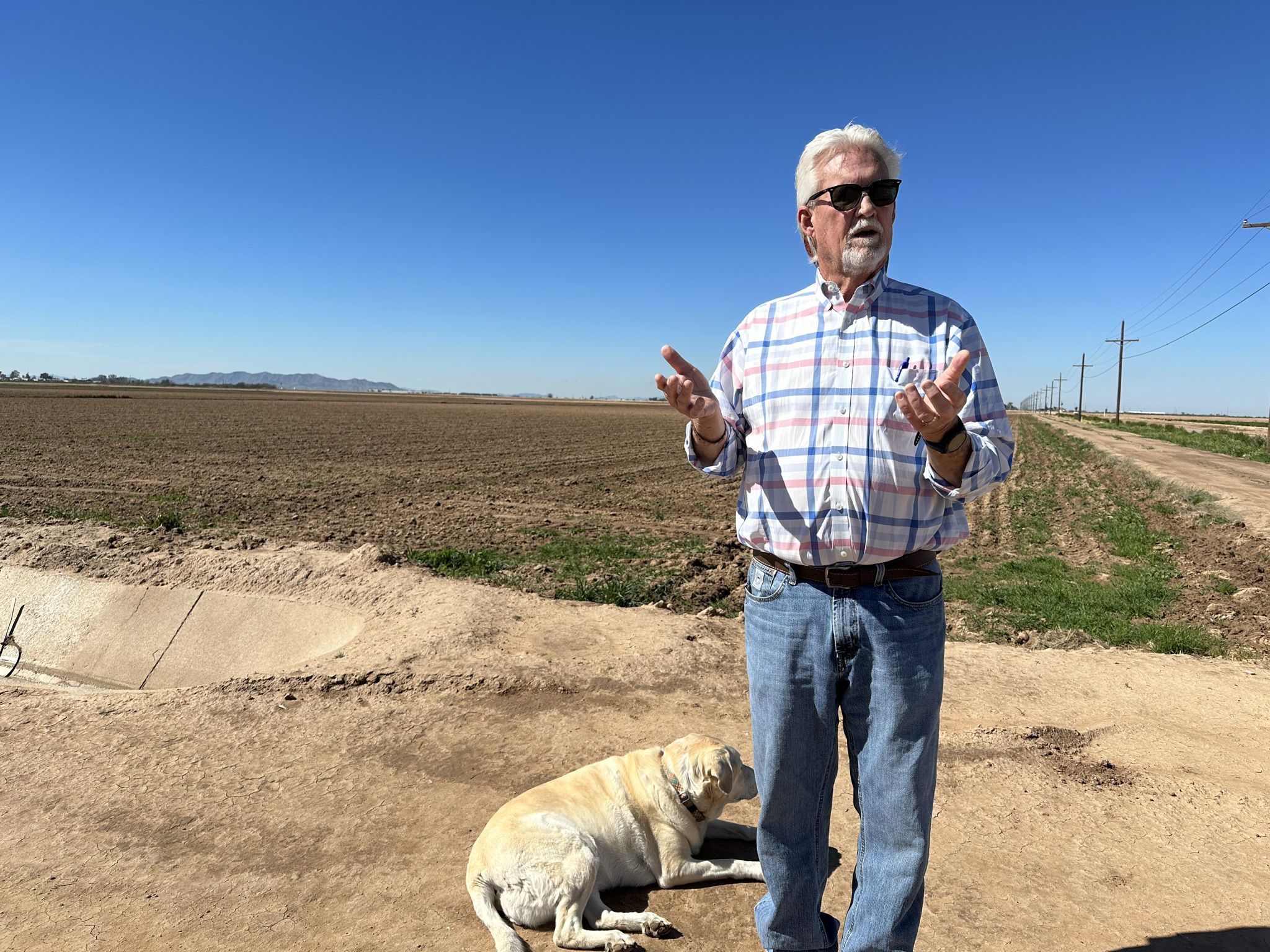 Paco Ollerton, a name synonymous with the agricultural heritage of Pinal County, stands as a true pillar of the farming community. Born into a family deeply rooted in the land, Paco represents the third generation of Ollerton farmers, carrying forward a tradition that spans many decades. 
As the owner of Tierra Verde Farms, he has dedicated his life to pursuing sustainable and responsible farming practices, ensuring the success of his crops and the well-being of the community he is part of. With a wealth of experience accumulated over his 40+ years in the farming industry, Paco has weathered the challenges and triumphs of farming. Paco's unwavering dedication to sustainable agriculture has earned him the respect and admiration of his fellow farmers.
A farm profile of Paco Ollerton, owner of Tierra Verde Farms in Pinal County. 
An ongoing series of our farm and ranch families.
Tell us about your farm: I am a third-generation farmer in Pinal County. My grandfather, Preston Ollerton, my uncle Jim Ollerton, and my father, Paul A. Ollerton, moved into the Casa Grande Valley sometime in the 1940s from the South Tempe Kyrene area. They initially settled in the Maricopa area before moving to the Stanfield area. As a child growing up, I worked on the farm and later became a partner with my dad in the mid-to-late 1970s.
Over the years, we have cultivated various crops, including cotton, which has remained constant. We have also grown wheat, barley, alfalfa, safflower, pecan, and pistachio trees. Additionally, we have cultivated wildflowers for seed, such as California poppy and lupine, for revegetation projects. We have harvested Six Weeks Fescue (grass) and Plantago (a flowering perennial) for use in revegetation projects as well.
In the late 1960s, my father ventured into the cattle business by starting a cow-calf operation with a small herd of cattle on the farm.
In the last 25 years or so, I have also grown other crops such as broccoli for seed to supply the Far East for broccoli sprouts, onion seed, coriander, arugula for planting seed, garbanzo beans, watermelons (both seedless and seeded), triticale, and teff grass.
Why did you choose to go into agriculture? 
Agriculture has always intrigued me, mainly because it presents challenges that most people are unaware of. For instance, the market constantly changes, and economic factors and water usage influence crop choices. Additionally, varieties of crops are continually evolving, as is the overall crop mix.
Above all, farmers face the constant challenges of managing crops in the face of weather changes. Dealing with weather fluctuations and adapting inputs accordingly is a significant aspect of our work. Farmers often must possess a wide range of skills, but they may not necessarily be masters in any one area. In other words, most people have yet to learn about the multitude of tasks and accomplishments that a grower must achieve to make everything work seamlessly.
What changes have you seen in your life as it relates to farming?
There have been numerous changes in agriculture, including advancements in irrigation technology and the development of newer, safer insect-specific pesticides through integrated pest management (IPM) practices. Equipment innovations have also reduced the need for extensive tillage work and improved soil conditions.
Transgenic technology, specifically BT and Herbicide, was crucial in eradicating the Pink Bollworm. Additionally, using sterile moth release and pheromones has significantly reduced pesticide sprays from nearly eight applications per cotton field per year to less than two applications per field today.
Technological advancements have revolutionized farming practices. Auto-steer tractors and variable-rate technology for planting and fertilizer spreading have increased efficiency. Soil mapping and grid soil sampling have facilitated precise variable-rate applications. Furthermore, more fuel-efficient and environmentally friendly tractors are now available. Sensor technology, infrared imagery, and drones' use for aerial imaging help identify crop stress levels.
Spraying technology incorporates features that shut off nozzles to prevent overlap during applications. By setting field boundaries, the sprayer automatically turns off when driven outside and resumes spraying upon reentry. These advancements ensure precise and efficient pesticide application.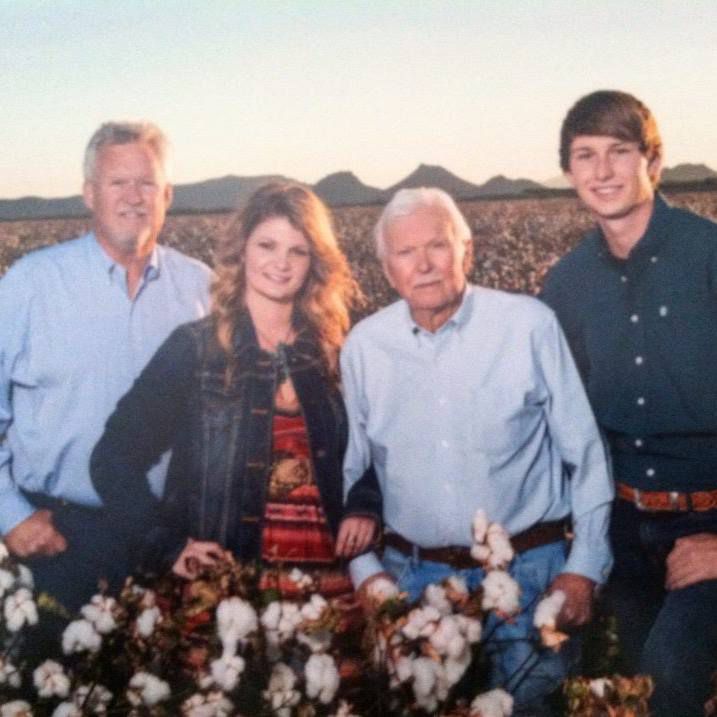 Will anyone in your family – the younger generation - pursue farming, ranching, or agribusiness?
Both my daughter and son are actively engaged in the agricultural field. Robyn has been collaborating with growers to implement technology in farm applications. She works with soil water probes and temperature sensors that provide valuable information to growers. This data enables them to make informed decisions about irrigation scheduling and explore better ideas for maximizing water efficiency.
In addition, Robyn also works with on-farm weather stations. These stations monitor temperature, wind direction, wind speed, rainfall, barometric pressure, humidity, and evapotranspiration. 
Would you ever consider changing your business model?
We have only implemented changes in how we approach new crops that we are considering or equipment purchases. We have gone more in-depth into making decisions for almost all our crop decisions, along with the changes in tillage equipment purchases.
What are your community activities?
I have actively contributed to my community by coaching youth soccer, basketball, and baseball during my children's younger years. Furthermore, I have been involved in various agricultural organizations. I served as the President of the Arizona Cotton Growers Association. Additionally, I have represented the industry as a delegate for the National Cotton Council and Cotton Council International. These roles provided opportunities to contribute to developing and promoting cotton farming on a broader scale.
Why are you involved?
Someone needs to advocate for Agriculture and serve on these committees because of the importance of representing ag and having a voice in the outcome and still waiting for the younger generation to step up to the plate and take an m more active role in advocacy. 
What do you enjoy doing, and what is one fact nobody knows about you?
I love sailing! I have two catamarans and a Hobie Tandem Island Mirage, and it's an 18' canoe with two outriggers. You can use the mirage pedal drive, paddle, or roll out the sail, go for a stress-free sail in the Sea of Cortez, and sail with Dolphins swimming under your boat. I can't say there is one thing no one knows about me!
Why are you a Farm Bureau member?
Membership in the Farm Bureau is something that I have supported for years as they are an integral part of watching the many issues that surround agriculture. Only some of those issues are good and can negatively impact farming, ranching, and other agricultural enterprises.
What's the best business advice you've ever been given or experienced?
Probably don't let it get you down when times are tough!  We have seen our share of those times in the last 40-plus years, lost many friends that went out of farming, and many friends and family that were once involved in agriculture are no longer here with us today.