Meet Arizona Agriculture's Richie Kennedy Family
By contributing Writer Lauren Scott: Author Wendell Berry once said in one of his works "We have neglected the truth that a good farmer is a craftsman of the highest order, a kind of artist," and the Kennedy family embodies just that. They are a family of agricultural artists and hard workers who have had the values of farming instilled in them through their diligence in the business.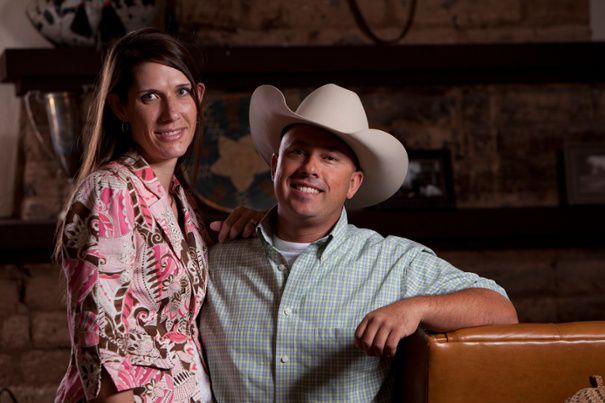 Heather and Richie Kennedy both come from a tradition of farming and ranching.
An interview with Richie Kennedy from Casa Grande, Arizona.
Our ongoing series about Arizona agriculture's farm and ranch families.
Tell us about your agriculture operation? For 25 years we raised Holsteins. We had what people would consider a calf ranch. We did that for 25 years and because of working conditions we had to change and get out of that, so for the past two and a half, three years we've been basically utilizing that to transition to female animals now. In the meantime, about two years ago, my wife and I got the opportunity to take over her dad's farm up in Glendale where we grow alfalfa and grain.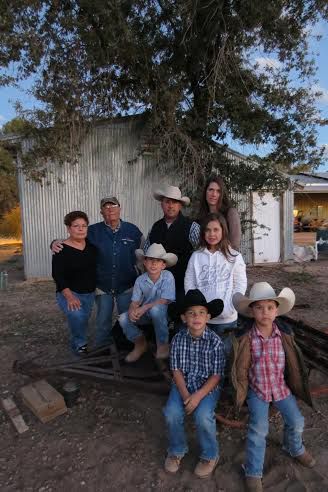 The Kennedy clan are great advocates for agriculture and have a passion for what they do.
What changes have you seen in your lifetime as it relates to farming and/or ranching? It's getting harder. It's not the same as it used to be in the sense that you have to do business differently. You have a lot more tractors involved, you have a lot more attention to regulations that might be facing you. The easiest way to say it is everything's a moving target now. You have water, that's a big one, and you have dust facing Pinal County. It's changing because the economy is changing. That's just the way the trends are going. There are numerous things, basically, that have changed.
Why did you choose to go into agriculture? Because I didn't know any different. I didn't know any different and I enjoyed growing up in it. For me it was easy to choose it and just stay with it. I pretty much did cattle my whole life, and I can still do that. I always wanted to play in the farming world and now that fell into my lap. Its been a fun ride and I've enjoyed every part of it. One of the bigger things I enjoy out of it are the people and the industry.
Will anyone in your family - younger generation - pursue farming and/or ranching? It's hard to say, but you kind of hope so. My kids are young, but I hope they have that opportunity. It's one of those things that you're looking down the road and you just have too much uncertainty. You hope that it's still there and you hope that you still have the option to pass something like that on. The kids do 4-H projects, they started their own little breeding program for sheep, so they have the mindset and want to.
Would you ever consider growing an emerging crop or changing your farm or ranch model? Well, the answer is yes because we did that with the calf ranch. We had to let that go and find something else to do. With the way the markets are you just never know so you're always looking for something different. We look into projects that might be different than what we normally do.
What are your community activities? Why are you involved? We're involved because the only way you have a voice to complain is if you're involved and also because my dad was a big proponent of the farm bureau. He looked at us kids to stay involved in the politics and things, and I think it's really important for every operation to have at least one family member represent themselves so they know what's going on. I'm county president, I have been for a few years, currently I'm president of Arizona Cattle Feeders Association, I sit on the Pinal County Board of Appeals, so I feel like involvement is very big, just so you know what's going on and for the outreach and the new people you get to meet, I truly believe that. Agriculture is neat because of all the people you meet. They're good people, I think in agriculture it's just the nature of the people basically. A lot of common sense people, a lot of like-minded people, which makes it easier to get along, it makes it fun.
What is one fact/experience/achievement no one knows about you? I guess the biggest thing is the Pinal County Board of Appeals. I don't know if that's technically an achievement, but it's out of the norm of being in the ag world. No one really knows I've been put on that board. I'm kind of proud of that, it's something different and kind of puts you in front of different people and a whole different spectrum, so I'd say that's one thing people don't know, and I think there's still a lot of people who don't know that I have a farm over there in the big city of Glendale.
What do you think you do really well? I think I work well with people. I try to be a problem solver I guess more than anything.
Why are you a farm bureau member? Because my dad sold insurance for them back when he was younger, and he was a huge proponent of the farm bureau. He was county president growing up, so we were always preached it and the benefits of it, so that's the biggest reason, because of my dad.
How will the next generation of farmers have to operate? Communication is going to be key with every aspect of the business, whether that be their vendors, their bankers, or their buyers, communication is going to be key. They are going to have to have a lot more capital to be in the game, which means they're going to have to be more efficient. Efficiency is going to be key moving forward. One last thing I want to say on that is you've got to think outside the box.
What is the best business advice you've ever been given? The best thing is if you're involved in the business you better be hands on and be involved from the top to the bottom, basically you're never above your employees.