Meet Arizona Agriculture's Ryan Colville
By Justen Ollendick, Arizona Farm Bureau Intern: If you have ever had the chance of working with Ryan, or get the chance to meet him, you will instantly know that the future of production agriculture will be in good hands with this hard working young ag-professional. Ryan wears many hats ranging from PCA and the Young Farmers & Ranchers University of Arizona Chair, to college student and fiancé. Let's take a look at Ryan's story, and all that he has done for Arizona Agriculture!
An interview with Ryan Colville – Tucson/Buckeye, Arizona
Part of an ongoing series about Arizona Farming & Ranching families
Tell us about your farm, ranch, or agribusiness operation(s): I am a Pest Control Advisor for the Wilbur Ellis Company. My region spans from Eloy, Arizona all the way down to Elfrida, Arizona. Cotton, corn, alfalfa, pinto beans, and wheat are a few examples of crops that I scout. When scouting fields I center my recommendations for growers on the Integrated Pest Management principle, of maximizing the growers return on investment by providing sound and economically driven management recommendations for their specific cropping systems.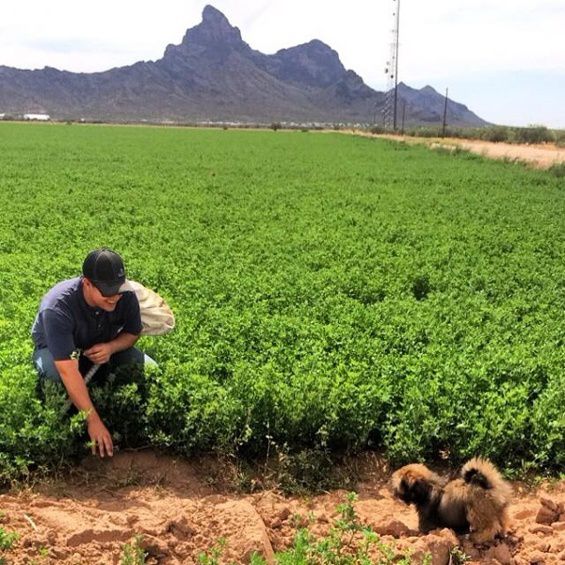 As a pest control advisor, one regular role is to capture pests (minus the dog) in a field to assess what needs to be done. And, sometime, one gets a little help from cute furry friends. Ryan highlights how he enjoys working with growers to make improvements on their field operations.
Why did you choose to go into agriculture? I chose to go into agriculture because the agriculture industry has so much to offer and is continuously evolving to meet the demand of society. There isn't another industry that has the quality of individuals or plays such a crucial part to keep civilization moving forward such as the agriculture industry. It is also filled with new challenges around every corner that require innovative and fresh ideas to solve. I hope to do my part in feeding and clothing the world now and in the future.
What changes have you seen in your lifetime as it relates to farming, ranching, or agribusiness? The largest change I have seen is the new focus on precision agriculture using new data collecting software, drone equipment, gps technology, and variable rate applications. In an effort to make agriculture as efficient and productive as possible, in order to supply the needs of a growing population.
Will anyone in your family - younger generation - pursue farming, ranching, or agribusiness? Yes, my youngest brother Matthew is considering pursuing a career in agriculture either in the game and fish or range management.
Would you ever consider changing your business model? As agriculture is evolving into the 21st century, I believe that is crucial for my business model to evolve along with the needs of the industry and the individuals in it.
What are your community activities? I am currently the chair for the University of Arizona Young Farmers and Ranchers organization. I also sit on the state Young Farmers and Ranchers executive committee.
Why are you involved? I am involved because I want to stay up to date with what is going on within my industry. That way I am aware of what is happening and will be prepared for any changes that could potentially affect my business and livelihood.
What do you enjoy doing? Working, I enjoy what I do as a Pest Control Advisor and Agronomy Sales Representative for the Wilbur Ellis Company. I have had the opportunity to make connections with growers and specialists in the agriculture industry from all over the state. This job allows me to be creative with problem solving, gives me opportunities to learn something new on a daily basis, and supplies me a platform to do my part in helping to feed and clothe the world.
Why are you a farm bureau member? Farm Bureau allows me the chance to network with professionals in the agriculture industry from not only across the country but also the world. It provides me with a way to reach out and express my concerns on legislation that has potential to affect the agriculture industry with my state and federal representatives. Through Farm Bureau I can advocate for agriculture, and address all of the misconceptions that are out there regarding GMO's and other aspects of farming and ranching. I enjoy being a Farm Bureau member, and I think that Farm Bureau is truly making a positive impact on the agriculture industry around the world.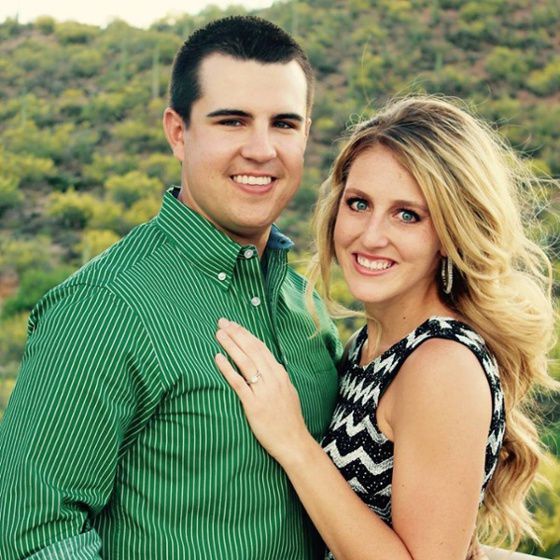 The future is bright, blessed and beautiful with fiancé Cheyanne.
How will the next generation of agribusiness leaders have to operate? The new generation of agribusiness leaders, which I consider myself to be a part of, will be faced with all new challenges and obstacles to overcome. The new generation must face these head on with an open mindset to new innovated ideas to make the agriculture industry more efficient and sustainable for generations to come.
What's the best business advice you've ever been given and/or experience? Or, what business-oriented advice would you give young farmers/beginning farmers? The world is full of opportunities, it's up to you to go out and find them!