Meet Arizona Agriculture's Sanders Family
By Julie Murphree, Arizona Farm BureauCommunication Director: The father and son team of Rick and Jake Sanders will quickly tell you that farming is not easy but it's rewarding and satisfying. And, since Jake is the third-generation Sanders to farm, he'll also tell you he didn't start out to farm, he had pursued a different career.
What comes across easily with this father son team is a willingness to work hard, listen to those with experience and knowledge and never approach a situation as being a problem, but a solution.
Mostly in alfalfa, cotton and small grains, the Sanders family has grown a variety of crops over the decades beginning in the little cotton community of Coolidge, Arizona.
Nowadays, you can find the son, Jake, talking to his dad or other farmers about the business and trying to apply the best strategies for improving his farming practices.
An interview with Rick (dad) Sanders and Jake (son) Sanders, Arlington, Arizona.
An ongoing series about Arizona agriculture's farmers and ranchers.
Tell us about your operation: We farm about 640 acres that we own here in Arlington, Arizona. Arlington is a good place to farm. We grow mainly alfalfa and Bermuda grass. We have grown cotton, silage and wheat; a variety of things in the past. We go back three generations.
Rick, the dad: My father leased a small place in Coolidge and grew cotton and grain. That's where I was raised. Growing up in Coolidge is where I got my farming experience early on.
Jake, the son: And, dad was looking to retire and asked me if I wanted to come home and farm. This is my fourth year at the farm. I got a degree in construction management from NAU and was in construction management for about five years. I was ready for a change.
With our alfalfa, this year we have an export contract. We export the big bales the first half of the growing season. Then, usually with our later cuttings in the year we do retail sales. The export shipments are going to China. Last year, some of our hay went to Saudi Arabia.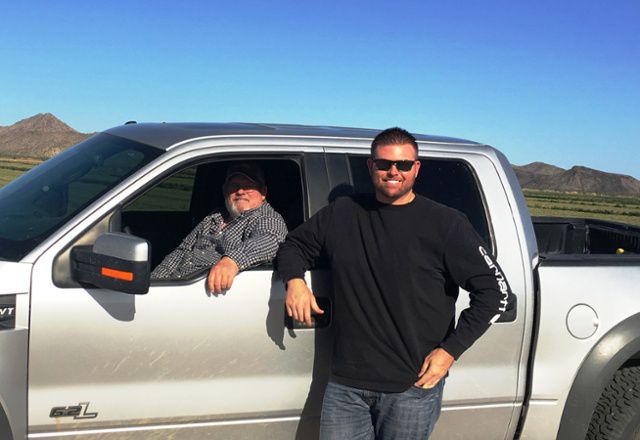 The Sanders grow alfalfa hay for both the export market and retail hay sales.
What changes have you seen within your operation? Technology changes over the years are just amazing. When you consider the computer sciences and how everything is done on computer including managing labor and even irrigation systems -- everything is tied in to technology.
Jake, the son: The GPS they have on tractors has been transformative.
What is your educational background (i.e. Degree(s), certifications, honors)? Rick, the Dad: I have a BS in agribusiness from Arizona State University; Jake, the son: I have a degree in construction management and a minor in business from Northern State University.
Jake, the son regarding coming back to the farm: I enjoy farming. It's different. It's satisfying to work for yourself. We're a small business.
It's also scary. The decisions fall on you. You oftentimes have nobody to ask or go to for advice. Ultimately though, coming back to the farm has been very satisfying; I've enjoyed it.
Will anyone in your family – younger generation – pursue farming or agribusiness? Jake, the son: I have no children and I think I'm a long way off from that right now.
Rick, the Dad. There will always be young people that want to farm but the difficulty is going to be that if someone has no farming background, it's very difficult get into it.
Jake, the Son: I never saw myself coming back to the farm, it just kind of happened. My path has changed and right now I'm glad I did it. But let's see what the year holds (he chuckles.)
What are your community activities? Rick, the Dad: We're Farm Bureau members. I was a Sunday school teacher for single adults for quite a few years and deacon in our church, and I was also on the board of the Little League and coached. I was also a youth basketball coach.
What do you love the most about farming, ranching, or the agriculture industry in general? Jake, the dad: The independence and the ability to succeed or fail on your own, though failure is not an option in farming. What I mean by that, we have to do whatever it takes to succeed. If you have to be the night irrigator, then you're the night irrigator. If you've got no one to drive the tractor, then you get on the tractor and drive. Ultimately, there are times when you have to do it all. You got to get your hands dirty and you have to be involved.
Jake, the son: I like the fact that it's something different. When you tell people you farm since so few of us do it, the fact you mention farming it always generates a good conversation. Everybody always wants to know what it takes to farm; what do you do and what does that mean? I really enjoy that part of it because it gets the topic out there so the public is thinking about it.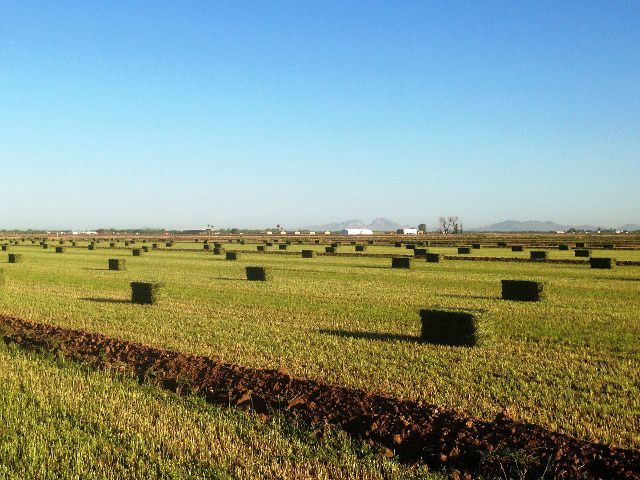 What do you enjoy doing, and what is one fact/achievement that nobody knows about you? Rick, the dad: Sports always played a real important part in our lives. Sports builds confidence; it builds strength, it gives you a "can do" attitude. So, I spent several years as a Basketball coach for youth.
Jake, the son: I did get a scholarship to NAU that allowed me to play football from 2003 to 2007.
Why are you a Farm Bureau member? Rick, the dad: The way agriculture is now if you don't have somebody that knows how to deal with the government and the legislature and what's going on with the regulations and stuff you are going to be dead in the water. We've had personal experience with that more than once.
When you've got Farm Bureau to go to and we can say, "What can we do about this?" and they in turn have answers, it's a huge benefit to being part of the membership.
How will the next generation of agriculturalists have to operate? Rick, the dad: I got lots of agriculture experience before I ever started farming. I was in lending for a while and was even a plant advisor for some time. I had lots of experience.
Jake, the son: The younger generation needs to ask lots of questions of the older generation. I know I need to because I don't have my dad's level of experience. I try to ask questions to other farmers any time I can. I'm talking to my dad a lot too.
Rick, the dad: Yes, lots of technology changes are driving farming but you need to ask the older generation because of their farming experiences. You have to be really tenacious and dedicated. It's all about people you have relationships with. That never changes.
What is the best business advice give? Rick, the dad: Win the lottery (laughing). No, the best thing you can do like we've said, get all the experience you can to facilitate your ability to prove yourself in agriculture. There is so much to learn, so much technology and ongoing innovation in the industry, while going to college try to get experience in other areas. I got experience in lending and entomology and the broad breath of experience served me well for my farming. So, I always suggest someone try to work at several jobs.
Jake, the son: My experience in construction management has given me some management and skills I would not otherwise have including people skills. One motto we always had when I worked construction was we never have problems, just solutions. I've applied that same attitude to the farming environment. You've got to fix it and figure out how to do it.
Rick, the dad: It's been quite a ride. It's a great life agriculture, it's difficult but very satisfying.