Meet Arizona Agriculture's Shedd family
By Steven Shedd, Agricultural Communications student at Texas Tech: In the early 1900s, Frank Shedd Sr., a real estate developer from Los Angeles, built a hotel and tavern in Toltec, Arizona (Toltec has since been annexed by the city of Eloy). The hotel was built near the train tracks and Frank Sr. began to bring investors from Los Angeles and across the country to invest in property in the area while his son, Frank Shedd Jr., ran the hotel in Toltec. One of the investors who came out and bought land was Rodney Delange, a bachelor and oil tycoon from Texas.
Delange formed a partnership with Frank Sr. and Frank Jr. began to raise cattle, and farm peanuts on Delange's land. Frank Jr. continued to purchase other farm land in the area. While the hotel and the tavern passed from the family's possession years ago, the family inherited Delange's shares of their first farm.
Today, the family remains involved in their local community. Jim, along with his two sons, Rodney and Danny, continue to farm in the area. Below, Jim Shedd answers a few questions about his operation and farming background.
An ongoing series about Arizona agriculture's farmers and ranchers.
Interview with Jim Shedd of Arizona City, Arizona.
Tell us about your farm, ranch, or agribusiness operation(s): When I got out of school at the University of Arizona I started working for my father, (Frank Shedd, Jr.) and Rodney Delange, who was a businessman from Texas and my father's business partner. My Father also had a farm of his own and I bought into my father's farm. I started with a small percentage and kept buying up a percentage until I got up to 50 percent. We had cattle, 300 mother cows, a feedlot, and a cotton farm.
Why did you choose to go into agriculture? Because it was what I was raised around, it is what I liked and it's all I knew.
What changes have you seen in your lifetime as it relates to farming, ranching, or agribusiness? It's like night and day. When I started the equipment was smaller, it took a whole lot of people, and was a lot of work. Everything has completely changed.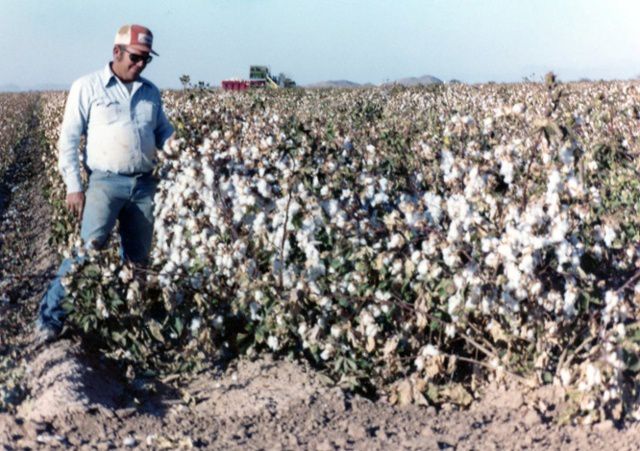 Jim Shedd with his cotton crop in 1980.
Will anyone in your family - younger generation - pursue farming, ranching, or agribusiness? My two son's farm cotton and my grandson or one of my granddaughters will probably end up farming. That is if we survive the current cotton prices.
Would you ever consider changing your business model? I wouldn't consider it today unless something better came out. If something came out that was more profitable and better, I would try it. Technology keeps getting better. I never dreamed we would have 350-horse-power tractors; it beats the old 60-horse tractors.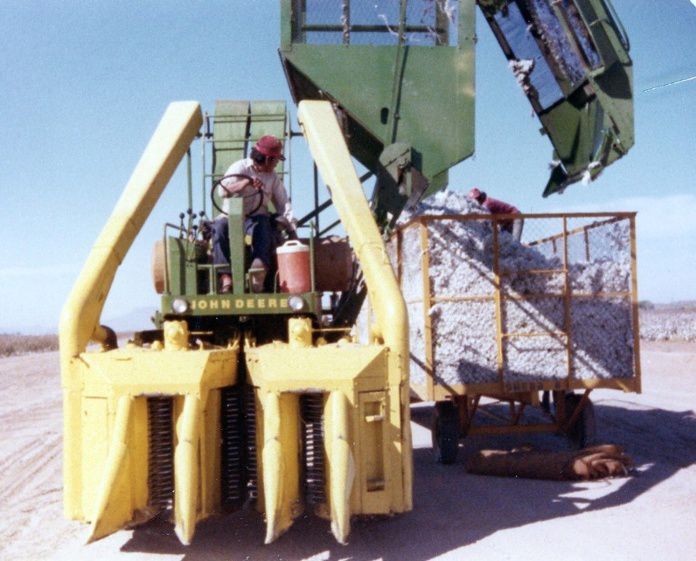 FROM DAYS GONE BY: Jim Shedd on an old two-row picker. As Shedd says, "If you don't follow the technology, and you don't pay attention to what's going on around you, you're going to go broke."
What do you enjoy doing in your spare time? Shooting, fishing, hunting, and looking at animals.
How will the next generation of agribusiness leaders have to operate? What's the best business advice you've ever been given and/or experience? Or, what business-oriented advice would you give young farmers/beginning farmers? You have to stay up with the times, things change, technologies change, and you better believe in them. Some of these guys are hard headed, they won't go to new technology but you have to, because our costs are increasing. If you don't follow the technology, and you don't pay attention to what's going on around you, you're going to go broke.