Meet Arizona Agriculture's Tanner Mellon
By Justen Ollendick, Arizona Farm Bureau: "As we mingle with others, let us be diligent in labor, just in our dealings, courteous to everyone, and above all, honest and fair in the game of life." That quote, from the FFA Closing Ceremony script, is a line that this week's feature farmer has learned to live by. From running a 250-acre operation throughout high school, to serving over 9,000 FFA member across Arizona, to pursuing a degree in Agricultural Economics from Purdue University, this farmer has achieved many milestones in his young twenty-one years. But there is never a feat too large for Tanner to take on. He is currently starting to wrap up his internship with the Arizona Department of Water Resources before heading back to Indiana to start school. Let's meet this week's farmer, Mr. Tanner Mellon.
An interview with Tanner Mellon – Yuma, Arizona
Part of an ongoing series about Arizona Farming and Ranching Families.
Tell us about your farm, ranch, or agribusiness operation(s): I am a fourth-generation farmer in Yuma, Arizona. My great-grandpa, Archie, came down from Colorado during World War II, settled down and started his own farm. My grandpa, Doug Mellon, grew up on that farm and then went off to college. After returning from college, his father sold the farm, so Grandpa Doug had to completely start from scratch. Hence that was where Mellon Farms was birthed. I grew up working on Mellon Farms. I got to see the entire operation and how things were done. Mellon Farms runs between 6,000-8,000 acres depending on the year. During the summer we run less acreage, and more during the winter. We buy leases for farms in order to fill contracts we have. We mainly farm winter vegetables; lettuce, broccoli, cauliflower, romaine hearts, mix beds -- kind of the "Yuma stereotypical." Throughout the summer we will farm Durum wheat, Sudan grass, alfalfa.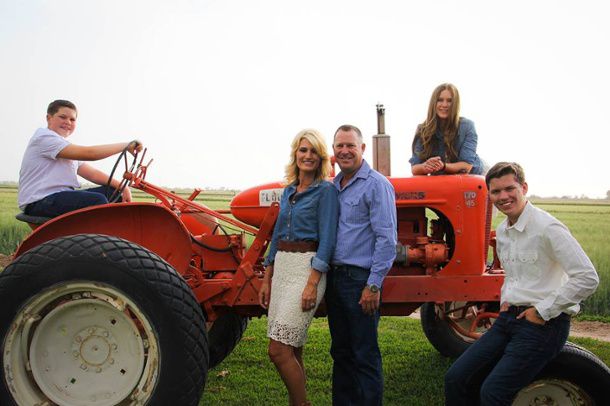 Tanner Mellon, seated lower right on tire, aspires to a memorable career in agriculture.
Now my farm is Tanner Mellon Farms. Here?s the background on that: when I was a freshman in high school, my grandpa explained the tradition of each kid starting their own operation. Grandpa Doug and I went down to the bank, sat down with his banker, and said we are starting a new farm, Tanner Mellon Farms. I got my own loan, started with 125 acres that I leased from Mellon Farms down in Somerton. I farmed that by renting equipment from Mellon Farms. By my junior year of high school I had completely paid off the loan. The money I made during my junior and senior year, I earned enough to lease 250 acres as well as saved up and partnered with Mellon Farms to buy harvesting equipment for my operation. I bought a swather, big rake, and a baler. My junior and senior year I completely ran a custom-harvesting company under Tanner Mellon Farms. My biggest customer…you guessed it…Mellon Farms! The profit of the two operations has allowed me to continue my education. I currently am attending Purdue University in Indiana where I am studying Agricultural Economics.
Why did you choose to go into agriculture? Originally it really wasn't a choice. Growing up, I knew agriculture was a part of my life and my family's future. There is no escaping the amount of influence that it has had on me. I remember when I decided that agriculture was going to be a part of my future. It was around my sophomore year when I was considering a lot of career pathways, and I thought to myself, could I see myself in all these other professions? But seeing how much the industry has had on my life, I knew that I had to pay that back some way.
What changes have you seen in your lifetime as it relates to farming, ranching, or agribusiness? Policy wise, I can remember before and after food safety became a thing. It was the E.coli breakout. I remember that being such an epidemic. The "before" entailed me being able to have my steer pens set up at my house…and for those of you that don't know, we live in the middle of fields that are in production. Yuma County farmers came together and established "regulations and rules" to protect ourselves. We realize that if we make a mistake food safety wise, it can be tracked back to us, the producer, and it is game over.
On another issue, water rights, especially in Yuma, and Yuma County. There has always been this awareness of how important our water rights are, but the society's view on our rights has been our biggest issue. Down here in Yuma, we have the oldest water rights on the Colorado River. So I think it's safe to say we are pretty safe for now.
Will anyone in your family - younger generation - pursue farming, ranching, or agribusiness? It is highly encouraged for us younger generations to pursue agriculture. But we are encouraged to pursue with a purpose. We are not guaranteed a job on the family farm. We're not. If we think we can just scoot by in school, graduate and say "I'm going to be the manager now," well then we're mistaken. If someone is more qualified than us, they absolutely should get the job. We are also encouraged to pursue a career beyond the farm to get more experience. There's a high possibility that I may not return to the farm for many years, but instead go into industry.
Would you ever consider changing your business model? For my personal farm, I would have looked into growing different crops. If I were still in Yuma currently, I would look into small production, local farm production, agriculture. I think selling local farm product would benefit my operation better because I am not to the size of a commercial farm. But if I weren't going to college right now, I would probably consider doing that.
I will tell you, I think most farmers wish they had looked into organic farming ten years ago. Mellon Farms just started to go the organic route. Now that wasn't our decision, it was the packer that said, "We want organic, so grow it for us." Thankfully we had considered it a few years back, so we had a section that was left fallow and went to that for the organic operation.
What are your community activities? I moved to Purdue University in Indiana, where I am involved in the local church serving as a Bible study leader, play in the church's band, and am a brother of the Alpha Gamma Rho fraternity on campus. I am also in the Agribusiness club. It's all about staying involved with what I can.
What do you enjoy doing, and what is one fact/achievement that nobody knows about you? I love playing the bass. I love playing in my church here in Yuma when I'm home…we have kind of like a bluegrass band. I love being outdoors, whether it's hiking, or being an avid hunter. It's been a while, but I love hunting and enjoying Gods great country.
I served as the 2013-14 Arizona FFA State President and had the opportunity to serve alongside nine other of the highest qualified people, as we got to lead the organization for a year. I know that we had an impact that no other team had, and am truly blessed to have had that opportunity. My dad served as the state president several years before.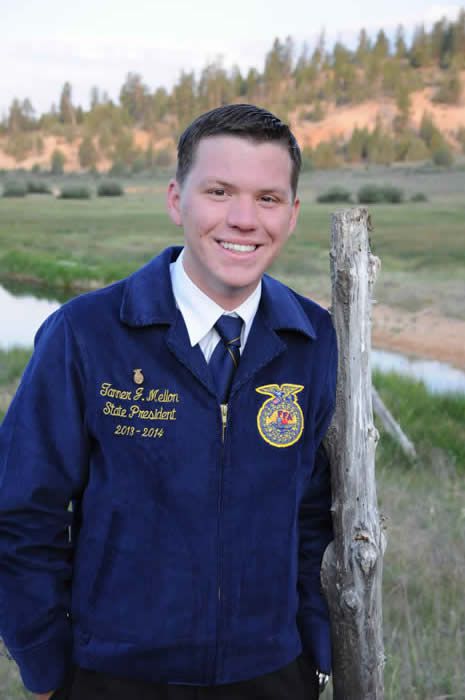 Arizona State FFA President, 2013-2014.
Why are you a farm bureau member? We recognize the power of having a voice in your future within the agricultural industry. As an entire industry, things are changing very fast. We support Farm Bureau and everything that they stand for as an organization, to make sure we, as producers, are protected.
How will the next generation of agriculturalists have to operate? We have to listen. We have to listen to what the people want. This is a consumer-run industry. I think many farmers forget that unfortunately. If the consumer wants organic, I'll give them organic. If they want non-GMO and are willing to pay for it, then I'll give them their non-GMO products. I think as an industry in the future, we have to keep in mind to listen to our consumers and be willing to change our ways. Sometimes it may not make us money. But if the public will view us in a positive light and as someone who actually wants to care for them, there's nothing that can go wrong with that. We need to remember our purpose as an industry.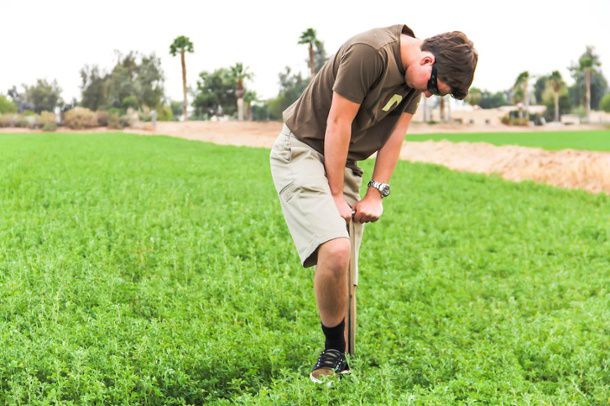 Tanner Mellon getting soil samples in one of his alfalfa fields.
What's the best business advice you've ever been given and/or experience? Or, what business-oriented advice would you give young farmers/beginning farmers? I remember another goal of mine when I was a freshman in high school, it was to be Star Farmer of Arizona FFA. I applied, became a finalist, and lost. I was beating myself up over it for the longest time. I remember Grandpa Doug saying this: "Tanner, the reason you did this was not for the award, it was not for the recognition. If that's what you did it for, then you did it for the wrong reasons." He said what you did this for was to learn how to be a successful business man, and to be the best farmer that you could be. Being in FFA, we were always told to go for the awards, go for the win…but, we need to keep in mind that's not what it's all about. It's about what you learned, your entire journey. We don't do this for the recognition, and certainly not for the money. We do it because we want to make a difference in society, and to do something worth doing.
Editor's Note: Watch for interviews with Doug Mellon, and Colin Mellon to come at a later date.