Meet Arizona Agriculture's Tom Miller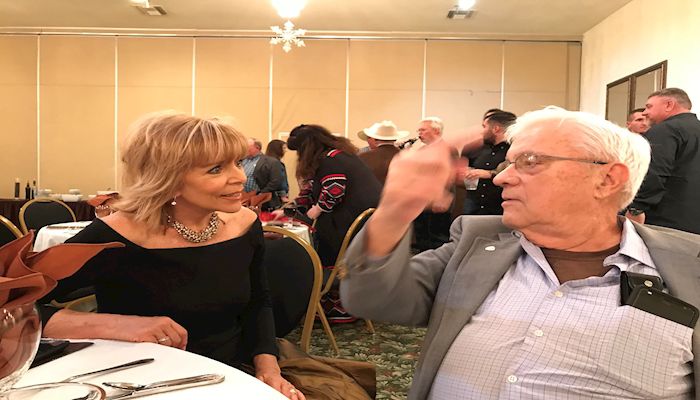 Tom Miller's dedication to the pork industry in Arizona and on the national level is beyond words. For Arizona, Miller is the quintessential spokesperson for quality pork production in our state.
I've known Mr. Miller all my life and have a tough time, simply calling him by his first name. Mr. Miller was my 4-H swine leader growing up in Maricopa, Arizona on our family cotton, alfalfa and wheat farm. I remember mostly that he cared about us and he cared about the animals. Mr. Miller always impressed upon us about the importance of caring for our animals.
Mr. Miller was a no-nonsense kind of leader and expected us to be at our best when raising our 4-H pigs. It was a treat for me, then, when at Farm Bureau I would once again be working with Tom Miller on issues important to the agriculture industry.
So, this profile of Tom Miller is for me a profile about my favorite 4-H Swine leader.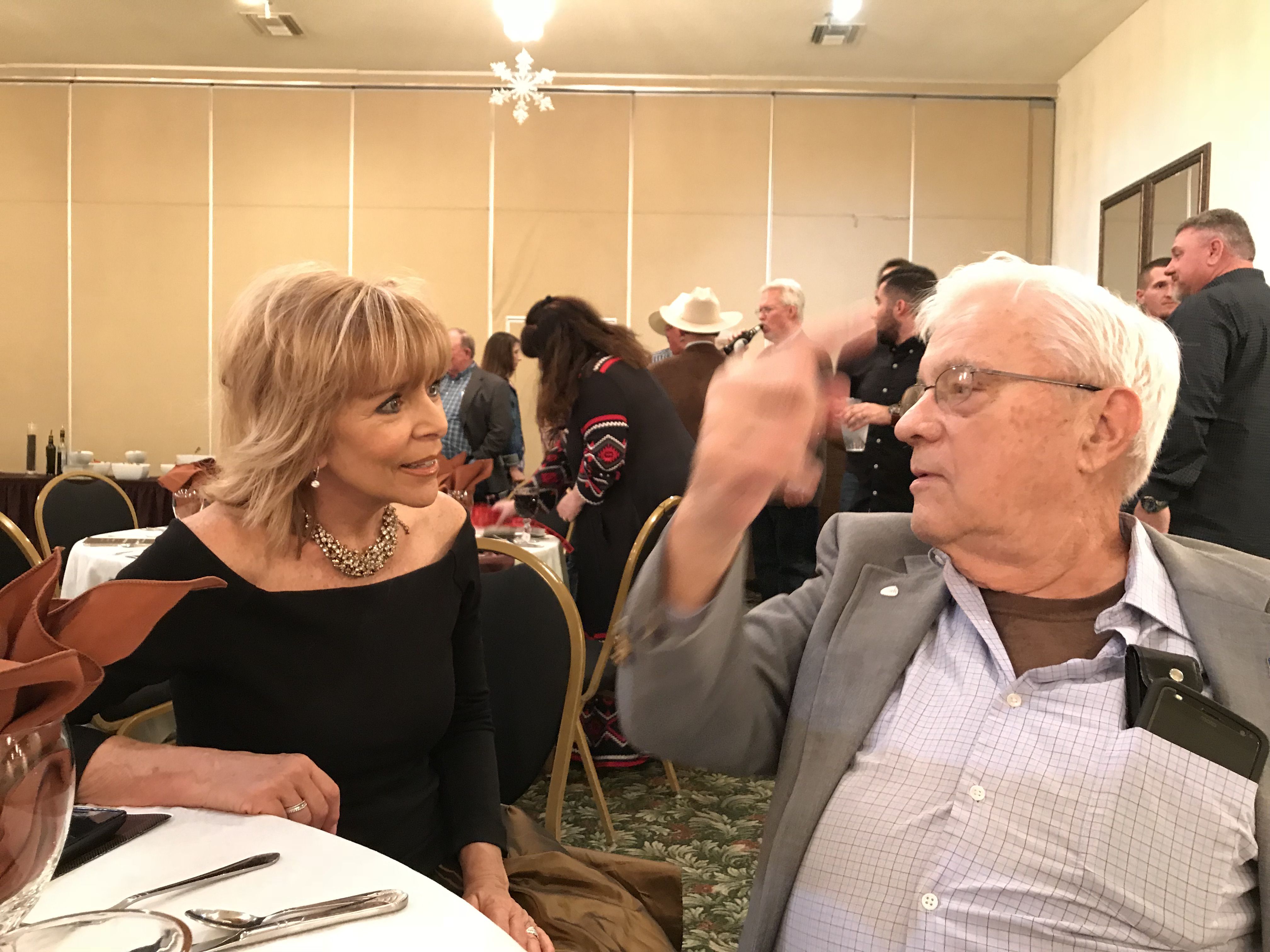 Local Media Celebrity and farm and ranch advocate Jan D'Atri talks with Arizona Pork Council's Tom Miller
about Arizona agriculture and our farmers and ranchers at one of our industry events.
An Interview with Tom Miller, Executive Director for the Arizona Pork Council – Casa Grande, Arizona
Part of an ongoing series about Arizona Farming and ranch families.
Tell us about your agricultural/agribusiness operation.
I graduated from Iowa State with a bachelor's in animal science in 1961. I later went to California managing a 300-sow herd before I found out what was going on in Arizona.
Later, I made my way down here to work for Arizona Milling, now called Arizona Feeds. I began to take care of what they called the American Pig Marketing Association.
Eventually, I went to Maricopa to take care of a pig farm. At the same time, I got involved with the National Pork Producers, serving two terms on the National Pork Producers' Council Board (13 years). I served on the executive committee eventually becoming national president of the Pork Producers Association from 1987 to 1988.
I grew up in a town of 11,00 to 12,00 people in the Midwest. When I found the opportunity in California, I went for it, staying up on the content in industry magazines. That's how I discovered the Arizona position. I applied for it and got it.
I eventually built my own sow farm in the early 1970's to the late 1990's. After that, I put a lot of my time into the Arizona Pork Council. The Pork Council began to progress and get more active. Around 1974, I really got involved in the national industry. I've been with the National Pork Board since the beginning and served three years on the National Pork Board.
I was also a loan officer for a couple of years.
Why is farm bureau important?
They are an organization that looks after the interests of the agriculture industry. I am personally adamant that ag needs to be well represented because as far as the U.S. Congress is concerned we have fewer congressional members that are truly paying attention to the concerns of ag. Related to animal agriculture, we must be vigilant in our dealings with "animal rights" activists, such as PETA.
They have one often-stated goal: That's for Americans, and people in general, to stop eating meat. I don't believe that animal rights activists care about the welfare of animals. If they did then they would realize that it doesn't make sense that farms would treat their animals poorly. America's animal farmers are good stewards of their animals. This is their business and it isn't a business you get involved in if you don't like animals.
This video highlights Arizona's pork industry.
What's your best business advice?
I have thought about this lately. When I first started my career, I wish that we had had the technology for record-keeping back then that we do now. We knew the importance of record keeping back then and no one had to tell me this but in California, they kept records of their sows and when I came down to Arizona I brought the record-keeping system with me, minus the computer advances to do them so efficiently. It's a lot easier with today's computers now rather than a pen and paper.
Plus, be observant. How I learned the things I have learned is by watching others and what they do. Learn by observing.
Finally, my counsel for someone attempting to get into the pork business right now is to avoid it because there isn't a market for it here in Arizona. It was big down here for some time, however a processing plant closed, and it put a lot of producers out of business. Most are going to Los Angeles and so there's nowhere to sell your pigs because they can get pigs from the bigger farms further away. It's a tough time for someone to start out here because there's nowhere to sell your pork product.
If you get into the direct, or retail, market raising your own pigs, butchering your own pigs and selling them to consumers, it's doable as we currently have a few retail pork producers that are very good at what they do. But, be prepared for the long, hard days and then learning how to market your own product. Most are not prepared to learn and apply the marketing piece to an agriculture retail business. It's just very hard.
What is one fact, or achievement, that no one knows about you?
I used to play golf. However, I have donated most of my time to the pork industry and I am proud of all that the pork industry has done nationally. Pork has become a very important protein meat alternative and option for American consumers.
Editor's Note: Tom and fellow leaders were in on the ground level when the national "The Other White Meat" marketing campaign took place several years ago. Today, considered one of the most effective national marketing campaigns regarding the quality and nutritious value of pork meat, people can still reference the refrain when talking about pork.
Join Our Family