Meet Arizona Agriculture's W.T. Gladden
By Lauren Scott, Arizona Farm Bureau Intern: W.T. Gladden has been in the business of agriculture for over six decades, and doesn't plan on stopping anytime soon. He started out farming on a dairy with his father around 1955 and now farms and dairies in in Palo Verde, with his nephew Dan Gladden.
Like others farmers and ranchers, the Gladdens know about hard times, especially when dairy prices are down and costs to produce milk continue going up. For dairy farmers, one thing that's always helped has been the ability to grow their own feed for the dairy cows.
That's the Gladdens story. They've managed to integrate their dairy business by growing feed crops their cattle can eat. This helps their nearly 3,000 Holstein-cow operation manage and reduce costs. Cows have to eat daily, regardless of what's happening in the dairy market.
The next few paragraphs are a history write up of the Gladden Family for the Litchfield Park Historical Society which is currently featuring the history of several West Valley farm families here in Arizona:
James E. 'Ned' Gladden was born in 1907. He came to Arizona in 1927 to work on his uncle's farm in Marana. In 1928, he returned to Oklahoma to marry Castelle Wright; and he brought her with him to Arizona. They had three children – Joyce, William Thomas (W.T.), and Jim. The young family moved to Chandler and began a small dairy in 1936. Later they had a fourth child – David. In 1955, they sold the dairy and moved to the west side of the Valley where they purchased 160 acres in the Salt River Project on Highway 80 – west of Cashion. That same year their oldest son W.T. (or T) began farming with his father. They grew cotton and alfalfa, and also had a dairy. To expand their operation, they started leasing other land.
In 1959, T married Nikki Hall of Litchfield Park. Nikki, her father L.C. 'Jerry,' her mother Ruth, and her brother Jerry had moved from Ohio to Arizona in 1948. Jerry worked with the Wingfoot home division of Goodyear. He became shop foreman for Goodyear Farms when Goodyear quit building the Wingfoot homes. T and his father expanded their operation to Cotton Lane. In the mid-1960s, they sold their dairy cows in order to grow more row crops – cotton, safflower, and sugar beets. By this time, T's brother Jim joined the operation as they expanded into Palo Verde and the Harquahala Valley.
In 1974, Ned decided to retire and he sold the original 160-acre farm. Ned's youngest son, David, joined the operation and Jim left to farm on his own. T and his brother David farmed together for a few years, but in the late 1980s, David left to start a cattle ranch of his own. In the early 1990s, the remaining partners were T and Nikki. Their nephew Dan Gladden (Jim's son) came to work on the farm in 1985. They farmed in the Palo Verde, Harquahala Valley, and Paloma Ranch in Gila Bend. All told they farmed 9,000 acres growing alfalfa, wheat, and cotton.
In 1998, the Harquahala farm was sold to build a dairy. T and Nikki brought Dan in as the third partner to run Saddle Mountain Dairy and farm in Palo Verde. Dan's wife, Sheri, is the Office Manager; and Dan and Sheri's oldest son, Josh, (a 2006 graduate of ASU) came to help his father with the dairy and farm. Josh now manages the dairy and is starting one of his own. Dan and Sheri's youngest son, Clint, joined the farming operation in 2014. He helped with the new GPS-guided tractors and land-leveling equipment that operate directly off a satellite. Josh and Clint are now the fourth generation in the Gladden Southwest Valley farming enterprise. Josh and his wife Heidi have two sons – James and Max – and a daughter Blake. All are hoping that these two young men and their new sister will carry on with the fifth generation of Gladden Farms.
T and Nikki have two daughters (Kathy and Kerry) who have also carried on the Gladden tradition of farming. Kathy and her husband, Andy Dougherty, have a farm in the Southwest Valley near Gila Bend called Sandelbay Farms. They have three daughters – Savannah, Delaney, and Baylee; and Sandelbay Farms is a composite of the girls' three names. The Doughertys grow alfalfa and cotton; and some of the feed they grow goes to the Saddle Mountain Dairy. Their daughter, Kerry, and her husband Steve Pretzer sold their farm in Pinal County and moved to Louisiana where they have a farm today.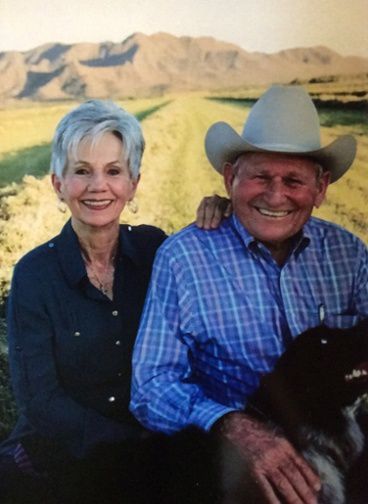 Wife, Nikki, and W.T. Gladden live in Litchfield Park.
An interview with William Gladden – Palo Verde, Arizona
Part of an ongoing series about Arizona's farming and ranching families.
Tell us about your farm, ranch, or agribusiness. I grew up in Chandler, Arizona and started farming with my father on a dairy right after I graduated from Chandler High School. My dad sold the dairy in Chandler and bought one on the west side. Along with the dairy we had a 160-acre farm. The dairy in Chandler was on Galveston Street in Chandler, and I could see the back of the high school from it. As time went on I got married and began leasing other land. In 1974, my father retired and I bought his interest in the farm and went on from there. So, for over 60 years I've been farming. Now I farm mostly on the west side, in Buckeye, but I've farmed in Gila Bend and the Harquahala Valley and Palo Verde.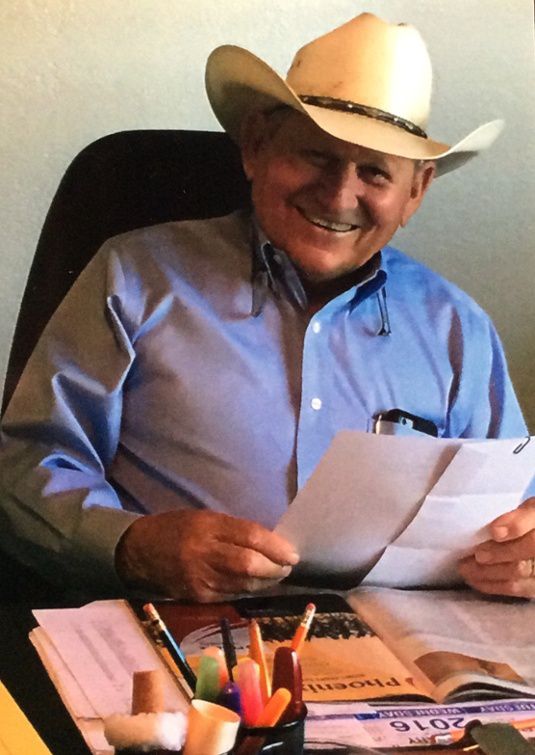 Like most farmers, "T" will tell you that one must have a passion for farming to make a go of it.
What changes have you seen within your operation over the years? There have been a lot of houses built. In the 1940s and 50s, Chandler looked like Buckeye. It was all fields and farming. All the development through the years has made a big change. There has also been a big change in the way we farm. There used to be a lot more labor. People used to pick cotton by hand [before the introduction of the cotton picker in the mid-1950s]. We actually bought our first cotton picker in 1960. All the old tractors were open-cab, and if you had an umbrella, that was about the only thing to protect you from the elements.
What is your educational background? Just high school and then living and working on a farm for over 60 years.
Will anyone in your family – younger generation – pursue farming or ranching? I have a nephew, Dan, that began farming with me in 1985. He takes care of the operation. Also, I have two daughters who married farmers. One farms in Gila Bend and the other traded their farm in Pinal County for a farm in Louisiana.
What are your community activities? Over the years I have served on the board for the Arizona Cotton Growers, and I'm currently on the Buckeye Water Conservation and Drainage District Board of Directors. I served on the Harquahala Irrigation Board and the Arizona Grain Board of Directors. The Palo Verde School Board, as well as our church board.
What do you love most about farming, ranching, or the agriculture industry in general? The freedom of being on the farm. You don't do it to be successful, you do it because you love it. Being your own boss, and being outdoors.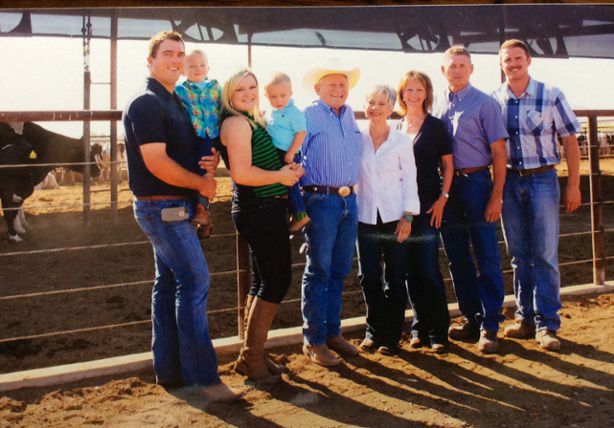 William partners with his nephew, Dan, (lavendar shirt) in the farming. From left to right, Josh (Dan's son), Heidi (Josh's wife), their two boys James and Max, William, Nikki, Sheri, Dan and Clint (another son of Sheri and Dan's).
What do you enjoy doing in your free time, or what is something not many people know about you? I have some old cars, 1956 and older, and I like to fool around with them. When the kids were younger we did a lot of water skiing and snow skiing. And the last few years I've gone to Alaska to fish.
Why are you a Farm Bureau member? I think Farm Bureau represents us in a lot of ways that we can't individually do.
How will the next generation of agriculturalists have to operate? There is going to be more computer operated machinery. Also, I think the next generation that comes along will need to be more educated, and be able to work with the high-tech equipment. Future farmers will need to be ready to deal with many issues, lawyers, water rights, environmental issues, to name just a few.
What is the best business advice you have ever received or given? What is the best business advice you would give to beginning farmers and ranchers? Don't get discouraged. It's a hard life,but it can be very rewarding at times. If you don't love it, don't do it. It's something you do because you love it, not because you think you're going to make a lot of money.