Meet Arizona Agriculture's Warner Glenn
By Kelly Kimbro of J Bar A; Amber Morin and Julie Murphree, Arizona Farm Bureau: Warner Glenn was born January 10, 1936. He grew up on the J Bar A ranch on the south end of the Chiricahua Mountains. He married his wife, Wendy, in 1960 and had two children, Kelly and Cody Glenn.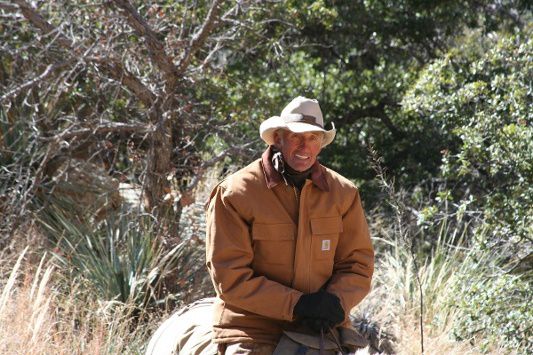 Rancher Warner Glenn
Warner and Wendy Glenn's families had been part of the ranching and borderlands community since the 1880s. Over one hundred years later, Warner, Wendy and their neighbors Bill and Mary McDonald, and Drum and Seth Hadley came together to protect the landscape and way of life that had drawn their families to the area. Together these families formed the Malpai Borderlands Group. This collaboration brought ranchers and scientists together for the long-term good of the land and wildlife and for the love of heritage, history, and sustainability of the ranching way of life.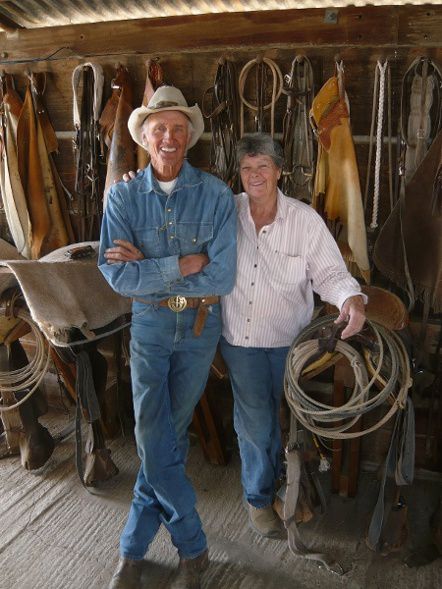 Warner and Wendy Glenn a few years ago in their saddle house. Wendy, who went to be with the Lord in 2014, partnered with Glenn not only in raising a family and ranching but preserving and protecting the land.
Although not everyone shared their long-term vision, they saw beyond politics to lay the groundwork to create a landscape that would continue to provide a way of life for their granddaughter, Mackenzie Kimbro's, generation of ranchers.
Today, Warner Glenn grazes cattle and hunts on the original J Bar A. He is, after all, a practical, common sense man. He knows that predators, like jaguars, are a sign of healthy landscape but also a threat to the cows, calves, and cowboys that now call the borderlands home. He and Wendy, who went to be with the Lord in 2014, spent their lives protecting the land and the ranching way of life in order to leave something beautiful to their children and grandchildren.
This month, Warner received the 2016 Cochise County Farm Bureau Environmental Stewardship Award. His story explains why this award is so deserving.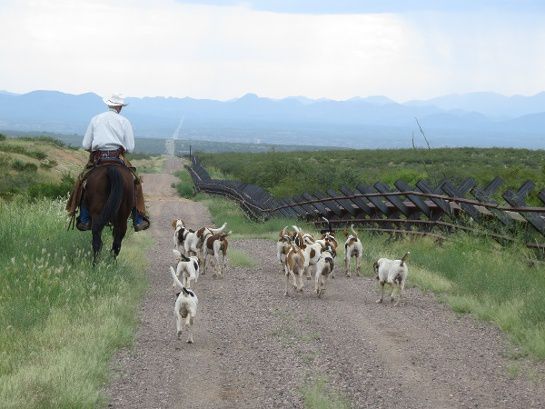 On Malpai Ranch on the southern bounder with Mexico, Glenn knows the borderlands like most engaged ranchers in the area. He understands the importance of conservation and vigilance of the land.
An interview with Warner Glenn and Kelly Glenn-Kimbro of Douglas, Arizona.
Part of an ongoing series about Arizona's farmers and ranchers.
Talk about your farm/ranch: From Kelly: Our family has been ranching in the southeastern corner of Arizona for over 118 years. The original Glenn Homestead was established in 1896 and we continue ranching that land today. Our operation is Cow/Calf, running approximately 400 head of mother cows between our two family-owned ranches. My mother's family also ranched and raised registered Herefords in southeast Arizona in the 1930s, 40s and 50s. My mother's grandfather was one of the original founders of Douglas, Arizona.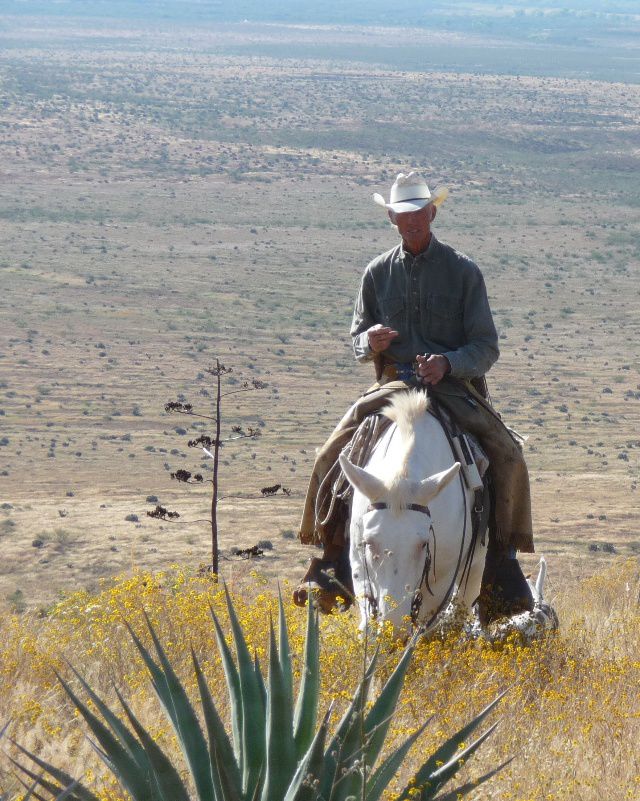 Warner's daughter, Kelly, says he has been on almost every peak in southeast Arizona and southwest New Mexico and he has no doubt ridden over 2,500 miles every year for at least 70 years!
Explain in a bit more detail your environmental stewardship practices on the ranch? From Warner: Breaking it down by each ranch, Malpai Ranch: Watershed restoration, grassland restoration with chemical brush treatment and reseeding and also mechanical brush treatment and reseeding. Pipeline installation for water source distribution for ease of pasture rotation with respect to growing season needs. Re-location of cattle herds in times of prolonged drought so that the entire ranch has the opportunity to regenerate and recover. Usually with pasture leases off of the ranch itself, but this year 2016, we actually sent our entire cow herd with their calves and the bulls to Westlake Cattle Grower's to feed for the months of July and August with hopes of good summer rains to regenerate the grasses here at the Malpai. We were fortunate enough to get rains on all parts of the ranch and we will be bringing our cow herd home.
J Bar A Ranch: Water source development and distribution in order to utilize pasture rotation during the growing season each year. Formal grassland monitoring to maintain range land health. The J Bar A is for the most part a Forest Service Allotment. The number of cattle grazing the allotment is restricted to a number that maintains the integrity of the range resources. We have voluntarily stocked the ranch for the past twenty years at a lessor number than allotted, to help maintain the resources through drought periods.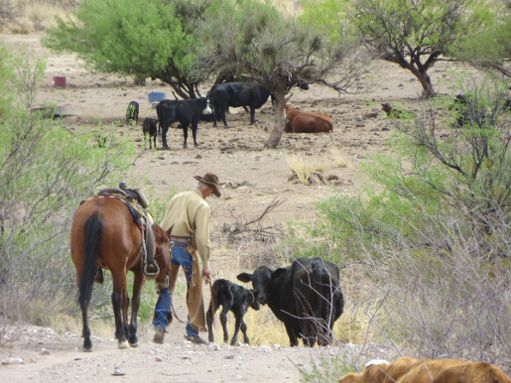 What do you love the most about ranching? Everything! Good times and bad - the family life in running a ranch -- open country -- fresh air -- good horses and good cattle -- always plenty to do-- no idle time.
What changes have you seen in your lifetime as it relates to farming and/or ranching? Our family was one of the founding members of the Malpai Borderlands Group. The organization was housed in our ranch house for over 20 years. This is an organization that involves environmentally aware ranchers, land use agencies and conservation entities, to preserve open space, to keep ranches in production and to protect and encourage ranching practices that both benefit the ranching operations and the environment.
Border Security is a huge issue for us. Our southern ranch borders Mexico and we are leaders in our community in working toward securing our borders, reducing the impact on rangeland by Border Patrol and trafficking alike, encouraging partnerships between law enforcement and ranchers and continuing to try to amend our production practices to adapt to the border issues.
Economics of ranching have changed for everyone, however, as an added expense is the high cost of ranching in border regions.
Why did you choose to go into agriculture? It is the way of life that we know and love. It is our heritage and our family history. It is the only thing that our family would choose for a lifestyle and livelihood.
What do you enjoy doing, and what is one fact/achievement that nobody knows about you? Riding horseback through all types of country. I'm happiest when I'm on a good mule or horse and taking care of livestock or hunting a lion somewhere.
From Kelly, his daughter: Warner said, "There are no secrets. Everyone knows everything I do!!" I would say that Dad has climbed a lot of mountains. He has been on almost every peak in southeast Arizona and southwest New Mexico and he has no doubt ridden over 2,500 miles every year for at least 70 years! He does not own an ATV. He does all his ranching and hunting on a four legged mule or a rock footed horse and it is not uncommon for him to ride at least ten miles a day, most days of the week.
What generation of farming/ranching are you? From Kelly: My Dad, Warner Glenn is 4th generation. I (Kelly Glenn-Kimbro) am 5th and my daughter Mackenzie Kimbro will be 6th. Our family lives, breaths and works for our way of life. A side business that we also have is predator control/hunting guide services. We primarily hunt Mountain Lions for neighboring ranchers and for Big Horn and Mule Deer study projects in Southeast Arizona and New Mexico. We are 5th generation in Arizona.
Will anyone in your family ... younger generation ... pursue farming and/or ranching? Yes, Mackenzie will continue with our ranching business while also pursuing her desire to study for and become a Chef.
Would you ever consider growing an emerging crop or changing your ranch model? The changes that we have made, parallel the industry trends or cattle types and breeds.
What are your community activities? Our community activities are working to develop and sustain an Educational Land Lab facility at the Douglas High School, continuing to support and sustain the purpose of the Malpai Borderlands Group, to work to raise funding for a local organization that supports families and victims of Cancer, and to help local people in our community that are in need. It is a great satisfaction to help others.
My dad's engagement in the community has been recognized by various groups. Part of his passion is making things better for the next generation. Some of these recognitions are bulleted below:
Arizona Game and Fish, Environmentalist of the Year - 2008
Congresswoman Gabrielle Giffords
Congressional Record Recognition – November, 2008
For conservation work involving the Jaguar.
S. Fish and Wildlife Service
Southwest Regional Recovery Champion Award - June, 2008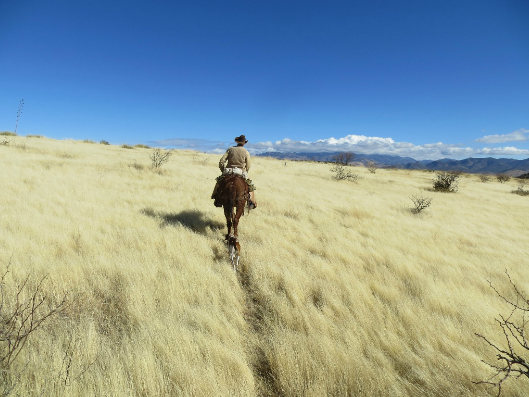 Why are you a Farm Bureau member? Organizations like the Farm Bureau and the Cattle Growers have the resources to stay up-to-date with legislation, policies impacting Agriculture and other considerations that farmers and ranchers would not be aware of until possibly "it was too late." It is critical that farmers and ranchers have a voice and be proactive on issues that could affect their business, their livelihood and their very existence. Another important concept is that of encouraging the next generation to carry on with their families farming and ranching businesses.
What is the best business advice that you've received?
When cattle ranching, stick to mother cows – cow/calf operations are the best – the steer business is too risky!
Take care of the resource – grass, browse, water
What business-oriented advice would you give young farmers and ranchers? Enjoy high markets and prosperous weather but plan for hard times. Don't spend more than you are making – conserve in the good times.