By Peggy Jo Goodfellow, Arizona Farm Bureau: As a kid, I loved going to the hardware store with Dad. I grew up in Ramona, California, a small mountain town northeast of San Diego. Our hardware store had everything from thumbtacks to generators under one roof. I would spend hours looking and dreaming about when I grew up and what I'd have in my own house someday.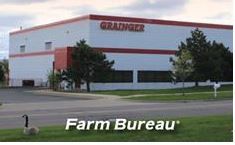 Fast forward to present day….I still love hardware stores! And as a Farm Bureau member, I can go to a Grainger store or access the online store …either way I'll receive the Farm Bureau discount, plus free shipping.
Thanks to a new agreement with Grainger, Arizona Farm Bureau members can now save up to 30 percent off products purchased through Grainger, and they also receive FREE standard ground shipping on ALL orders, including orders placed in-store, by phone or online.
A range of incentives are offered on more than 1 million different products available through Grainger, including:
All Arizona Farm Bureau members are eligible for the Grainger discount when they present the unique state Farm Bureau account number in-store, by phone or online.
Editor's note: For more information on our member benefits including our regional benefits go to Arizona Farm Bureau's member benefits page online. Or, download the Member Benefits app to your smart phone for easy, everyday access to your benefits.