Membership Matters:  Member Benefits in Maricopa County, Part II
By Peggy Jo Goodfellow, Arizona Farm Bureau Marketing Manager: It's week eleven, in our series of articles that show how to find local Farm Bureau benefits where you live. Farm Bureau members have over 240 statewide and local benefits available to them. All local benefits are listed by county and by category on www.azfb.org and the FB Benefits app. How exciting!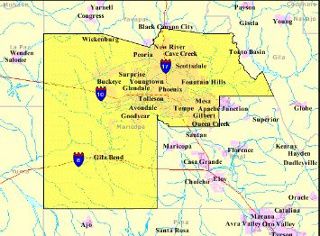 This week, let's take a look at two more cities in Maricopa County. Chandler and El Mirage, in the series about local benefits available to members in their individual counties.
Maricopa County Benefits in Chandler and El Mirage
Chandler

Denny's Restaurant-Family Dining
10% Dine in or To go orders
2 locations in Chandler and 1 in Gilbert

Denny's offers this discount 24 hours a day 7 days a week- All Menu items (not to be combined with other discounts or offers) Show your Farm Bureau membership card for a 10% discount.

FREE Grand Slam on Your Birthday and for Veteran's on Veteran's Day
Kids eat FREE every Tuesday and Saturday from 4 pm to 10 pm

Three locations to serve you:
1661 E Warner Road, Gilbert, Val Vista & Warner Rd, 480-497-2012
1750 W. Chandler Blvd., Chandler, Dobson & Chandler Blvd., 480-782-7594
7400 W. Chandler Blvd., Chandler, I-10 & Chandler Blvd., 480-940-8882


FloorEver Interiors
offers 20% store wide discount
Family owned and operated with 30-years experience, serving the Phoenix area with flooring, cabinetry, Hunter Douglas window treatments, custom draperies, slab and tile countertops and custom showers.

Discount available at the Chandler location only
FloorEver Interiors
2705 S. Alma School Rd # 4
Chandler, AZ 85286
480.899.2640
Fax: 480.899.2642
kmcmurdy@flooreverinteriors.com


LasikPlus Vision Centers
15% off Standard Pricing or
5% off Promotional Pricing
Dr. Gabriel Perry and his professional staff offer
Significant savings on Lasik with LasikPlus!!
Extra value:

Free Lasik Exam
Call 1-855-439-2020 to schedule your FREE Lasik exam today.
Two locations to serve you:
16427 North Scottsdale Road
Scottsdale, AZ 85254
and
2974 N. Alma School Rd
Chandler, AZ 85224

***Please show your current membership card to receive the discount ***
Juice Plus & Tower Garden
Free bag of shake mix with every trio order of juice.
Free Tower Garden set-up & starter plants
Whole food nutrition made simple
www.mi.juiceplus.com
www.mi.towergarden.com
602-790-1976


Monster Cleaning Company 50% off first month service
Office or building cleaning service
Monster Cleaning Company
4140 E Yellowstone Pl
Chandler AZ 85249
602-466-7337
Tire Pros of Chandler
10% discount off any service or $25 off a set of new tires.
Tire Pros is an automotive and tire services company.
Offer good only at this Chandler location.

Tire Pros
825 E Chandler Blvd
Chandler, AZ 85225
480.857.4844


Valley of the Sun Realty
Free Market analysis
We ensure best possible results with an 18 point marketing plan

Valley of the Sun Realty
290 S Alma School Rd #15
Chandler, AZ 85224
602-689-1805


El Mirage
Thunderbird Auto Repair LLC
10% off all auto services
Trustworthy local shop providing quality repairs

Thunderbird Auto Repair LLC
12122 W Thunderbird Rd
El Mirage, AZ 85335
623-974-4005


Editor's note: For more information on our member benefits including our regional benefits go to Arizona Farm Bureau's member benefits page online. Or, download the Member Benefits app to your smart phone for easy, everyday access to your benefits.