Mentor Protégé CAMP Profile, 5: Hayley Andrus and Kelsy Taylor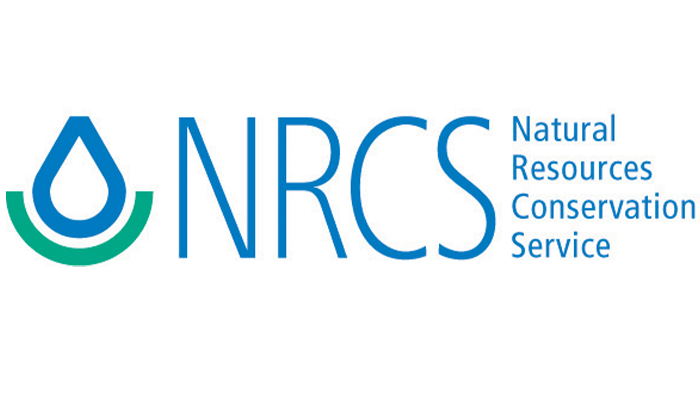 Continuing our CAMP mentor/protégé series, we profile Apache County Farm Bureau President and rancher Hayley Andrus and NRCS employee Kelsy Taylor in this fifth article in the series. 
With the launch April 2021 of the Conservation Agricultural Mentoring Program (CAMP), in partnership with Arizona Farm Bureau, The NRCS team has been front and center in enthusiastically driving this unique partnership. While several other states have the CAMP program, Arizona is unique in the partnership effort with Arizona Farm Bureau. 
At the beginning of this 18-month effort, Arizona Farm Bureau and NRCS continue to shine a bright light on this exciting program and the experiences our mentors and protégé are going through. Each mentor/protégé partnership is different with unique experiences. 
The Andrus Taylor partnership works to understand Arizona agriculture and conversation opportunities, joining forces to provide firsthand experience of the conservation practices and agricultural happenings in northern Arizona. 
From Hayley, rancher
What's been the biggest takeaway so far with your meetings over the telephone and/or zoom and/or face-to-face gathering? Kelsy has been an absolute joy to have with us this year. He has been in touch with us on the phone and with us on the ranch several times. He attended our county annual meeting, and he was able to meet producers from the county that he hadn't met yet and gain a greater understanding of the mission of the Farm Bureau. I guess our takeaway has been that we have so much in common with Kelsy and he is a strong ally for agriculture. 
Share specifics about one of your meetings? When we shipped our cows to the forest permit Kelsy came every day for a week, sun-up till after sundown. This is the kind of all-hands-on-deck job and he definitely proved himself handy! He jumped in and tried any and every kind of job. As a family operation, he was inducted into the family that week! We learned that Kelsy really cares about our success as a family ranch. He is so willing to do what he can in his office and work to reach our common goals as caretakers for this land.
Why have you felt this program has been helpful? When we have worked with the NRCD on projects - Kelsy and his co-workers come out to our place and they get to see one area and one project. I feel like this program has been very helpful in giving a broader scope- to why these projects are so essential for the bigger picture. When you get to see the operation over the course of a year, the NRCD projects and the importance to agriculture are more fully grasped.
What do you hope to learn more about? When it comes to possible projects, we don't often know what is available through the NRCD. So, as we go forward in the CAMP program, we hope that Kelsy can come up with ideas for land management that aren't even on our radar yet. In short, we don't know what we don't know. We hope Kelsy can bridge that gap for us. 
What are you looking forward to in your other meetings/gatherings/learning and sharing sessions? We have made a life-long friend and we expect there too many more good times, good laughs, good plans for improvements on this range. Thank you, Kelsy!!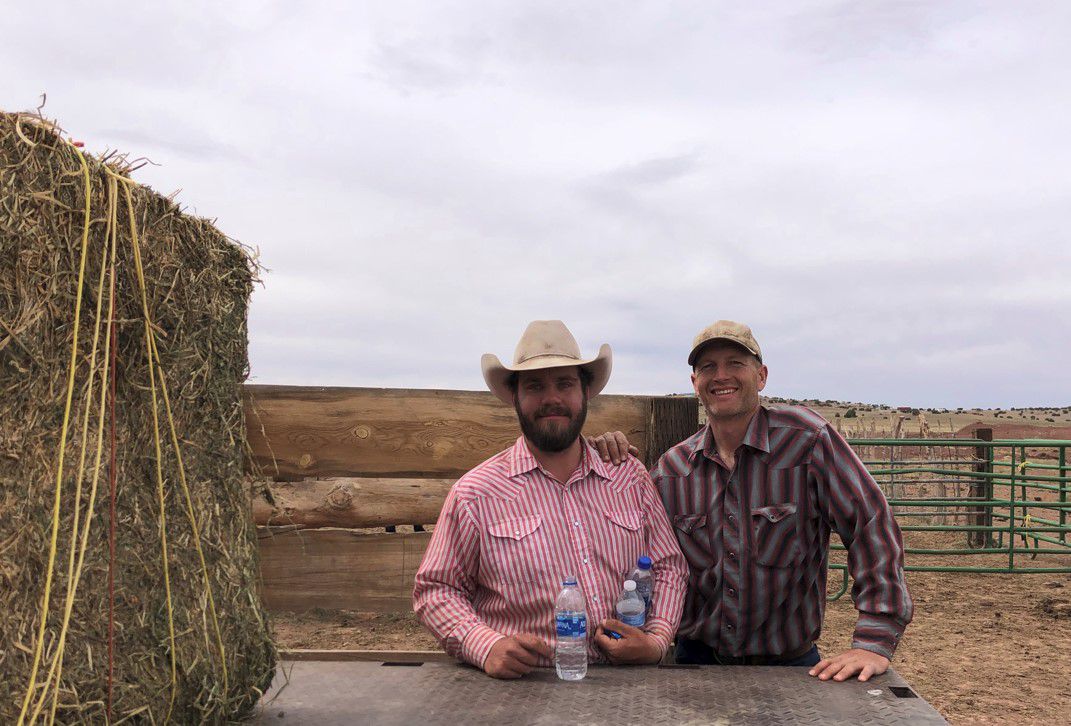 Kelsy Taylor (left) with Hayley Andrus' husband, Milo, suggests the best part of the mentor protégé partnership is the hands-on knowledge he's gaining from Arizona ranch families.

From Kelsy, rangeland management specialist
What's been the biggest takeaway so far with your meetings over the telephone and/or Zoom and/or face-to-face gathering? There are far too many takeaways I have gained through this experience to list them all here, however, I would say the biggest would be the wealth of knowledge from the producer standpoint regarding the challenges of an agricultural operation which will definitely have a positive impact on the way I conduct business going forward. Another huge takeaway was the opportunity to attend the Apache County Farm Bureau Annual County Meeting and getting to see what a huge advocate Farm Bureau is for Arizona Agriculture.
Share specifics about one of your meetings? What did you learn? Getting to spend a few days with the Andrus family on their operation gave me a great insight into the constant challenges that producers face on a day-to-day basis. Getting to see the conservation practices that they have completed in the past and the long-term effects that these have made have given me more insight into how big of a difference we can make by properly addressing resource concerns. 
The hands-on experiences I have gained thus far in the CAMP program will definitely play a role in my thought process when it comes to conservation planning in the future. 
Why have you felt this program has been helpful? I feel this program has been extremely helpful in gaining hands-on experience and knowledge that would never be possible working in an office setting. It has also been very helpful for me in enhancing my communication skills and getting introduced to a lot of local producers that I had not met/worked with prior to the program. 
What more do you hope to learn about in your area? I hope to continue to expand on my knowledge of day-to-day operations and challenges that are faced by local producers in my area and how our work as NRCS employees can have a positive impact on production agriculture in my area. Furthermore, I hope to put forward everything I have learned in the program and use it to better serve local producers.
What are you looking forward to in your other meetings/gatherings/learning and sharing sessions in the future? I am looking forward to soaking up the wealth of knowledge that Hayley and her family possess and are more than willing to share with me! I am very blessed to have been paired with such an amazing family as my Mentor(s) and I cannot thank them enough for all the experiences and great times, I look forward to many more in the future!