Normalized Relations with Cuba to Benefit Arizona Agriculture Exports
By Julie Murphree, Arizona Farm Bureau: The Announcement this week by President Obama intending to restore diplomatic relations with Cuba has certain political fallout; but it also certainly means positive economic value to American agriculture. Both Arizona Farm Bureau and American Farm Bureau support an effort to open more agriculture trade with this neighboring country.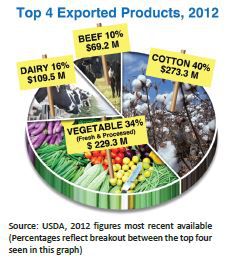 Arizona's top four Exports.
"Opportunities for improved trade is good news for Arizona agriculture as we export $1.26 billion in agriculture product around the globe. Cuba will certainly increase that number," said Arizona Farm Bureau President Kevin Rogers. "We appreciate the hard work and leadership Senator Jeff Flake has shown on this issue."
"The American Farm Bureau Federation strongly supports President Obama's move toward normalized relations with Cuba," said American Farm Bureau President Bob Stallman. "Farm Bureau has long called for a removal of trade restrictions with Cuba, and we believe expanded trade with the U.S. can serve as a cornerstone for additional reforms."
Currently, U.S. farmers can export to Cuba, but third-party banking requirements and limited credit financing make it harder to compete in the market.
"The president's opening to Cuba promises to improve trade conditions by making it easier for Cuba to buy U.S. agricultural and food products. This is welcome news for our nation's farmers and ranchers.
Despite these heavy regulations and strict limitations, U.S. exports of agricultural goods to Cuba grew to $457 million in 2010 from $4 million in 2001, according to the USDA.
"Improving trade relations between the U.S. and Cuba will expand access to a market of 11 million consumers for U.S. agriculture," added Stallman. "That's good for Cuba and good for America, too. We look forward to working closely with the administration on this issue."