One Arizona Farmer's Take on the Tier One Shortage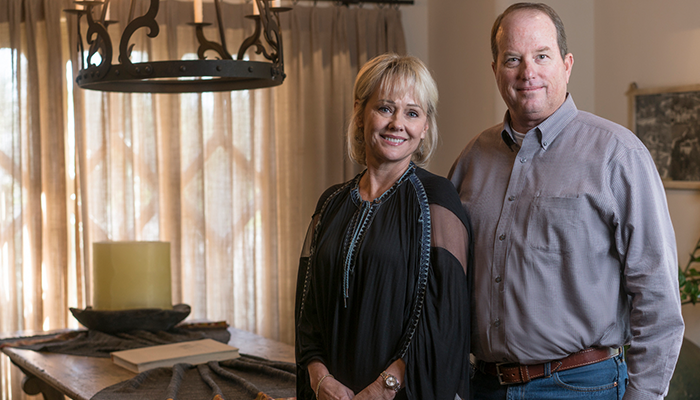 Back in 2015, I was prompted to ask long-time friend and fellow Pinal County farm kid, Bryan Hartman, how his water district was going to handle the expected "call on the river." Even six years ago Pinal county farmers discussed the issue extensively and were preparing for it. Now the Bureau of Reclamation officially declared a Tier One shortage in August, as expected.
Did our Pinal county farmers plan well enough? Why do they appear to have come up short knowing this was most likely going to happen even six years ago?
Hartman is president of the Maricopa Stanfield Irrigation and Drainage District (MSIDD), created in 1962 for the purpose of providing irrigation water for agricultural use in the area. So, we return to our conversation of six years ago. 
A principal of the Santa Cruz Ranch Partnership, Hartman is a fourth-generation farmer who assumed the mantle of the family farming tradition during young adulthood. As a principal in the Santa Cruz Ranch Partnership, Hartman is responsible for the management of a 2,000-acre farm operation whose major crops include alfalfa, corn, cotton and sorghum. In addition, he is the owner of the C Spear Ranch, located in Benson, Arizona, where primary operations are comprised of pasture crops and a cow-calf operation. Previously, Hartman was manager of the Hartman Ranch Partnership, consisting of his family's original homestead and farming operations.
 Serving on several boards at the local, regional and state levels which includes the Governor-appointed Groundwater Users Advisory Council (GUAC), his leadership as MSIDD president allows him to work with a dedicated board and staff to manage MSIDD's system of more than 200 miles of distribution facilities. In addition, he serves as Vice Chairman of the Electrical District No. 3 Board of Directors, Pinal County Water Augmentation Authority (PCWAA), and the Agricultural BMP Advisory Committee. Former Arizona Governor Jane Hull previously appointed Hartman to serve on the Best Management Practices for Irrigation Committee, and he served on the University of Arizona's Farm Board. 
With a Bachelor of Science in General Agriculture from the University of Arizona, Hartman and his wife, Mary, and their four sons reside in Casa Grande.
In 2015, I asked Hartman what was happening and how were they preparing for anticipated water cuts. "We've been planning for this as far back as the 2004 Arizona Water Settlement Act," explained Harman. "Our surface water will be reduced anyway. Central Arizona Project's agriculture pool is 400,000 acre-feet right now. That's what the irrigation districts in central Arizona got in return for giving up their subcontract water. Of the 400,000 acre-feet of CAP water, MSIDD farmers get 27%. So, we get 110,000 acre-feet of CAP surface water per year to grow crops in the MSIDD. In 2017, because of the way the settlement agreement worked out – planning for fewer farmers due to development – a scheduled decrease of 25% will occur. So instead of 110,000 acre-feet, that becomes around 80,000 acre-feet; and that's under a no-shortage situation. In total, MSIDD provides almost 300,000 acre-feet per year to the area's landowners and farmers. We provide the rest of the water from our irrigation wells located throughout the district that are leased by MSIDD until 2030 from the landowners. 
"My point is, we've already been preparing for a reduction in Central Arizona Project surface water for farming in this area. We have a lot of dairies in the area now and our crop mix has changed from cotton to alfalfa and corn and sorghum. 
"As a result, we've been revamping dormant wells - fixing the wells – for some time now. In the last two years, we've gotten even more aggressive because of a chance for a shortage declared on the river by the Bureau of Reclamation. 
"In Maricopa and Stanfield we have 278 irrigation wells that have potential production capabilities. Of those, more than 139 are currently ready to operate. MSIDD has more than 180 miles of canal system to move water anywhere in the district. 
"The MSIDD staff is sleeping and breathing this every day to be ready and we feel we'll be where we need to be to have enough wells online for irrigation requirements. In the next year's budget, we'll have the potential to deliver and sell 171,000 plus-acre-feet of groundwater. Our target production in well water is 200,000 acre-feet."
That was then. Today, there's more of the story to tell.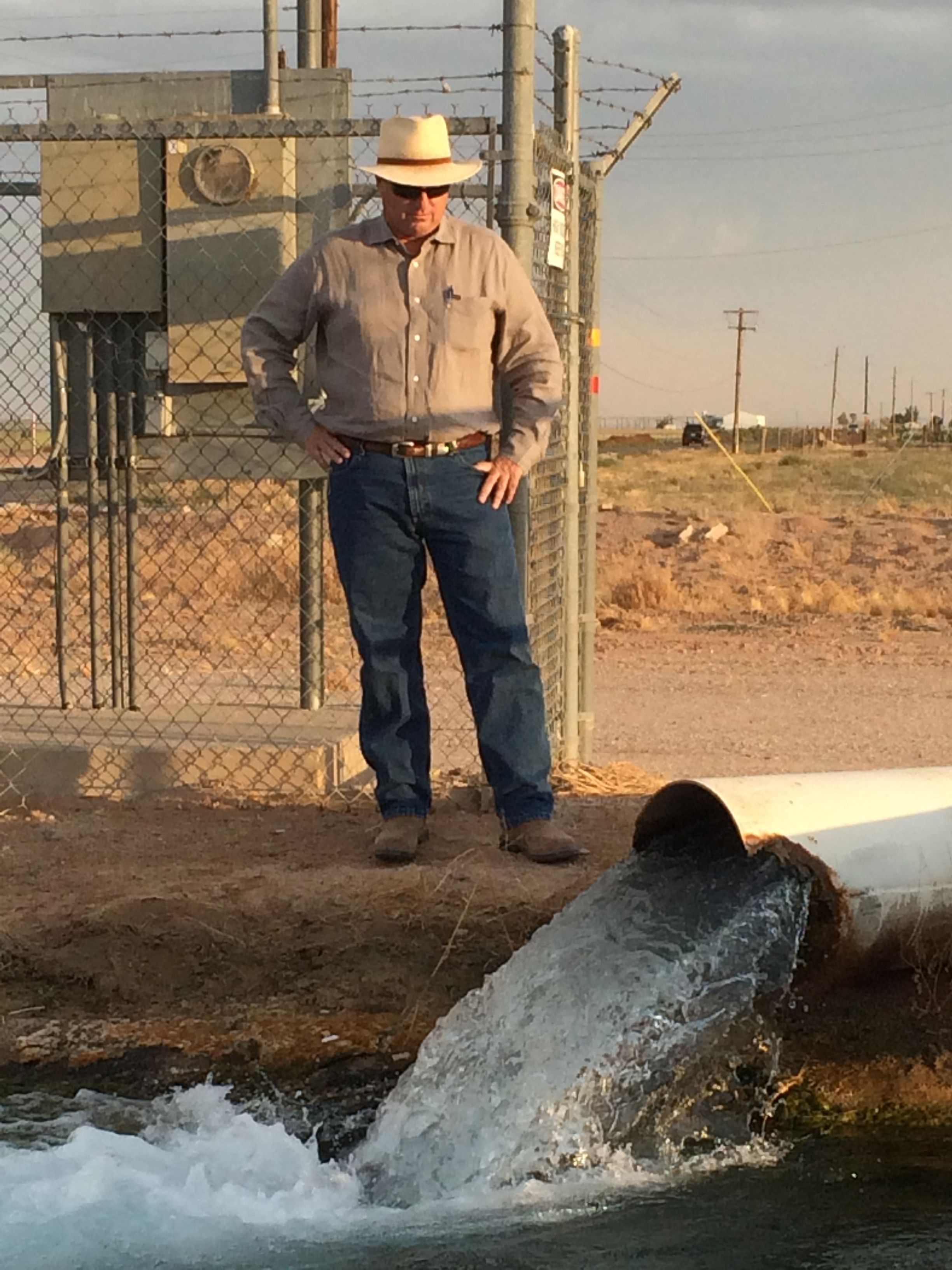 Bryan Hartman checking out a pump in Pinal County. President of the Maricopa Stanfield Irrigation and Drainage District, Hartman is hopeful about farming and water availability in the district.
Arizona Agriculture: While you've been prepared for anticipated cuts even without a Tier One declaration, what happened to make the declaration so tough on farmers, certainly in Pinal County? Were we prepared enough? Or, was mother nature uncooperative. Explain.
Hartman: You are correct that we anticipated not having a reliable source of Ag-pool surface water after 2030 as per the Arizona Water Settlement Act of 2004. We were steadily increasing our groundwater capability while not having to use it. Then came the Drought Contingency Plan, DCP. Our state leaders anticipated that a drop in Lake Mead might come sooner than later, and it did as of last August with the Bureau of Reclamation declaring a Tier One Shortage. We found ourselves dealing with the reality of shifting our entire Irrigation District management effort, which has over 200 miles of distribution facilities, delivering Central Arizona Project (CAP) surface water anywhere in our district within than 24 hours to face the reality of relying mainly on groundwater again. 
We are now faced with speeding up the process of converting our irrigation district from delivering primarily surface water supplemented with groundwater for which it was designed to delivering primarily groundwater throughout the district. The clock got sped upon us and as a result, we have to work that much harder to catch up. 
Arizona Agriculture: Pinal County farmers will lose half of the water they typically use to grow food and fiber. The impact on a business's success seems obvious, but our resilient farmers seem ready to carry on. How are they going to do this?
Hartman: We live in a great age where technology is rapidly increasing. Drip irrigation systems, irrigation sprinklers and pivots, GPS guidance systems for our farm equipment, land leveling and touchup laser systems, ported concrete irrigation canals, moisture sensors in our fields letting us know when to irrigate with precision so we don't waste a drop of water when irrigating.
Water is one of our most expensive crop inputs and anyone that does not use it wisely will be out of business. All these tools help our Pinal County farmers produce more with less. We face every challenge head-on.
Arizona Agriculture: How are you going to handle all this with your own farm business?
Hartman: We will only be growing the most profitable crops. Since we will be forced to fallow our productive cropland and have a limited supply of irrigation water it is critical to maximize yields and income on the crop that gives us the best chance to stay in business.
Arizona Agriculture: In our earlier interview you mentioned because of the irrigation districts' efforts and CAP's efforts over the last 30 years, the groundwater table has come up. The other benefit in Pinal County is that the Ak Chin Indian Community has CAP water for perpetuity because they are a higher priority than farmers so we'll always have agriculture in some form or fashion in the Maricopa/Stanfield area. Plus, as a result, since they'll be using surface water through CAP, instead of well water, they'll always be recharging the groundwater table below our area. These are hopeful points about water in the area. But what else are you hoping for as it relates to this resource in Pinal County for farming?
Hartman: When our founding farming families came to Pinal County, they cleared the desert and floodplain areas and developed the deesert lands into productive farmland. They dug irrigation wells and developed and built electrical districts to power the pumps. They built and paid for our irrigation district which brought in our precious surface water from the Colorado River so that our aquifer would recharge. Our early farm families actually anticipated that another phase of development would occur once populations shifted west.
Now, over time our farmland is being converted to urban areas where people are moving here to build homes to live and build businesses to work. Urbanization done right uses less water than agriculture. Effluent water from the cities could be used to grow crops. Our irrigation technologies are always improving. Our Ag water use has dropped over time. We pumped and used a lot more water in the past than we ever will in the future. 
Arizona Agriculture: The irrigation districts will get to tap into recovery infrastructure dollars. Besides what MSIDD has already done and this inflow of additional funds, when can we see the completion of the projects, and will it be enough and in time?
Hartman: Good question. When a farmer has numerous tractors to maintain and keep running it means more expense and repairs. The same will be true for our irrigation district. With more irrigation wells running we have more repairs and maintenance to keep the water flowing. So several budget line items will not go away but instead increase. 
The Irrigation District Board and its management team is under no pretense that all our lands have good groundwater capacity. We have cropland with good water capacity and we have cropland with little or no groundwater capacity. We will use our best efforts to supply water to all our district lands, but we are not magicians. 
This will not be an easy fix. To accommodate the new normal we are completely reverse-engineering the system from surface water delivery to groundwater delivery. Ultimately, this experience and effort point to a number of benefits we had with access to CAP's surface water that went beyond just water. The system was an equalizer to all farming across the district regardless of a cropland's groundwater capabilities. Now we have to sort out this underground maze of unequal groundwater capacity.
There is much work still to be done. The Irrigation District is continuing to drill new service area wells, rehabilitate existing wells, and design and install pipelines to transport irrigation water where it is needed.
Arizona Agriculture: Scientists and especially geologists have an interesting take at times about water in Arizona. Some even appear fairly hopeful. What are these experts telling you?
Hartman: Most experts are hopeful. We are blessed to be in an irrigation district with an overall rising water table. Our irrigation district has hired the best hydrologist and geologists to work along with our hard-working, dedicated employees. We must work hard at finding ways to take advantage of that and transport the water to where it is needed the most.
Arizona Agriculture: In Pinal County alone, agriculture contributes $2.3 billion to the local economy. Are you hopeful about the future of agriculture in Pinal County? If so, in what way?
Hartman: Yes, I am hopeful. Our county and city government leaders have extraordinary passion and energy to protect and sustain Pinal County agriculture. Our county leaders are passionate about protecting our irrigation grandfathered water rights which in turn protects agriculture and Pinal County. They have our backs.
Arizona Agriculture: What is your word of encouragement to farmers in the area?
Hartman: Keep farming. We are truly blessed with some of the most hardworking, innovative farmers in the world. Our soils are some of the finest anywhere to be found. No farmer in Pinal county will give up without a fight.  Many areas of the western U.S. are being cut off completely from their water resources. We are blessed to have our groundwater capability to continue to farm. We will survive and eventually thrive again, maybe even stronger.