Pinal County Farm Bureau's Community Activism is Philanthropic
By Amber Morin, Arizona Farm Bureau Field Manager: Committed to supporting aspiring young agriculturalists and those in need, Pinal County Farm Bureau believes in giving back to its community. It all begins in March when the County Farm Bureau hosts a Pinal County Fair buyers' luncheon, also co-sponsored by Farm Bureau Financial Services. One of the biggest events that Pinal County Farm Bureau sponsors throughout the year, the luncheon feeds approximately 900 people. If you haven't had the opportunity to have a plate full of the famous pulled pork, maybe we'll catch you at the fairgrounds next year!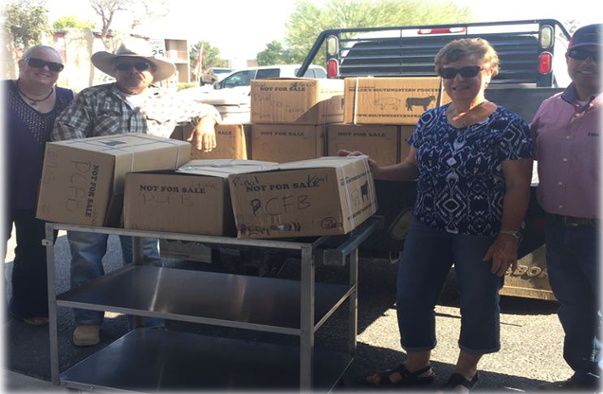 These Pinal County farm and ranch families are community activists through their Pinal County Farm Bureau organization. Maryeileen Flanagan, Antonio Durazo-Moreno, Carmen Auza, and Richie Kennedy of the Pinal County Farm Bureau deliver boxes of processed meat to a food bank in the Town of Maricopa.
The Pinal County Farm Bureau luncheon is just the beginning on that day for this county Farm Bureau. This year, by the time the Pinal County Fair livestock auction was over, the county Farm Bureau had purchased $2,500 worth of livestock supporting local youth and their efforts to learn about agriculture, business, and personal responsibility. In total for the 2017 season, two veal, one lamb, and four swine were purchased by Pinal County Farm Bureau.
Next up: The animals go to market. Every year for some time now, Pinal County Farm Bureau has paid to have the livestock processed at a local facility and then donate all of the meat to local community organizations and foodbanks. Organizations such as Pan de Vida, Youth Haven Ranch, Home of Hope, Seeds of Hope, and a food bank in the Town of Maricopa were all personally delivered five boxes of the freshly processed meat from members of the Pinal County Farm Bureau Board of Directors. These efforts, which have now taken place for ten years and counting, are a way for the local county Farm Bureau to highlight that Farm Bureau cares about more than just policy issues. Farm Bureau is about supporting our local communities, and who better to do that than the people who produce food?
We're not finished, however. This doesn't cover all of the annual philanthropic efforts of the Pinal County Farm Bureau. Also at the county fair, the County Farm Bureau hosted its annual scholarship silent auction and raffle full of great giveaways, gift cards, and farm and ranch tools. If you have participated in the event, you know that the County Farm Bureau truly does have amazing items up for bid and raffle! What makes the auction even better is that all the proceeds go to support the Pinal County Farm Bureau Scholarship Program. This year alone, the scholarship silent auction and raffle made $2,881. Twelve scholarship recipients will be recognized with $500 awards at the Pinal County Farm Bureau Annual Meeting Dinner on August 30, 2017 at The Property Conference Center in Casa Grande.
Heartfelt thanks go out to the volunteer members who have had a hand in making it another successful year for the Pinal County Farm Bureau!