President Signs Infrastructure Package into Law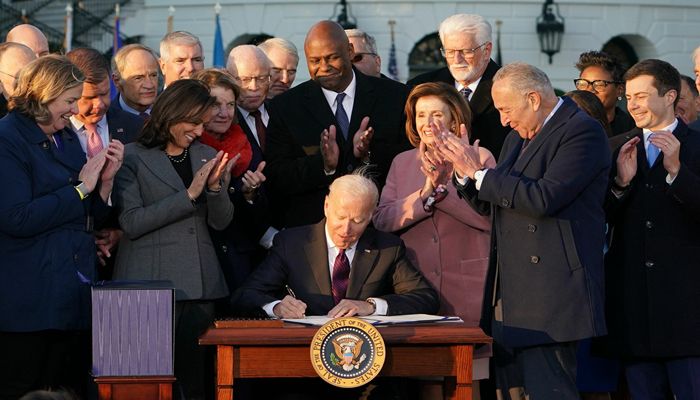 After months of discussion and partisan holdouts, President Biden signed the 1.2 trillion-dollar infrastructure package into law. Arizona Farm Bureau worked from the start to ensure this package included provisions that would be beneficial to Arizona's farmers and ranchers while not including pay-fors such as changes to inheritance taxes that would have been detrimental to our members.
The bill outlines $550 billion in new spending over the next 5 years. This bipartisan agreement includes several provisions designed to boost the resiliency of our farms, ranches, and rural communities. It makes significant investments in western water infrastructure that are necessary to ensure future production opportunities for our members being negatively impacted by prolonged drought conditions. Finally, the bill includes an exemption for livestock and insect haulers from Hours-of-Service regulations within a 150 air-mile radius from their final destination, which is a welcome modernization.
"Arizona's farmers and ranchers are experiencing unprecedented challenges due to the drought, which are exacerbated by aging infrastructure. Arizona Farm Bureau conveyed this message to Senator Kelly and Sinema and we're grateful that the Senators kept the needs of Arizona's farming and ranching families at the forefront of the discussion on this historic bipartisan infrastructure bill. This is a critical investment in the sustainability of Arizona agriculture" says Arizona Farm Bureau President, Stefanie Smallhouse. 
Amongst other beneficial provisions, the bill funds:
$110 billion to repair bridges and roads and build major highway projects, including unsafe rural roads, $5 billion is expected to go to Arizona for federal-aid highway apportioned programs and $225 million for bridge replacement and repair;
$65 billion to expand affordable, high-speed internet access, with at least $100 million expected to go to Arizona;
$8.3 billion for western water infrastructure, with specific funds going towards repairing aging dams in Arizona and funding the Drought Contingency Plan, among other things;
$65 billion to improve grid reliability and resiliency and allow for the increased use of renewables;
$8.25 billion for wildfire management, including a bill to study and recommend wildland fire prevention, suppression, management, and rehabilitation policies.
Thank you to Senators Sinema and Kelly for your work on this historic investment in Arizona's infrastructure.