Proposed School of Veterinary Medicine Needs a Second Hearing
By Julie Murphree, Arizona Farm Bureau Communication Director: Last month, the American Veterinary Medicine Association's Council on Education voted to deny a finding of reasonable assurance for the University of Arizona's (UA) proposed School of Veterinary Medicine. The University plans to appeal and the agriculture community supports the effort.
Receiving a letter of "reasonable assurance" is the first step in the accreditation process. The UA intends to ask that the letter be awarded based on information the University already has provided to the accreditation team. UA has about a month to provide the documentation for the appeal and then a hearing will be scheduled, likely later this fall or winter.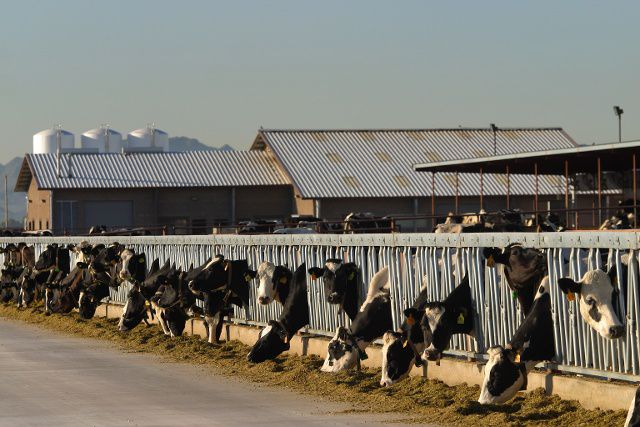 Arizona and the U.S. continue to experience a shortage of large-animal veterinarians, especially in rural counties. Part of the reason for this relates to the cost to obtain a Doctorate in Veterinary Medicine. UA's Proposed School of Veterinary Medicine could help change all that
UA President Ann Weaver Hart and Vice President Shane Burgess underscored Arizona's need for a public veterinary school and the UA's commitment to earning accreditation.
"The UA has provided a detailed plan for a novel year-round veterinary medical education program that will provide Arizona students and their families a faster path to a DVM degree for less money and associated with a top American research university," Hart said. "We are absolutely committed to earning AVMA accreditation."
"We will demonstrate that we have addressed all of their concerns as communicated in the AVMA standards, and that we have the support of the Board of Regents, the agricultural community and the state Legislature to move the school forward," said Burgess, who also serves as dean of the UA College of Agriculture and Life Sciences and interim dean for the School of Veterinary Medicine. A national search for a permanent dean is underway.
"The agriculture community is very disappointed to hear this news and believe that a more thorough review by the Council of the scope of the plan should lead them to reverse their decision," says Arizona Farm Bureau President Kevin Rogers. "Arizona needs more large-animal vets and agriculture students interested in the animal sciences need this additional educational career opportunity at the state's land-grant university."
The need for more veterinarians in Arizona is particularly acute for counties and cities outside Maricopa County, especially for large-animal practices. The tribal nations also have been short of veterinarians. Veterinarians who graduate with less debt after graduating would be better able to afford to practice in rural areas.
Students who enroll at the UA also would be more likely to remain in Arizona. Likewise, most state dollars allocated for veterinary student support, an estimated $1.5 million each year, also would stay in Arizona.
The UA's School of Veterinary Medicine's plan of study, which involves students going full time year-round, would graduate qualified veterinarians more quickly and at less cost, address the veterinarian shortage in rural communities and tribal nations, and benefit bioscience businesses and promote public health.
Currently, Arizona students must compete for veterinary school admissions with resident students at out-of-state institutions. For example, 1,600 applicants compete for 130 slots at Colorado State University. Arizona students attending out of state also pay higher costs through non-resident or private tuition, incur more debt, and often stay with the out-of-state veterinary practices and companies they intern with.
"We are committed to earning accreditation for this program – and understand that our innovative plans will entail diligent review on the part of the accrediting body," added Burgess.
While the UA has had to postpone enrolling professional veterinary students into the School of Veterinary Medicine, it will launch its companion master's degree program and a first-year undergraduate curriculum, which are the pre-professional programs from which DVM students will be selected. State funding also has allowed the University to begin renovating the School of Veterinary Medicine building in Oro Valley. The UA has contractual agreements with five private veterinary Tucson practices, the Reid Park Zoo, Hermitage Cat Shelter and Pima Animal Care Center to provide students with a diverse set of clinical opportunities.
"We will launch the M.S. program in Animal and Biomedical Industries as well as the undergraduate courses, either of which provide the required courses to enter the School of Veterinary Medicine," explained Burgess. "This also means that our renovations at Oro Valley and at our facility in Douglas will begin this fall. In addition, we have a national search underway for the dean of the School of Veterinary Medicine.
"PACC takes in a stray animal approximately every hour and most of them require medical attention," Burgess said. "The Reid Park Zoo also will offer preventative and medical care experiences with animals from around the world. This combination of in-house and disseminated opportunities statewide means the broadest education for least cost. It's not the traditional vet school model and it's not intended to be. We need a model for the 21st century and for Arizona."
Added Burgess, "We are so very thankful for the support that the Farm Bureau and our stakeholders around the state have already offered this program. You have all been an integral part of planning on how to make this vet school Arizona's vet school so it will meet the needs of our communities, our agricultural and biomedical industries, and our students and their families. This is a vet school 50 years in the making and we will continue to work with the AVMA toward accreditation."
Editor's Note: This article first appeared in the September 2016 issue of Arizona Agriculture.