Roadside Farm Fun at Rooster Cogburn Ostrich Ranch
By Peggy Jo Goodfellow, Arizona Farm Bureau: Rooster Cogburn Ostrich Ranch is a third-generation family operated working ostrich ranch. They have been open to the public since 1999 when you could feed the ostrich. Today, you can tour around the world all in one place. Ostrich and goats from Africa, Miniature Sicilian Donkeys, Nigerian Dwarf Goats, Fallow Deer, Peking cudks, Rainbow Lorikeets from Australia and more. Get hands on and upclose interaction with lots of different animals.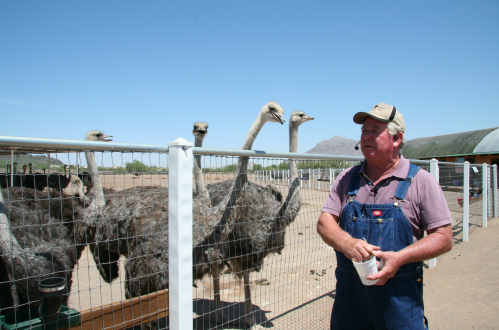 Don't miss the Monster Truck Tours Saturday, Sundays and Holidays. "These Monster Truck Tours are a 45-minute education tour through the ranch with some fun and excitement thrown in," as it says on their website. You'll learn about wildlife, the Sonoran Desert, the Cacti and Picacho Peak. Word of warning, the back of the trucks are reserved for the more adventurous "Thrill Seekers" because when it's time to do some 4-wheeling that's where the real excitement is.
As they say on their website, "It's the darndest place you'll ever visit!"
You won't want to miss the experience at Rooster Cogburn Ostrich Ranch.
Location Rooster Cogburn Ostrich Ranch
17599 East Peak Lane
Picacho, AZ 85141
Phone 520-466-3858
Summer dates: Friday, Saturday, Sunday and Monday now through November 15th
Winter dates: Open Daily beginning November 16th thru April 30th each year
(Weather permitting) Closed Thanksgiving and Chirstmas Day
Hours: 9 am to 5 pm
Cost Prices 6 years & over 5 & under free
Feeding area $7 (includes feed) Free (no feed)
Monster Truck $15 $7 (under 2 free)
Feed & Truck Combo $20 $12 (with feed)
For more information go to www.roostercogburn.com
Editor's note: This is part of the series of Fall Festival articles.For more information on our member benefits including our regional benefits go to Arizona Farm Bureau's member benefits page online. Or, download the Member Benefits app (FB Benefits) to your smart phone for easy, everyday access to your benefits.