Rob Sharkey, Keynote Speaker for Arizona Farm Bureau's 2021 Annual Meeting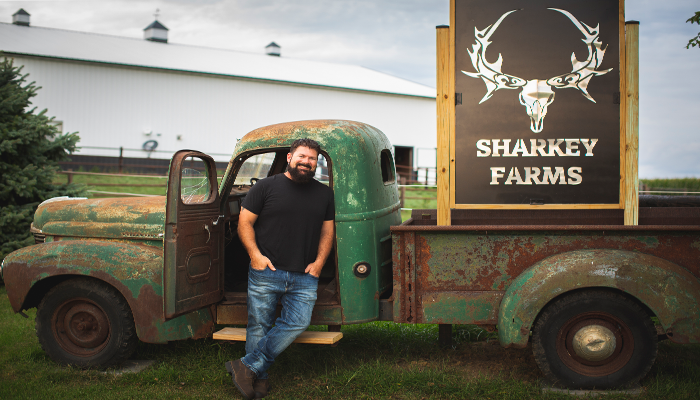 Rob Sharkey, known as The Shark Farmer, is not your average Illinois grain farmer. He's a disruptor who is unwavering in his ability to directly speak to controversial topics. He'll join Arizona Farm Bureau's speaker lineup as our keynote speaker during the Annual Meeting where he'll speak on, "The Art of Listening." He'll be on stage Thursday morning (November 11) at 11:00 a.m. 
His provocative style parallels a story-based structure, which resonates with thousands of weekly, global listeners. Juxtapose his rough-around-the-edges persona with an unmatched ability to listen and relate to those spanning generations, time zones, and the rural/urban divide, and you've found the formula for an under-the-radar and out-of-the-box communicator.
And he's just getting started.
As a "What the Farm" Podcast co-host and co-founder of the Farm and Rural Ag Network, Rob is changing new media. Co-host Lesley Kelly, known as High Heels and Canola Field, and Sharkey interview experts about bridging the gap between farmers and consumers through real-life conversations. The podcast airs weekly on Mondays and dives into topics about food and farming to learn about other perspectives and experiences from a variety of viewpoints. They focus less on the "How" but more on the "why." Why is food raised that way and why do we make those types of decisions about food?
Rob tackles life, alongside his high school sweetheart, Emily, knowing their four smaller sharks in their school will be impacted by their choices.
Rob is elevating his no-nonsense antics from the field to the SiriusXM waves as he joins Rural Radio. Tune into channel 147 to be part of the frenzy.
Join us for Arizona Farm Bureau's 100th Annual Meeting this November 10th through the 12th. You can register online at azfb.org. You'll find an article and registration on the homepage.