Roses Blooming in the Desert
By Arizona Farm Bureau contributing writer Shayla Hyde with contributions from Tyler Francis: Arizona is well known for their alfalfa, cotton and livestock production, but what about roses? Ludwig's Roses is open for business in Downtown Phoenix and has brought one of Arizona's most beautiful agriculture products and put it into a retail nursery.
Their story is a thing of beauty.
Michael Francis started in the rose business in 1989, and his son, Tyler Francis, joined the team in 2009. Tyler offered a fresh perspective to the rose business and started investigating new rose varieties to present to their clients. During his travels across the globe, in search of new rose varieties, he came across Anja Taschner and Ludwig's Roses. After a few years of mutual courting, two of the most influential rose families in the world decided to join forces and start a boutique rose nursery in the heart of Phoenix. They grow and sell 300 different rose varieties, many of which are only available at Ludwig's and better still, these roses are year round.
Ludwig's Roses has been open since January 2016.
The nursery used many reclaimed materials from the Francis farm, lending it an authentic farm feel, but with concrete pathways to accommodate even the highest of heels for customers to peruse the beautiful rows of fragrant roses.
With a Facebook presence, Ludwig's Roses opened for business in Phoenix this past January, and it continues to bloom.
Tyler Francis, 35, visited Africa in 2012 where he met with Anja Taschner and recognized the potential of their specialist growing method. The roses are grafted and container-grown from the onset, which allows them to market a young and virile plant to clients that grow and acclimatize faster and easier than the conventional field-grown roses. Francis knew this was an idea he could bring back to Arizona.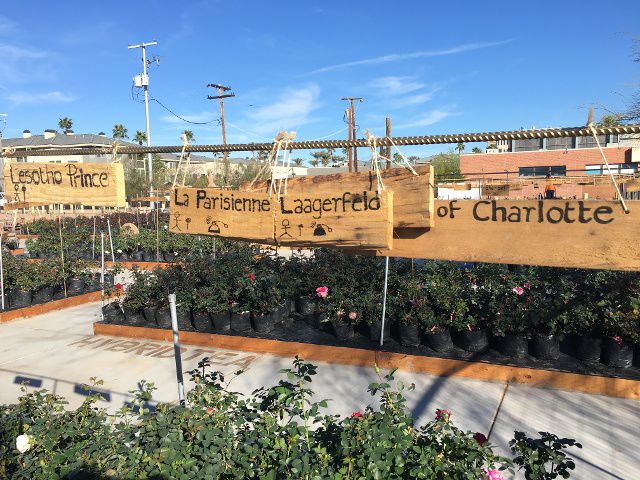 The retail rose outlet will feature more than 300 varieties of roses.
"It's not about the speed, it's a quality-grown product," Francis said of the roses. "The young plant would have an active root system that would deliver a product that is hassle free, and because we are so confident about our product we offer 12-month warranty."
"We're like the micro-brew of roses," Francis said, and he really wanted to share that with the Arizona community. Francis said the nursery is a solid business model that is bound to grow.
"It is Ludwig's passion, and we want to share that passion with other people," Francis said.
Anja Taschner is "the boss" of the nursery. She deals with the rose selection and public relations for the nursery. Her father is the owner of Ludwig's Roses in South Africa, so roses have always been a part of her life. She studied horticulture, and she has a deep passion for furthering agriculture in the everyday lives of Arizona citizens.
"Even if it is just one plant in an apartment, everybody can have a rose. It is something beautiful anyone can grow," said Taschner. Her husband, Talhat, also helps run the nursery.
When Mrs. Taschner was a child, her teacher showed her a rose and asked her what it was to which she replied: "Well, that's Mister Lincoln." She recognized the exact variety of the rose instead of it just being 'a rose,' and she continues to demonstrate this knowledge and passion into the beautiful nursery that livens up the Downtown Phoenix area.
The nursery is an opportunity to share their ground-level, expert knowledge on the easy way of growing great roses with retail clients, landscapers and wholesaler Francis said.
"It's a fantastic thing we are bringing to Phoenix," Francis said.