Arizona Farm Bureau President Kevin Rogers, First Vice President Stefanie Smallhouse, members, Don and Linda Merrell, Kacie and son Cort Tomerlin, Jace Householder, and Rhonda Vandlerslice, along with staff members Jim Klinker and Ana Kennedy Otto met with Arizona's Congressional delegation including Senator John McCain during their recent visit to Washington, D.C. While with Senator McCain, the group presented him with the Friend of Farm Bureau for his support of farm friendly legislation during this congressional session. In the 11 congressional offices, the group emphasized support of the Trans Pacific Partnership (TPP) Agreement and opposition to national monument designations. Members also shared personal accounts of problems they have been facing as a result of the Affordable Care Act: less coverage, higher deductibles, higher premiums and loss of coverage with health insurance companies leaving the market. While the Arizona group was in his office, McCain was on the floor of the Senate blasting the Affordable Care Act for the impact is was having on Rural Arizona.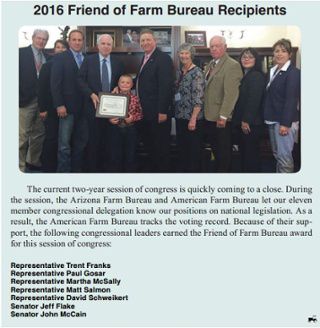 The Arizona Farm Bureau Board of Directors has endorsed Senator McCain in his bid to be reelected to the U.S. Senate.
Based upon general support for Farm Bureau and its policies and priority issues established by the American Farm Bureau Board of Directors, the "Friend of Farm Bureau" award is given at the end of each Congress to those members of Congress who were nominated by their respective state Farm Bureaus.