Serving Up Kid's Cowboy Lemonade for a Good Cause
By Amber Morin, Arizona Farm Bureau Field Manager: Did you ever have a lemonade stand as a child? If you sold a glass of the chilled beverage for five cents did you go buy bubblegum with the profits or put it in your piggy bank? Today's lemonade stands come with little cowboys and big hearts.
Arizona Farm Bureau interviewed Cooper Wilson and his mom, Jill.
Tell us about yourself and family?
Cooper: We've been ranchers for 110 years and I've been ranching since I was like 4. I'm a 6th-generation rancher and ranching is really fun to be. My mom is Jill, my dad is Joe, and my younger Brother is Hudson.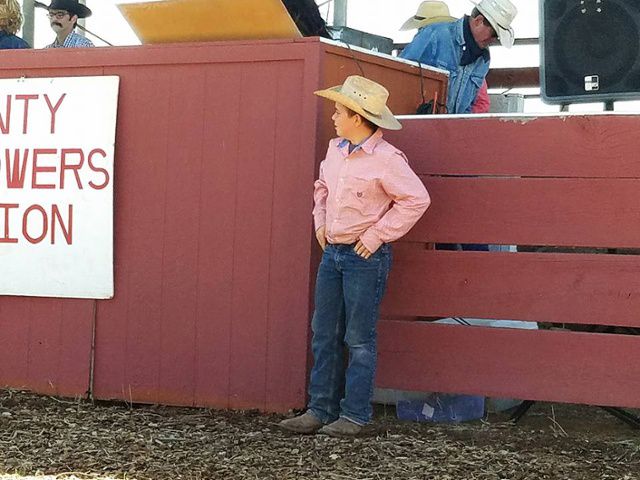 Cooper Wilson just before leading the Pledge at Allegiance at the Annual Stocker cattle sale.
Jill- I am a new Insurance Agent for Farm Bureau and love the fit with my ranching background. I'm married to Joe and we have two awesome boys, Cooper and Hudson. We have a very fun, busy life with lots of activities. My family has been in Arizona since the late 1800's we have been on our current ranch GRIFFIN CATTLE RANCH for 110 years or so. My mom, Therese Griffin Hicks, serves on many state and regional level-agriculture organizations. And my boys are looking forward to tagging along with her on her trips to Capitol Hill (after they get a little older).
What is your fundraiser?
I go to a home school Co-op and my teachers had us do a project called "Kids for Causes" where we picked business partners. Mine is Tyler Howard and we made a business plan and figured out the stuff we needed and what it costs to sell and how much we would make. We decided to make a lemonade kit for cowboys and cowgirls. And we had to pick a charity for our profits to go to. We had to do a skype, "shark tank" with my teacher's friend from California and he really liked our idea and donated to our startup money we needed.
He said we were great and he really wanted to help us.
What inspired your fundraising effort to support Arizona Farm Bureau's Agriculture in the Classroom (AITC)?
Well, because all my friends at school, all they talk about is video games all the time. I think why don't you go outside and play. I want kids to learn how fun ranching and farming is and get out more and not play their Xbox all day. In future years maybe my family won't be here in 1000 years if ranchers start going away we need people to know how to do that so they can grow cattle and crops to sustain their community.
I think that would be good for kids to learn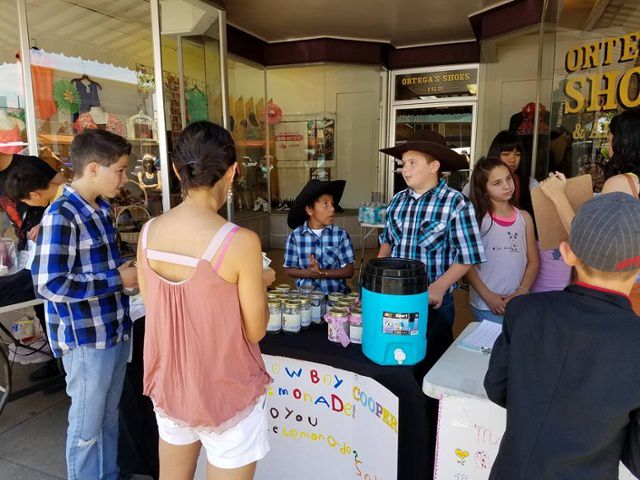 So far, Cooper and his business partner, Tyler Howard, have raised more than $200. All the profits go to Arizona Farm Bureau's Ag in The Classroom program.
Why do you think AITC is important?
Cooper-- It gets agriculture into the classroom and not just kids thinking food just comes from the grocery store. And because of everything else I said before.
Jill – I love the idea of getting kids involved and learning about agriculture at any age but especially the younger the better. There is so much disconnect in the country and learning the true actuality of how productive and empowering it can be for kids to take some of that back to their families even if it's just growing a small garden inside or appreciating the effort that goes into the burger or steak for dinner.
Amount raised to date?
We have raised $220.00, in 2 community events.
Length of the fundraiser?
2 months I think.
How can you be reached if someone wants to support your fundraiser?
Call my Mom
Future plans for yourself, goals, sports, FFA, 4H?
Well I'm in 4-H now and I have a market goat, you can come buy him at our fair in September if you want. When I get to high school I'm going to Globe High because it has a really good FFA program and then when I graduate I want to move to Stillwater, Oklahoma (my cousins live there) and go to OSU to their agriculture school.