Since Next Week is #GivingTuesday Remember Your Favorite Ag Charities!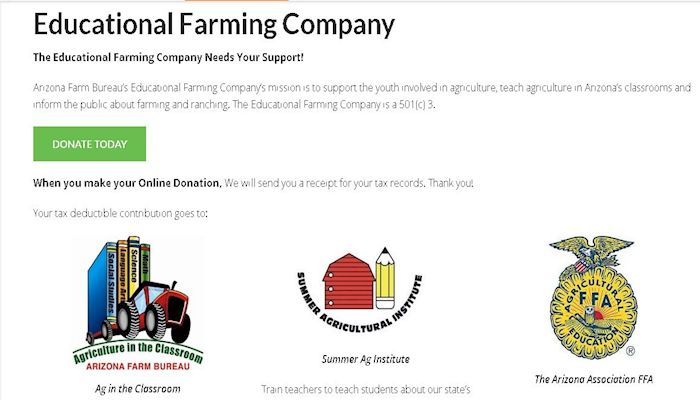 Arizona Farm Bureau Educational Farming Company and American Farm Bureau Foundation for Agriculture is urging support for #GivingTuesday, a global day of giving on Nov. 28 that harnesses the collective power of individuals, communities and organizations to encourage philanthropy and to celebrate generosity worldwide. #AgGives on #GivingTuesday is an industry-wide campaign to raise funds, find volunteers and build awareness of agriculture in local communities.
#AgGives is a space to tell your story in person or on social media, share ag literacy resources, connect with other ag literacy advocates, and become a part of Arizona Farm Bureau Educational Farming Company and American Farm Bureau Foundation for Agriculture's efforts to educate and address the many misconceptions in agriculture.
"What better way to give thanks in the coming weeks, than to participate in #AgGives," says Arizona Farm Bureau President Stefanie Smallhouse, a rancher with her husband in southern Arizona. "As a farm or ranch family or an agribusiness professional you can give through sharing with your neighbors and Facebook friends information about what you do on your farm, ranch or business which supports our food system. As a consumer, a wonderful way to say thank you to Arizona's farmers and ranchers for your Thanksgiving Day Feast would be to contribute to our Educational Farming Company which is dedicated to providing accurate information and learning supplies to Arizona's teachers about food from farm to table and supporting youth leadership programs like FFA and 4-H."
"Although monetary donations are part of #AgGives, consider giving the gift of knowledge and sharing information with others who may not have a farm background so they can understand what you're doing on your farm or ranch," said Zippy Duvall, chairman of the American Farm Bureau Foundation for Agriculture and president of the American Farm Bureau Federation.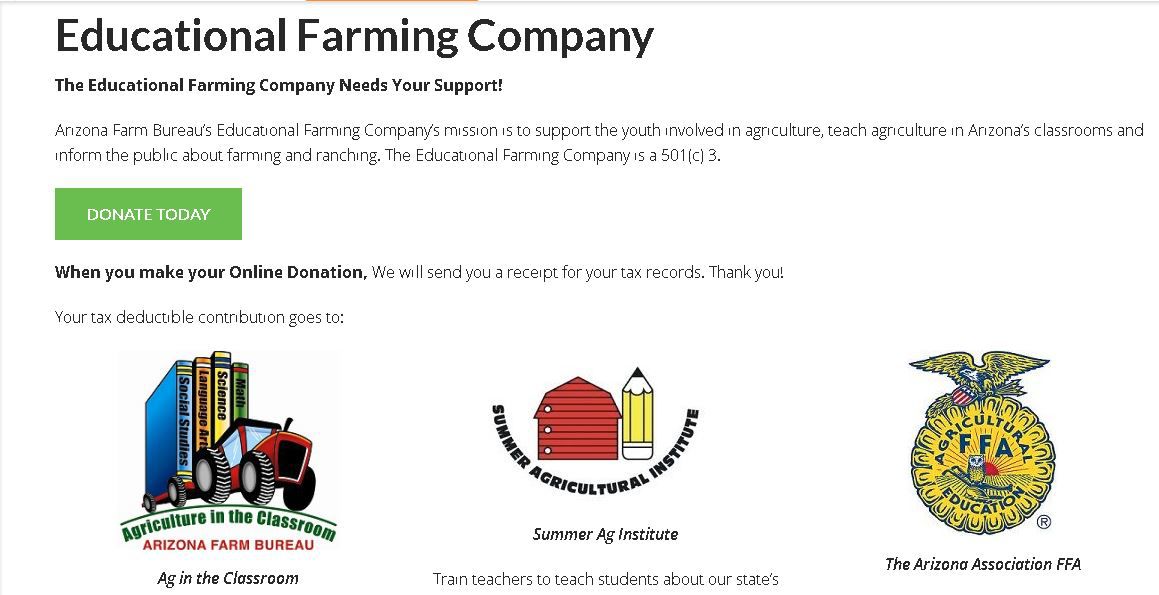 Our Educational Farming Company page has a donate button to make it easy to contribute
Learn more about #GivingTuesday: visit A rizona Farm Bureau Educational Farming Company, https://www.agfoundation.org/news/aggives-on-giving-tuesday or www.givingtuesday.org or follow along on Facebook ( www.facebook.com/GivingTuesday) or Twitter ( www.twitter.com/GivingTues).
Join Our Family