The 2023-2024 Arizona Leafy Green Season is Upon Us!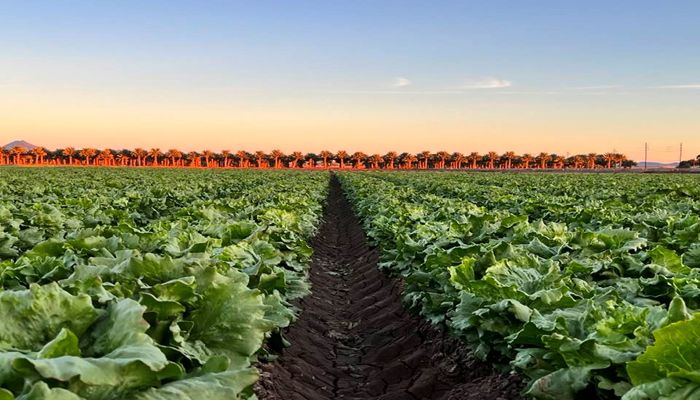 The 2023-2024 Arizona leafy green season has begun and it's a time to celebrate the fruits and vegetables we grow in Arizona. If you just count the beginning of harvests, this season will run from November and into April of next year. 
We love our vegetables. We love our leafy greens, and we love our farmers that grow them! 
And Arizona's leafy greens rank at the top when it comes to quality and taste. Of course, this has progressed over the years and our Arizona vegetable farmers continue to produce high-quality produce for the local, national, and international markets. 
In our list of top 16 agriculture commodities in Arizona, most of them are vegetables! We are the "nutrition state" and our top crops prove it!
Here's Our List of Favorite Facts about Arizona leafy Greens!
As the latest U of A economic study indicates, Arizona Agriculture is a $23.3 Billion industry. The vegetable production part of this number is $2 to $4 billion. 
The month of November is always "Arizona Leafy Greens Month." It celebrates the kickoff of Arizona's leafy greens season, with abundant growth, harvest and shipments of Arizona-grown lettuce throughout the United States and Canada.
The desert southwest is the only place in the U.S.A. that can grow these tender crops in the wintertime, providing a fresh, wholesome, home-grown source of vegetables to Americans all over the country and also Canada.
Yuma County ranks in the top 1/10th of 1% of U.S. counties in vegetable production.
A 40-acre block in Yuma (think 40 football fields) of produce will provide about 6 million servings a year. 
Daily between Thanksgiving and Easter, 1,200 to 1,500 semi-truckloads of leafy greens leave Yuma to deliver all over America and Canada so all of us can enjoy our leafy greens even during the wintertime. 
Nearly 20% of Arizona's leafy greens are produced organically and 80% conventionally to meet consumer interest in both farming methods.
Americans and Canadians eat an estimated 130 million salad servings a day, and again during the winter most of those greens are supplied by Arizona.
Arizona's 15 leafy greens are covered by the Arizona Leafy Greens Agreement (AZ LGMA) which assures stringent food safety practices:
Endive
Escarole
Spring Mix
Cabbage
Romaine Lettuce
Butter Lettuce
Arugula
Iceberg Lettuce
Green Leaf Lettuce
Red Leaf Lettuce
Baby Leaf Lettuce
Spinach
Kale
Chard
Radicchio
Yuma County is considered America's winter salad bowl. But lots of leafy greens are coming from Arizona's Maricopa and Pinal Counties too.
Leafy greens, especially dark green ones, are packed with phytonutrients, protein, vitamins, minerals, and antioxidants. 
The darker leafy greens are rich in A, C, E and K, and broccoli, Bok choy and mustards are also rich in several B vitamins.
Kale contains more Vitamin C than oranges.
The Vitamin K contained in dark leafy vegetables is good for protecting bones from osteoporosis and helping prevent inflammatory diseases.
Romaine lettuce is one of the five lettuce types and an excellent source of folate and vitamin K.
Bok Choy, though celery-like in appearance, belongs to the cabbage family.
Collard greens have been studied for their ability to lower cholesterol.
Cabbage dates to the 1600s. Some drink juiced cabbage for stomach and intestinal issues.
The most appealing benefits of dark green leafy vegetables are their low calorie and carbohydrate content and their low glycemic index.
Spinach is a natural hydrator with raw spinach containing 91% water. It's an excellent source of vitamins A, C, and K, folate, potassium, and fiber.
Source: These facts come from our produce farmers, USDA, and industry groups representing the vegetable industry