The U.S. Cotton Trust Protocol Sign Ups Double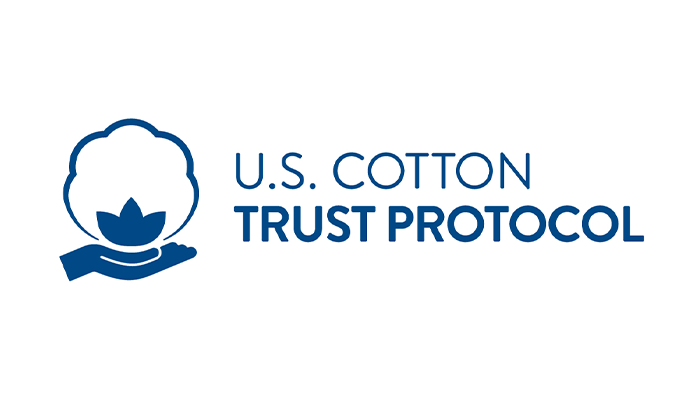 The U.S. Cotton Trust Protocol announced that grower participation for the 2021/22 crop doubled since the program's pilot last year. The Trust Protocol's mission is to bring quantifiable and verifiable goals and measurements to the key sustainability metrics of U.S. cotton production.
The initiative's vision is to set a new standard in sustainable cotton production where full transparency is a reality and continuous improvement to reduce our environmental footprint is the central goal. The program's core values include a commitment to U.S. cotton's legacy of authenticity, innovation and excellence, environmental stewardship, caring of people, and personal and corporate integrity.
"During our second year we doubled the number of U.S. cotton growers in the program with an estimated 1.1 million cotton acres enrolled," said Dr. Gary Adams, president of the U.S. Cotton Trust Protocol. "Our grower members are global leaders when it comes to sustainable cotton production, and as supply chain membership continues to grow, producers are encouraged to join the initiative to help ensure there is enough cotton in the system to meet demand."

 Virtually all the top 100 global brands and retailers have created lists of sustainable raw materials and publicly committed that 100% of their sourcing will come from these lists over the next 5-10 years. The Trust Protocol was designed to meet and exceed the rigorous criteria for these lists.
 
To learn more or begin enrollment, growers can visit TrustUSCotton.org or reach out to the Grower Help Desk at growers@trustuscotton.org. Additionally, producers who enroll in the program and complete their data entry will be eligible for a redistribution of program revenue.
 
The Trust Protocol has welcomed more than 600 brand, retailer, mill and manufacturer members since its launch in 2020. This includes J.Crew, Madewell, Levi Strauss & Co. and, Gap Inc. as well as global apparel manufacturer Gildan.
 
About the U.S. Cotton Trust Protocol: Launched in 2020, the U.S. Cotton Trust Protocol was designed to set a new standard in more sustainably grown cotton, ensuring that it contributes to the protection and preservation of the planet, using the most sustainable and responsible techniques. It is the only farm-level, science-based program that provides quantifiable, verifiable goals and measurements in six key sustainability metrics as well as article-level supply chain transparency.
The Trust Protocol is overseen by a multi-stakeholder Board of Directors comprised of representatives from brands and retailers, civil society and independent sustainability experts as well as the cotton-growing industry, including growers, ginners, merchants, wholesalers and cooperatives, mills and cottonseed handlers.