Three Arizona Farmers Appointed to the National Cotton Board
Last week, Agriculture Secretary Tom Vilsack announced the appointment of eight members, eight alternates, and three advisors to serve on The Cotton Board. The cotton producers and importers appointed by the Secretary are charged with working together to oversee the Cotton Research & Promotion Program.
Three are from Arizona. One, Adam S. Hatley a cotton producer from Mesa, is a re-appointed member. Newly appointed to the Board is Ava L. Alcaida, producer from Parker and the newly appointed alternate is William B. Harrison from Yuma. All three are members of Arizona Farm Bureau.
"Thank you for the recognition," said Adam Hatley to other Arizona farmers who congratulated him. "I'm looking forward to serving at this capacity and a big thank you to my predecessor Kevin Rogers for his example."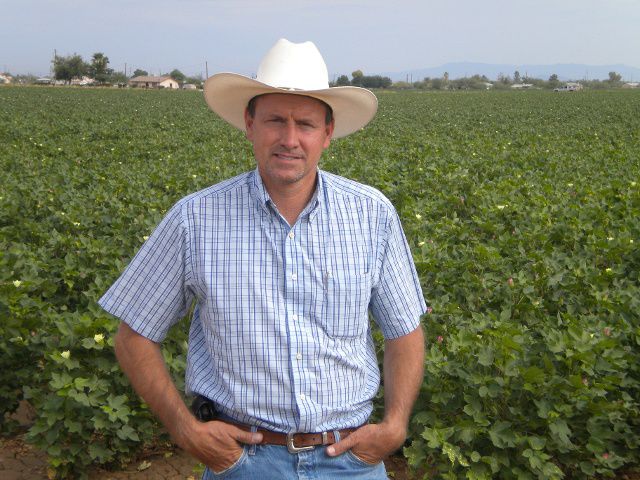 Adam Hatley, Maricopa County Farm Bureau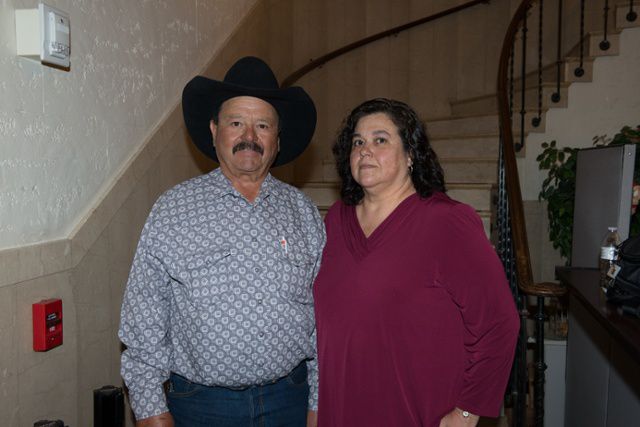 Ava Alcaida with her husband, Ray. Ava is also La Paz County Farm Bureau President.
The Cotton Board Chairman, Aaron Barcellos, a producer from Los Banos, CA was pleased with Secretary Vilsack's appointments saying, "These new leaders are very qualified and will be tremendous assets to The Cotton Board. Our efforts to broaden the perspectives of Board Members and Alternates will pay positive dividends for the Cotton Research and Promotion Program. I look forward to collaborating with the new appointees and gaining their insight as our Board works to move the cotton industry forward. "
The newly appointed advisors are: Haywood E. Harrell, Producer, Halifax, NC, and Ava L. Alcaida, Producer, Parker, AZ.
The re-appointed members are: Adam S. Hatley, Producer, Mesa, AZ; George T. Warbington, Producer, Vienna, GA; Benjamin O. Boyd, Producer, Sylvania, GA; Jeffery T. Posey, Producer, Roby, TX; Mark D. Williams, Producer, Farwell, TX; Janet C. Ydavoy, Importer, Yardley, PA; Sonja Chapman, Importer, Boonton, NJ; and John E. Mathews, Importer, Pennington, NJ.
The re-appointed alternate members are: Randy L. Braden, Producer, Midland, TX; Catherine B. Allen, Importer, Athens, TN; and Heidi R. Goold, Importer, Pewaukee, WI.
The newly appointed alternate members are: William B. Harrison, Producer, Yuma, AZ.; John M. Ruark, Jr., Producer, Bishop, GA; Jaclyn Dixon Ford, Producer, Alapaha, GA; Julie D. Holladay, Producer, Lubbock, TX; and Akiko Inui, Importer, New York, NY.
The re-appointed consumer advisor is Karen E. Kyllo, Springfield, N.J.
The Cotton Board has been pleased over the last several years to join with the industry's certified producer organizations to encourage and support diverse representation within the Cotton Research & Promotion Program. With this continued goal in mind, The Cotton Board created two new advisory positions for the purpose of adding insight on production, promotional, and research issues affecting minority, young, and under-represented cotton producers.
Cotton Board President and CEO, William Gillon, recently published a blog post on the importance of board diversity and said, "Our Board believes diversity is simply smart business. We are not seeking a diverse membership solely for the sake of checking a box. True board diversity/inclusion offers many benefits to an organization and, in our case, the cotton industry as a whole. Board diversity addresses more than age, racial and gender diversity, but also diversity in skills, philosophies, economic circumstances, and life experiences."
The Cotton Research and Promotion Program is designed to advance the position of cotton in the marketplace. It is funded by assessments on all domestically produced cotton and imports of foreign-produced cotton and cotton-containing products, and is authorized by the Cotton Research and Promotion Act of 1966. USDA's Agricultural Marketing Service oversees operations of the Board. All appointees will serve three-year terms.
About the Cotton Board: The Cotton Research & Promotion Act established the Cotton Board as a quasi-governmental, non-profit entity to serve as the administrator of the Cotton Research & Promotion Program. Funded by America's cotton producers and importers through the cotton check-off, the Program's research and promotion activities are conducted worldwide by Cotton Incorporated, the Cotton Board's sole-source contracting organization, to increase the demand for and improve the market position of cotton. The Cotton Research & Promotion Program continues to work in all areas of cotton's pipeline – from the field to the consumer – to keep cotton the number one fiber choice in the U.S. For more information about the Cotton Board and the innovative activities stemming from the Program, visit www.cottonboard.org.