Trends and How Social Media Helps Arizona Farm Bureau with Outreach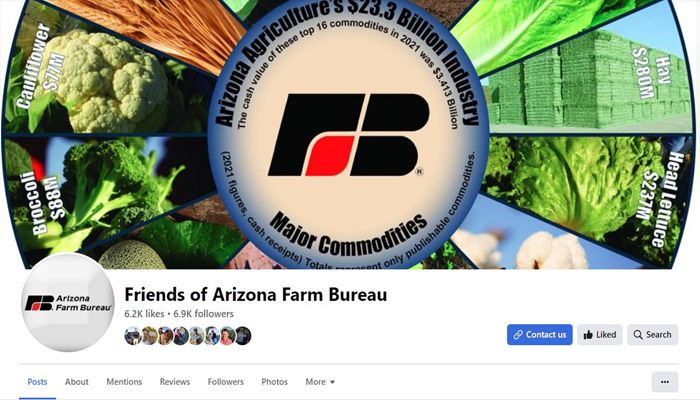 Social media has become essential for organizations and businesses to connect with their audiences, and the Arizona Farm Bureau is no exception. The Arizona Farm Bureau can reach a wider audience and communicate more effectively with its members and the general public by utilizing social media platforms such as Facebook, Twitter, Instagram, and YouTube. Farm Bureau represents 60% of those organizations that rely on social media data and outreach daily to understand trends and improve their social media, according to Sproutsocial, a digital social media tracking service.
Just what are Sproutsocial and other social media experts saying about trends in 2023? Well, here is some of Sproutsocial's list that the Arizona Farm Bureau can relate to.
1. "Edutainment" content will rule: Content is expected to be short-form educational today and this is right up Arizona Farm Bureau's alley. And, not just for kids but adults. Arizona Farm Bureau's Ag Education program is already doing this but more is expected by the public.
2. Businesses will put more money behind video production: Short-form video on all social media channels has already exploded, but even more money is being put behind it.
3. BeReal will be a turning point for brands: BeReal was the hottest new social media platform in 2022 and it's growing. While Farm Bureau has not yet assessed the platform, we know the more real content is the more popular it becomes. Our Monday/Tuesday Rancher/Farmer posts on our channels get the most organic reach of just about anything we do. The takeaway? Be authentic with everything you do.
4. How brands talk about sustainability will change: Some organizations have "overclaimed" on the sustainability front. In farm and ranch county we haven't taken enough of an opportunity to highlight our very authentic sustainability practices. So this will be a time to really highlight what we do to protect the environment on a daily basis and more.
For full disclosure, Arizona Farm Bureau uses Sproutsocial to help us track our social media data and assess our content and its popularity. It's served as a key support for us to get this medium right.
In the meantime, Arizona Farm Bureau registers several benefits to its outreach thanks to social media.
Connecting with Large and Diverse Audiences
One of the main benefits of social media for the Arizona Farm Bureau is the ability to connect with a large and diverse audience. Social media platforms have a vast reach, and by having a presence on these platforms, the Arizona Farm Bureau can connect with people from all over the state and beyond. This allows the organization to share information about the latest agricultural developments and updates about the organization's events and activities. As we result, we've connected with people and organizations we otherwise would be unable to do. These diverse audiences have helped us provide varied content based on their interests and questions about Arizona agriculture.
Member Engagement Extended
Another benefit of social media for the Arizona Farm Bureau is engaging with our members more actively and personally. Social media platforms provide a space for two-way communication, which allows the organization to receive feedback and respond to questions and concerns from its members and the general public. This can help the Arizona Farm Bureau to identify areas of concern and address them more effectively, ultimately improving its overall level of service. Our Monday/Tuesday Rancher/Farmer picture posts all come from our members' ranches and farms. It's their story and we just share their content and story with their permission. Our Friday "Talk To a Farmer/Rancher" Fridays always feature our members on Instagram. Again, it's their story, we simply host the platform for them to tell their story.
Promoting Events and Activities
Social media can also be an effective tool for promoting the Arizona Farm Bureau's events and activities. By creating event posts on social media platforms, the organization can reach a wider audience and increase awareness of its events. This can help to attract more attendees and increase participation in the organization's activities. These event announcements include the Leadership Conference in the Summer, our Annual Meeting in November and much more. Social media marketing of your events and activities is much cheaper than spending significant advertising dollars.
A Tool for Education
Finally, In addition, social media provides a great opportunity for the Arizona Farm Bureau to educate the public about the importance of agriculture and the role of farmers in our society. By sharing stories, pictures, and videos about the work of farmers, the organization can help to raise awareness about the challenges that farmers face and the importance of supporting local agriculture. You'll see this a lot with our regular release of videos on our social media channels. And, we cover every Arizona agriculture topic imaginable.
Social media is a valuable tool for the Arizona Farm Bureau, providing many benefits such as expanding reach, engaging with our audiences, promoting events and activities, education and cost-effectiveness. It can help the organization to connect with its members and the general public and communicate more effectively about the importance of agriculture and the role of farmers in our society.
Be sure to follow us on Facebook, Instagram, Twitter, YouTube and Pinterest:
Facebook:
@Friends of Arizona Farm Bureau 
@Fill Your Plate 
@AZFB AITC 
@Arizona YF&R 
@AZFB Women's Leadership Committee 
@UofAYoungFarmersRanchers 
@AZFBMemberPerks
Instagram:
@azfb_aitc
@azfbyfr 
@azfarmbureau 
Twitter:
@AZFB 
@FillYourPlate 
@ArizonaYFR 
@AZFB_AITC 
Youtube:
Pinterest 
@AZAGintheClass
@Fillyourplate