Trump's EPA Selection Makes Farmers Cheer
By Julie Murphree, Arizona Farm Bureau Communication Director: President-Elect Donald Trump's announcement this week to nominate Oklahoma Attorney General Scott Pruitt to run the Environmental Protection Agency (EPA) is welcome news to the agriculture community since most know that Pruitt led the legal charge by the states against EPA abuses. Pruitt's efforts included the victory of a Supreme Court stay on the Clean Power Plan as it moves through the appellate courts.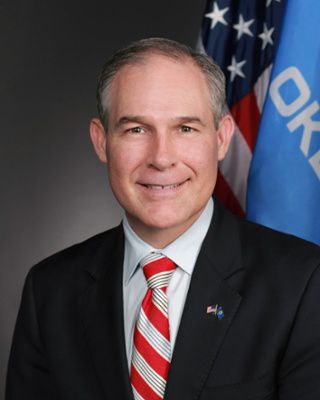 "President-elect Trump's selection of Scott Pruitt to lead the Environmental Protection Agency is welcome news to America's farmers and ranchers—in fact, to all who are threatened by EPA's regulatory overreach—and should help provide a new degree of fairness for U.S. agriculture," said American Farm Bureau (AFB) President Zippy Duvall. "We know that in his position as attorney general in Oklahoma, Pruitt has stood up for common-sense, effective regulation that protects the environment and the rights of the regulated community. We have been grateful for his effective legal work in response to EPA's overreaching Waters of the U.S. Rule."
Arizona Farm Bureau President Kevin Rogers spoke to the Waters of the U.S. Rule too. "It will be refreshing to have someone heading EPA that knows the difference between a river and rainwater on the side of the road, and irrigation water in a farm ditch or a low spot on a ranch. We look forward to helping the new EPA administrator protect our environment with common sense regulations."
And on the issue of working together and listening, AFB's Duvall added, "We anticipate that as EPA administrator, Pruitt will listen to our concerns and those of others who work with the nation's natural resources on a daily basis. Agriculture is a profession based on a solid ethic of conservation. It helps guide everything we do, and we expect that Pruitt will understand that in regulatory matters dealing with agriculture and the environment."
First Vice President for Arizona Farm Bureau Stefanie Smallhouse, who has testified on the Waters of the U.S. Rule, calls this announcement a refreshing change. "Conservation and production are not mutually exclusive goals. The mismanagement of the EPA in the last 8 years is a reflection of a narrow minded special interest agenda which intended to set back our advances as a leader in the world for production efficiencies. This appointment is a breath of clean air!"
Arizona Farm Bureau's Rogers and Smallhouse expect a newfound respect for the Constitution and cooperative EPA rule-making from here on out. A notable change from the previous 8 years.