Two Brands are Better than One
By Peggy Jo Goodfellow, Arizona Farm Bureau: As a member of the outreach team at Arizona Farm Bureau, I attend numerous "foodie" type events throughout the year. We usually promote Fill Your Plate, Farm Bureau's online directory of farmers and ranchers who sell directly to Arizona families. And while talking about this seachable directory of all things food related, we usually have a giveaway, to promote Farm Bureau and the Fill Your Plate brand.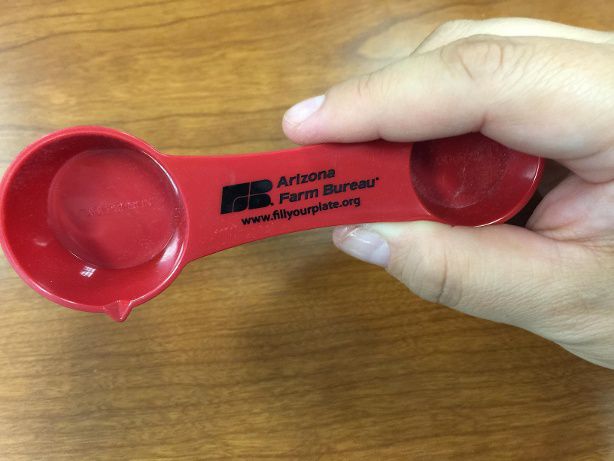 One year our promotional item was a simple measuring spoon. This little red measuring spoon, branded with the Arizona Farm Bureau logo and Fill Your Plate website was the most popular "give-away" item we have had to date. Not only did people stop and talk but they'd ask questions about agriculture. In the meantime, they carried home with them our measuring spoon with our brand and website information.
You already know how effective the right promotional product can be for your business, but have you considered how pairing your logo with a major retail brand name can increase your impact?
The two ways brand-name products work to your advantage are:
Trust and Legitimacy. If you're reaching out to an audience that's unfamiliar with your brand, it's vital to establish a sense of legitimacy in how they perceive you. Associating your organization with a trusted, recognizable retail brand name is a subtle way to say, "You can count on us." Products that are flimsy, break easily or just don't work as they should can create a negative first impression. Gifts with a track record of reliability ensure that their initial exposure to your brand is a positive experience.
Perceived Value. ROI is key when it comes to promoting your business, so think about what you're getting in return for your investment when choosing promotional products for an event, promotion or program. With retail-branded products such as New Balance, Igloo, Nike or Thermos, what you're getting is a boost in how valuable the recipient considers your gift. A higher perceived value means a bigger ROI (in the form of more frequent use and overall goodwill), but the trick is to make smart decisions about which products will provide that boost without sending the cost through the roof. Brand-name products can be a great way to accomplish this feat.
Farm Bureau Proud is a member benefit provider to members of the Arizona Farm Bureau. They have all kinds of logoed/imprinted products, exclusive apparel, personalized awards, writing instruments and more available at a members-only price.
Next time you place your brand on a promotional item, think about the percieved value and positive impact of your brand.
Editor's note: For more information on our member benefits including our regional benefits go to Arizona Farm Bureau's member benefits page online. Or, download the Member Benefits app to your smart phone for easy, everyday access to your benefits
Source: Promac, Inc