UA Partners with Arizona Agriculture Industry to CONSERVE
As the planet experiences record heat and California suffers from an historic drought, the clean water needed to safely and sustainably grow food crops is in short supply. In the face of climate change, finding alternative sources of water to grow safe, healthy food has become an urgent national priority.
A multidisciplinary team of scientists are developing innovative, safe and sustainable ways to irrigate food crops in variable climates. The "CONSERVE" Center of Excellence, funded by a four-year $10 million grant from the USDA National Institute of Food and Agriculture, links experts from the Mid-Atlantic and Southwest, and aims to identify the best nontraditional water sources and new water treatment technologies that farmers can safely use on food crops without compromising public health. The Center's focus is on developing water reuse solutions to safely irrigate vegetable and fruit crops that are generally consumed raw, therefore requiring the highest quality, contaminant-free water during the irrigation process.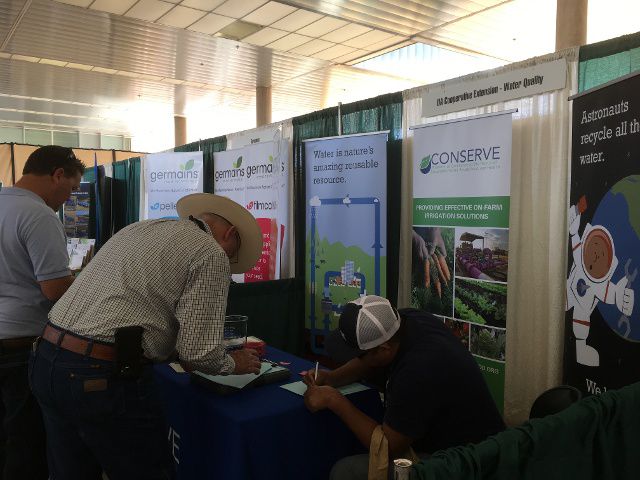 The South West Extension CONSERVE Team distributing the Needs Assessment Survey at the Southwest Agricultural Summit, Feb. 2017
Revolutionizing water usage for sustainable food production is essential for protecting public health, and requires the collaboration and innovation of experts from around the nation. The CONSERVE (COordinating Nontraditional Sustainable watER Use in Variable climatEs) team includes bioscientists, engineers, economists, social-behavioral scientists, law and policy experts, agricultural extension specialists, educational media developers, computer scientists, and public health experts. These experts come from a number of institutions, including the University of Arizona, the University of Maryland, the University of Delaware, New Mexico State University, the US Department of Agriculture, the Agriculture Research Service (USDA ARS), and the Arava Institute for Environmental Studies in Israel.
The project takes a multifaceted approach to achieving sustainable water usage in agriculture. The first aim is to identify, map and characterize alternative sources of water that can be reused for irrigation. The second aim is to study consumer behavior and gauge acceptability of using nontraditional water sources for produce. The third aim is to develop, implement, and evaluate the effectiveness of on-farm water treatments. The final aims of the program integrate the research findings into the development of innovative extension and outreach programs, and to construct experiential educational programs to inform and empower the next generation of leaders.
The University of Arizona's Role
The University of Arizona plays a key role in CONSERVE. UA will collaborate with other CONSERVE teams to evaluate the microbial, physical and chemical constituents of reused water in order to identify what processes are required to make the water safe for irrigation. This information will be used to develop and refine next generation water treatment technologies that will be used on farms to enable safe water reuse for food crop irrigation.
Dr. Channah Rock, Associate Professor & Extension Specialist - Water Quality, from UA's Maricopa Agricultural Center (MAC), leads the South West Extension Team and has formed a diverse advisory committee composed of experts in the fields of water and agriculture to help guide extension and outreach efforts. This focus group will serve as a foundation for the development of a best management practices (BMP) toolkit and certificate programs on irrigation management practices. Web-based interactive water information will also be developed to include topics such as nontraditional water sources, water availability, water quality, food-safety, and BMPs.
Farmers, We Need Your Input
In addition, UA and UMD have developed a Needs Assessment Survey, aimed at the agricultural industry to assess current perspectives on the use of nontraditional water sources for use in agriculture, determine related concerns, and develop effective extension and outreach programs. The results will help to direct future resource development for growers and education programs, and assess areas of priority for CONSERVE. This survey is open to all individuals at least 18 years or older, and is currently being distributed at agricultural meetings, conventions, and electronically.
Another key scope of work, to be led by team members at the University of Delaware, is to study consumer behavior and gauge the acceptability of produce grown with nontraditional sources of water. Law and policy experts at the University of Maryland Francis King Carey School of Law in Baltimore will examine existing regulations around water reuse and make policy recommendations on how to safely advance water reuse on farms nationwide. CONSERVE extension specialists will train farmers to implement these systems on their farms and address specific needs.
The project also has a significant educational component that includes the development of curricula for university classrooms and K-12 educators on water reuse, food safety, food production and environmental sustainability. Experts in "active learning" education and game development at New Mexico State University and the University of Delaware will create open source interactive modules for use in classrooms across the country. Project funds support CONSERVE scholars--graduate and undergraduate students participating in internships and research experiences at CONSERVE's partnering institutions. Support focuses on training underrepresented students with the goal of diversifying and inspiring the next generation of water reuse leaders.
March 2017 marked the end of year one of the CONSERVE project, a year in which CONSERVE teams had many significant accomplishments. To date, three high-level advisory panels have been established, 1,400 adults have participated in economic experiments evaluating consumer preferences for foods grown in traditional versus nontraditional irrigation sources, CONSERVE team members have given 27 conference presentations, and a total of 147 samples collected and processed from 17 field sites.
Year two goals are ambitious. These include continuing data collection, developing multimedia educational videos, recruiting summer interns, hosting a CONSERVE scholar workshop, and increasing publication of peer-reviewed articles.
For more information and updates, go to: http://conservewaterforfood.org/
To participate in the electronic Needs Assessment Survey, please go to: https://umdsurvey.umd.edu/SE/?SID=SV_cI4BpYbxWPXQsGV
Editor's Note: Modified by Jessica Dery from the original article, "UMD receives $10 million from USDA for sustainable water reuse, food, and health", released on March 22, 2016 from UMD.
The USDA announced the first-year of its plan to support improvements to communities' water sources, including funding for the CONSERVE project, on World Water Day, March 22, 2016.