USDA Urged to Help Remove Barriers to Meeting Growing Food Demand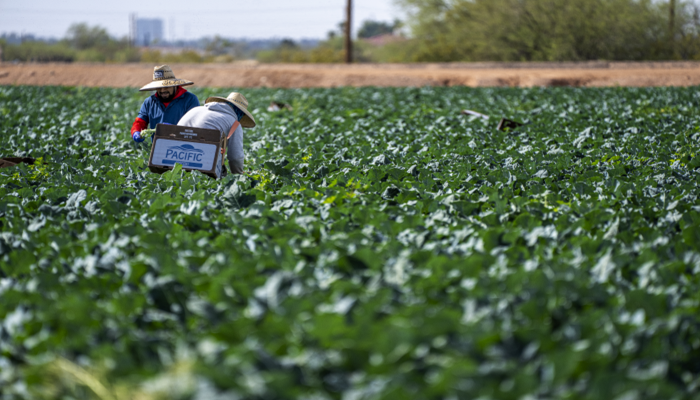 American Farm Bureau Federation and Arizona Farm Bureau, along with other Farm Bureau states, called on USDA to take steps to ensure America's farmers continue to have access to crucial fertilizer supplies. AFBF submitted comments on USDA's "Request for Information on Access to Fertilizer: Competition and Supply Chain Concerns."
In the filed comments, AFBF lists several factors that have combined to create shortages and drive-up fertilizer costs including the ongoing conflict between Russia and Ukraine, rising inflation, labor shortages, regulatory hurdles and increased transportation costs.
 "The food and ag supply chain hiccups are truly evident in our business each day," said Ron Rayner, co-owner of A-Tumbling T Ranches in Maricopa County, Arizona. "First, we see the lack of supply in areas of inputs such as fertilizer. We have reduced our application to wheat by half so far in the crop. We know this may have a negative impact on our yields, but we are carefully monitoring the crop progress. 
"We anticipated the tightness of supply and higher prices, so we decided to apply a light rate of dairy manure over most of the acreage. We also applied a lighter rate of urea but ordered it with an inhibitor to slow down leaching by irrigation water and make each pound of N (Nitrogen) more efficient to promote plant growth. We are worried about the availability of some herbicides for our cotton because we plant no-till and strip-till thus depending on herbicides to control weeds without cultivation."                  
Finally, Arizona farmer Rayner adds, "Our farm is planning to make additional capital investments to replace equipment instead of making repairs. In December we purchased two new tractors to replace two high-hour ones. We have ordered two more pivot sprinkler systems to supplement the one we already have, and plan to continue mechanizing as quickly as time and capital allows. Labor availability is also a concern and is helped through investment in mechanical irrigation technology as well."
"America's farmers are being called on to feed both America's families and families abroad as war and shortages take their toll on our international neighbors," said AFBF President Zippy Duvall. "Farmers and ranchers have answered the call before, and they stand ready to do it again, but they need access to necessary supplies in a timely manner. Supply chain issues and inflation aren't short-term problems, so we need long-term solutions, partnerships with USDA, and action across the federal government to ensure we can continue to meet the growing demands of a hungry world."
AFBF's recommendations include: 
Providing assistance to farmers to expand on-site farm fertilizer storage compacity to help them manage costs throughout the year;
Urging EPA to seek reforms to review processes that create barriers to domestic fertilizer production;
Modernize weight restrictions for trucks to reduce the number of trucks needed to transport goods;
Enact rail reforms to promote rail competition, fair rates and reliable service.
Arizona Farm Bureau also submitted comments regarding this issue. 
Read the full comments here.