Week-in-the-Life: Arizona Farm Bureau's Government Relations Director
By Chelsea McGuire, Arizona Farm Bureau Government Relations Director: Hi! I'm Chelsea, Arizona Farm Bureau's Director of Government Relations. I'm brand new to the Farm Bureau team, so if I haven't met you in person before, I hope I get to soon!
First, a little about me: I'm an Arizona native, farm kid, and lawyer. I grew up in Pinal County and moved to the West Valley after I married an auctioneer/ag teacher from Buckeye. Before I came to work for Farm Bureau, I spent a little over two years clerking for judges on the Arizona Court of Appeals and the U.S. District Court in Phoenix.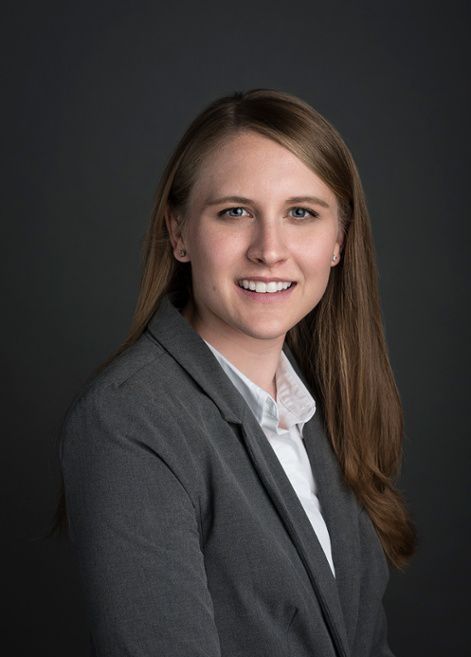 Since I started this job, I've had a lot of people ask me, "so what do you actually do?" And during the legislative session, that's a pretty easy question to answer: I help write and lobby for good legislation, lobby against bad legislation, and spend a lot of time observing lawmakers in House and Senate galleries. But what happens when the legislature isn't in session?
Here's a glimpse into my typical week:
First in a series ...
Day 1:
Okay, so maybe this isn't typical… but, a few weeks ago, Director Killian asked Farm Bureau to facilitate some farm tours for a group called Global Ties International. Global Ties hosts international leaders in America, and this group happened to be from nine different countries in Africa! Because they were interested in hearing how Arizonans farm in a dry climate, Director Killian asked that the tours include producers who have innovative water conservation methods.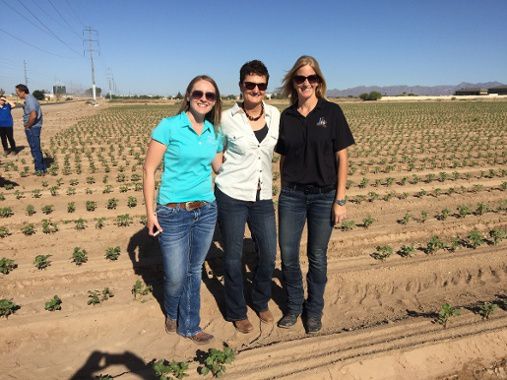 I was thrilled when the Rayner family and the Kerr family both agreed to host tours. At the Rayner's, we walked through cotton fields while the family explained their trademark double cropping system, focusing on why added organic matter is so crucial to soil health and water retention. The Kerrs talked to us about how they've spent years cultivating a dairy herd that thrives in hot, dry climates.
After the tours were over, I headed down to Casa Grande for a meeting about water use in the Pinal AMA. Many of you know that for years, the water users in Pinal County have struggled to find a way to balance the needs and rights of all water users in the area, including farmers, dairymen, developers, and the need for water in the future. Several years ago, they formed a committee of the brightest and best minds in the area to help formulate a solution that's acceptable across all sectors. I'm not on the committee, but I attend the meetings for a few reasons. First, it's important for me to know what the group is planning so that I can analyze the impact their plans may have on our members. Second, when the committee does agree on a solution, the Government Relations department will on the front lines of helping make sure that solution becomes a reality, whether that's lobbying through new legislation or supporting adoption of a new administrative rule. If I've been able to observe the process and work that went into crafting the solution, I can be that much more effective in advocating for it.
(Also, did I mention that this was my second meeting in Casa Grande in two days? But that was fine with me; all of my grandparents live in Casa Grande, so a trip there gives me an excuse to stop in and say hi… not a bad job perk!)
Government Relations, Outreach and Ag Education Directors (McGuire, Murphree and Aikins) out on the farm with the Rayner family and the African delegration discussing water efficiency.
Day 2:
The next day, I attended the annual meeting of the Agribusiness and Water Council, with the theme "Trumping Arizona Agriculture." The morning was filled with speakers and panels discussing the new administration and its impact on Arizona agriculture. One of my favorite panels discussed upcoming farm bill talks from the perspectives of conservation, supplemental nutrition, and agricultural production. We also heard about the future of agricultural water supply from the Arizona Department of Water Resources, and about opportunities for migrant labor and visa reform in the egg, dairy, and produce industries.

After the program was over, Government Relations Manager Ana Kennedy-Otto and I had one more meeting with our favorite future House of Representatives member from LD13, Farm Bureau's own Sine Kerr! We were so excited to sit down with Sine and Bill to talk over their goals for the campaign and how Arizona Farm Bureau can help. We are so excited that Sine has chosen to run, and grateful that we can support her campaign efforts!
Day 3:
A rare full day in the office! As you can probably tell already, my job doesn't involve a lot of desk time. I like to use time actually spent in the office to make sure I'm caught up, update my calendar, and see what projects and opportunities are coming down the pipeline. One way I do that is through a weekly meeting with Julie Murphree, Director of Outreach, and Katie Aikins, Director of Education. These meetings are a chance for our three departments to get up-to-speed on what we're doing; we share our schedules for the week, talk about projects we're working on, brainstorm ideas for the future, and ask how we can help one another achieve our department goals.
A day in the office also gives me a chance to catch up on my reading. Whether it's industry newsletters, public policy bulletins from American Farm Bureau, the Arizona Capitol Times, or just my daily news alerts, one of my jobs is to know something about what's going on in our industry and our nation.
Day 4:
The next day's highlight was an Arizona Chamber of Commerce presentation about Prop 206's mandatory paid sick leave provisions. I know that many of our producers will have challenges implementing these provisions in their operations. I'm trying to learn as much as I can about the law so that when our members have questions, I'm equipped to answer them. (By the way, Arizona Farm Bureau is putting together a webinar about Prop 206 in the next couple of weeks! Stay tuned for more information.)
The law is so complicated that I felt a little like I was back in law school, but I definitely came out of the seminar feeling better equipped to answer your questions… which was good, because the very next day, I got a phone call asking about the paid sick leave provisions! That's one of my favorite parts of my job: fielding actual questions from actual members about actual problems. We love it when our members contact us with a question they need help answering. My job really depends on interaction with our members – the more I know about the challenges you're facing, the more I can do to help you with them!
After work, I headed to my second job, where my official title is "the FFA Advisor's Wife." I'm helping coach one of my husband's students, who is preparing for a contest at the FFA State Leadership Conference. She'll have 30 minutes to prepare an off-the-cuff speech about a randomly selected ag issue. Even though our coaching sessions are after work, and not part of my job at Farm Bureau, I love that working for AZFB puts me in a unique position to help this talented future leader learn about Arizona's agricultural industry. I get to ask her questions that I know are relevant, because they're about topics I work on every day!
Day 5
Today started with a meeting about policy development. As you probably know, Government Relations helps oversee policy development at the county level, and part of that is isolating our five-year policies that are up for review. Ana, Christy, Amber, and I had a conference call to discuss those policies and the changes in law and policy that have occurred since they were last adopted. This helps all of us to be more prepared at county policy development meetings, where our members have the chance to discuss these policies and ask questions.
I also got to have a little fun this day when I met Cheryl and Kayla, the faces of the Arizona Nursery Association, for lunch. Not only are they great to spend time with, it's good to hear what other industry groups are dealing with and doing. We're a close-knit family in the Aggie world, and I'm always thankful for chances to sit down with people who are working towards the same goal of advocating for and empowering our producers.
So again: what do you do exactly?
My job really comes down to two duties: listening and informing. I spend time listening to what's happening in our industry so that I can inform members, and I listen to members' concerns about those issues so that I can inform leaders and decision makers. I may be biased, but I think it's the best job in the world… so I can't wait for many more weeks ahead!