We're Hiring! Become Our Next Director of Grassroots Engagement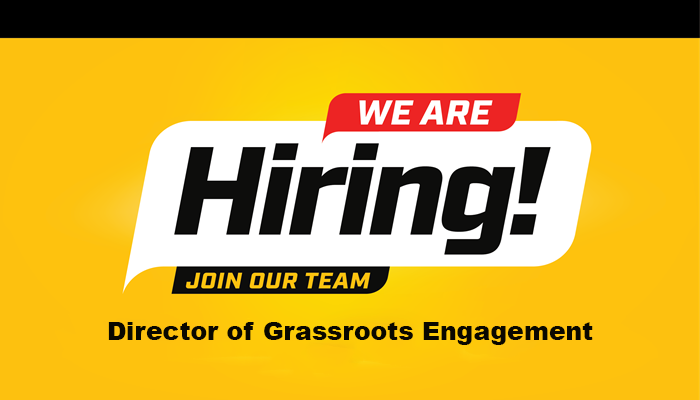 Open Position:                         Director of Grassroots Engagement
This position reports to:            Chief Executive Officer
Job Description:
We are seeking a Director of Grassroots Engagement to oversee Arizona Farm Bureau's membership, county outreach and leadership development activities. This person will direct the activities of Farm Bureau's Grassroots engagement and leadership training programs and employ, train, and supervise personnel to accomplish the work and activities. This position will work regularly with the CEO, Director of Operations, all the divisions, membership support personnel, training personnel, allied groups, Farm Bureau leaders and members. 
Principal Responsibilities:
Membership
Develop programs and incentives that increase regular and associate membership in the county Farm Bureaus and programs to improve membership record quality and accuracy.
County FB Outreach 
Manage outreach manager team, serve as the AZFB Liaison, coordinate recruitment and management of mentoring program, work with CFO to assure adequate oversight of county Farm Bureau's, coordinate with Government Relations Department, maintain cooperative relationships with personnel of Farm Bureau affiliated companies and assist the affiliate companies in achieving our corporate goals.
Leadership Development
Develop and implement programming that increases participation of county members, provide administrative and leadership training to county and state Farm Bureau members and state board members, coordinate leadership training and business development training programs at state level, coordinate regular board training programs at the state and county levels and work with insurance agents.
Education/Experience Required:
A bachelor's degree with experience in management and leadership development programs
At least 3-5 years of related experience
Effective relationship-building and collaboration skills 
Experience working with volunteer members of a non-profit organization
Ability to prioritize a dynamic workload and effectively meet deadlines
A passion for leadership and board development training
Knowledge of the agriculture industry 
Strong interpersonal and presentation skills 
Strong verbal and written communication skills
Ability to travel moderately
Supervisory experience
To Apply: Send resume and cover letter to Resumes@azfb.org by April 5, 2023.