Why You Need a Farmer on the Most Important Water Board in Arizona
By Michael Francis, an Arizona farmer and Arizona Farm Bureau member running for the Central Arizona Water Conservation District: I am running for the Central Arizona Water Conservation District, which will be on the ballot during the November 8th election. The board, which is more commonly referred to as the Central Arizona Project or CAP, will be found way at the bottom of your ballot, but don't let that undermine its importance. The CAP controls 1.4 million acre feet of renewable water delivered from the Colorado River to Maricopa, Pinal, and Pima counties through a canal that stretches 336 miles. It collects $60 million in property taxes and has a $230 million budget.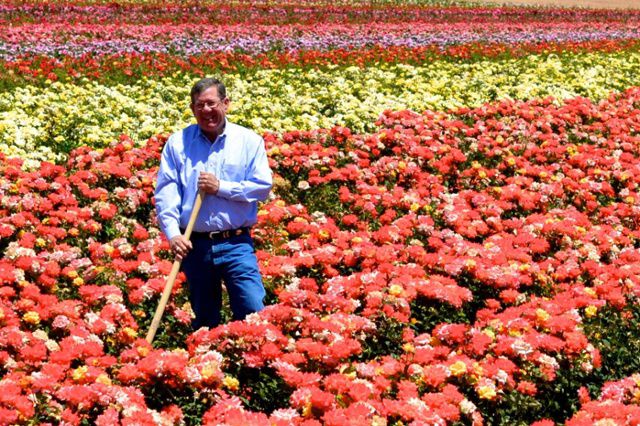 Arizona Farm Bureau member Michael Francis is running for the Central Arizona Water Conservation District, which will be on the ballot during the November 8th election. A native Arizonan, Michael's vast fields of roses can be seen around Luke Air Force Base.
With over two decades of experience farming roses and other crops in the desert, I fully understand the importance of targeted, managed water use, and the CAP would benefit from my insight on water conservation. Also, Arizona agriculture is a $17.1 billion dollar industry and is therefore an important component of the state's economy and deserves a voice on the board.
To best serve the community, the board needs to focus its efforts on the following, and if I am elected, I will promote these objectives.
Protect our water supply. By importing water from the Colorado River, Arizona is able to conserve precious groundwater resources. Under current conditions there is a significant probability of water shortage, but California forced Arizona to be a junior-right holder in order to collect the $4 billion necessary to build the CAP canal. If there's a shortage, Arizona will take first reductions, without California losing a drop.
Protect the Navajo Generating Station (NGS). NGS provides 90% of the power needed to pump water through the canal and is the CAP's largest source of income. Since property taxes are currently at the highest rate allowed by law, the CAP must protect other sources of income in order to meet its financial obligations. The federal loan that helped build the canal has a $1.1 billion balance, so NGS is critical to CAP's success. One primary area of concern is environmental regulation. The EPA is forcing NGS to close one of three coal-fired power plants by 2020 and may impose legislation that will make NGS uneconomical to operate. While environmental preservation is critical, the EPA doesn't always offer the best solutions. For example, the EPA has proposed a rule that would cost NGS $1.1 billion in technology and equipment, but the CAP is part of a group, which has developed two alternatives—both of which are more affordable and lowers emission greater than the EPA's proposed rule.
Water Conservation. The CPA must send a clear message that we live in a desert and must conserve this precious resource. We cannot operate without water, so we must advance water management techniques to help sustain the agriculture industry.
Thank you and remember, if you vote for Jennifer Brown, Mark Lewis and myself, Michael Francis, everything will come up roses.