10 Reasons to Join Arizona Farm Bureau's Webinar Wednesdays Series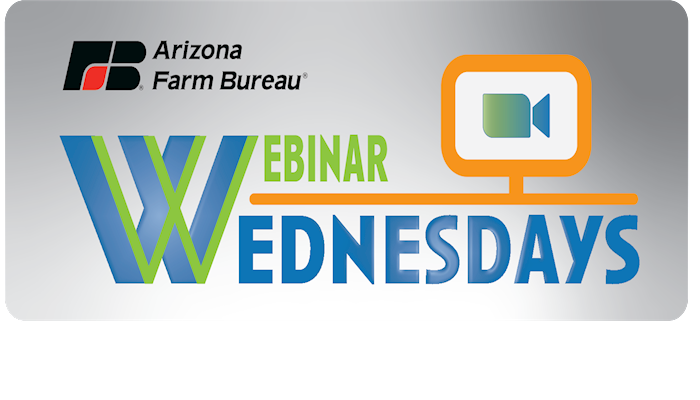 Every year, Arizona Farm Bureau provides a solid lineup of workshops, speakers, and presentations for our members at our annual meeting. Even though our physical meetings have been abbreviated to account for COVID precautions, our extra educational and informational content has not. This means we have even more business, leadership, and industry development workshops coming your way for the next several weeks beginning Wednesday, November 4th!
Every Wednesday between November 4 and December 16, we'll bring you live virtual workshops covering all the topics you're used to seeing at our Annual Meeting. With a dynamic keynote speaker, an address from President Smallhouse, an update from Farm Bureau Financial Services, a panel on water, and so much more, you'll have the chance to tune in live as we update you on all you need to know about the Arizona agriculture industry as we round the corner into 2021. You simply have to register.
Plus, since we're virtual we can extend an opportunity to all our members, at no cost! Anyone is welcome to participate in the series that runs through December 16 th. Our dynamic list of presenters has also agreed to hold live Q&A sessions at the end of each presentation, so you'll be able to ask your questions in real-time. (But don't worry if you can't log on at the scheduled time – we'll record these so you can watch at your convenience, too!)
And did we mention: it's all free? All thanks to our partner sponsors for the lineup, including Farm Bureau Financial Services, Kimberly Clark , Arizona Ford Dealers and Sanderson Ford .
Registration is now open to anyone interested… and here are 10 reasons why you should register today!
We just said it, but we'll say it again, they're free .
They are every Wednesday for the next 6 weeks , so it's easy to remember when to log on. (We will take a break the week of Thanksgiving, though.)
The topics address issues important to the agriculture and business communities .
We tap into leading experts in all areas and have a variety of speakers to keep you engaged and focused.
The Q&A period of each webinar is live and gives you direct access to our presenters for important questions.
Miss the specific webinar? All of them will be taped and on azfb.org for you to view later.
Registration is Easy on the events page of www.azfb.org. Or, simply select this link to go directly to registration.
Using our unique hashtag, #azfbwebinarwednesday you can engage in conversation with other Farm Bureau members across the state who are watching the very same webinars.
Topics have been vetted by our state staff and our Farm Bureau leaders to bring to you what matters to you.
We'll get to hang out with you!
Below is the schedule of Webinars:
Webinar Wednesday Lineup
November 4 th
10:00 – Livestock Markets Working Group Report: Scott Bennett and Michael Nepveux, AFBF
12:00 – Game Cams, Livestock Loss, and More: An Update from Arizona Game and Fish
November 11 th
10:00 – Arizona Farm Bureau President's Report and Welcome
11:00 – Understanding Modern Consumers, Navigating Skepticism, Confusion and Clutter with Steve Lerch, Keynote Speaker (Partner sponsored with Farm Bureau Financial Services.)
November 18 th
10:00 – What to Expect from Washington, DC: Federal Election Update with Copper State Consulting
12:00 – The Red/Blue Perspective: State Elections Update and Legislative Forecast with Veridus, LLC
December 2 nd
10:00 – Farm Markets Update from AFBF
12:00 – Current State of Trade from AFBF
December 9 th
10:00 – Communicating Animal Care with Candance Croney
12:00 – Groundwater Issues Panel: Navigating What Comes Next
December 16 th
10:00 – Making the Most out of your Farm Service Agency
12:00 – Protecting Futures & Livelihoods: What's New with Farm Bureau Financial Services
Join Our Family