11 Reasons to Attend Arizona's Women in Agriculture Conference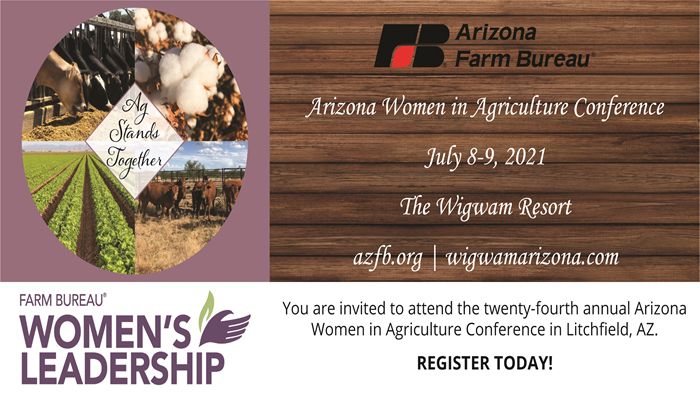 It's time to register for the 24th annual Women in Agriculture Conference that will be held at the Wigwam Resort, July 8 and 9, this year's theme is Ag Stands Together!
Why should you attend the conference this year?  Here are 11 good reasons.
Location, location, location

! Deeply entwined with Arizona history since 1929, The Wigwam welcomes you to come make a little history of your own. Stretching over 440 lushly landscaped acres, our elegantly crafted adobe-and-timber luxury resort provides a rich palette of experiences to suit your every occasion-whether business, romance, relaxation or rollicking family fun.

Activities

 for everyone in the Family: From pools with water slides and lawn games the Wigwam has entertainment for everyone from kids to kids at heart!

Free from Conflict

. The July dates for this conference don't conflict with FFA or the Summer Ag Institute activities. 

Enjoy music and great conversation on the Patio

. 

Thursday night the Women's Leadership committee invites you to relax with them on the patio of the Wigwam and enjoy live music and the company of your fellow Women in Ag!

Networking

. There is plenty of time to relax and network with your fellow Aggies. Plus, you can make new friends.
Meet the Keynote

. Michele Payn of Cause Matters shows us how to handle food bullies! Take Food Bullying by the Horns:  Michele Payn will illustrate the impact of the $5.75 trillion food business and how it controls your future. Food bullying has become a trend that is taking away choice on farms and ranches across the world while changing perceptions about farming.

  
Tailgate Conversations-

 The Consumer Experience. Join us on the tailgate as we visit with a diverse panel of consumers.  Let's sit together and learn as they share their experiences, challenges & successes in their food choices.   

Your Just Desserts

. Enjoy homemade fruit cobbler and ice cream from the Arizona Milk Producers!

Anyone's Welcome

. The educational conference encourages young and old, male and female and all segments of agriculture. 

A Farmer's Market Experience. 

Take a trip with us through our Farmer's Market and learn about new and interesting products that are produced right here in Arizona.

It's Inspirational and Encouraging

: One 2019 conference attendee said, "I have attended the conference each year for the past 11 years and I always learn something to apply to both my personal and professional life." Another attendee said, "I've been to 7 or 8 and each time it gets better!"
To register for the conference go to www.azfb.org, then click on the AG Stands Together theme photo. If you need more information, contact Christy Davis at 480.635.3615 or christydavis@azfb.org. 
WLC Registration Form 2021 email.pdf
Link for Wigwam Resort- Women in Agriculture 2021 Conference
Reserve your hotel by June 18, 2021, receive the special group rate. 
Event Registration