2021 Lifetime Service to Farm Bureau Awarded to the McGibbon Family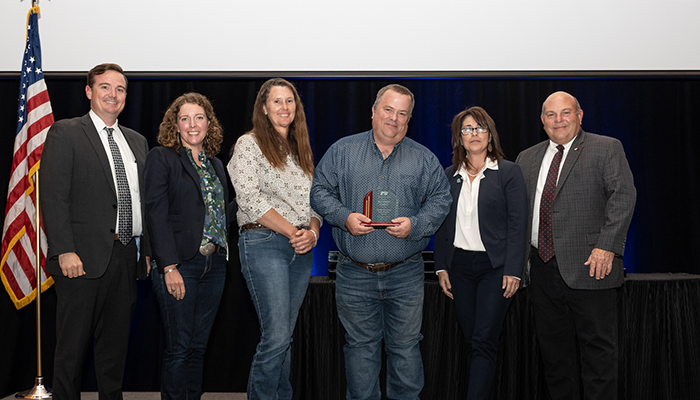 In November, Arizona Farm Bureau (AZFB) presented the McGibbon family of Pima & Santa Cruz counties the Lifetime Service to Farm Bureau award during its 100th Annual Meeting. The recipients of this award have shown longstanding service to Arizona agriculture and have made significant contributions to Arizona Farm Bureau.
The McGibbon family of the Santa Rita Ranch moved to Arizona from the Midwest after purchasing the Santa Rita in the late 1960s. Currently, the McGibbon's run a Red Angus cow-calf and seed stock operation. The McGibbons also assist with the University of Arizona's Santa Rita Experimental Range (SRER). 
Active Pima & Santa Cruz County board members that regularly participate in grassroots advocacy in addition to providing agricultural education opportunities via AZFB, The McGibbon family seem to always find gaps in service that need filling. In 2006, several members in Pima County were unhappy with the county leadership that was in place. The McGibbons were part of a group that organized and stepped up to the plate to take an active role in the Pima County Farm Bureau. Finding time to take on another commitment is always a challenge, and they rose to the occasion. AZFB has provided a way for the McGibbon's to advocate for agriculture, their values and share issues on a county and statewide platform.
The McGibbon's have always been heavily involved in advocating for agriculture. Bill McGibbon ran for office to advocate for agriculture, serving in the Arizona House of Representatives from January 1993 through January 2001. While his role was not directly with Farm Bureau, there are limited Arizona representatives with agriculture ties. His involvement with Arizona politics helped advocate for AZFB policies and agriculture interests. He focused on advancing education reform, accountability, and rural, natural resource, and state sovereignty issues.
Nancy McGibbon cofounded Therapeutic Riding of Tucson (TROT) in 1974 as an alternative to traditional therapy approaches to individuals with disabilities. It was one of the first programs of its kind in the US. Additionally, she was a founding member of the American Hippotherapy Association and served as the first president from 1992-1997. 
Bill and Nancy's son, Drew, and his wife, Micaela, run the Santa Rita Ranch and are active Pima & Santa Cruz County Farm Bureau board members. They are also heavily involved in agricultural outreach through various other venues. Drew serves on the Pima Natural Resources Conservation District board and is the Continental Elementary School District Board president. 
They share the position of secretary/treasurer for the Southern Arizona Cattlemen's Protective Association. Micaela, who also grew up ranching, shares agriculture's story through her 4-H leadership. The McGibbon's have also hosted Ranch Days at the Santa Rita, designed to educate the public about the importance of ranching and to conserve the landscape. The McGibbon's are also raising Santa Rita's fourth generation of McGibbon's. Izzy, Cora, Tessa, and Liam are heavily steeped in their ranching heritage and involved in 4-H.