2022 Ag Communicator of the Year: Jon Dinsmore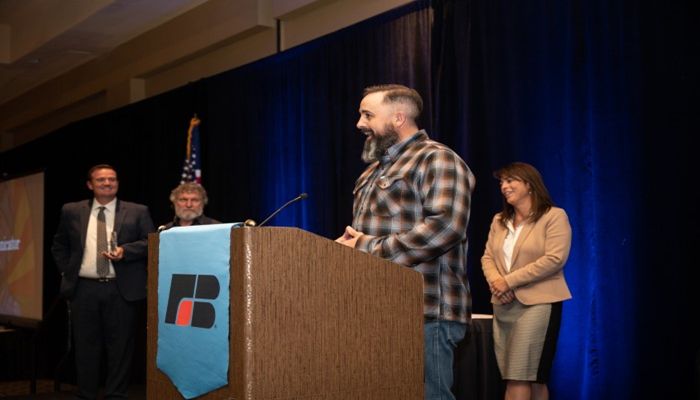 Last year, Yuma farmer Jonathan Dinsmore's TikTok account exploded with likes and followers. But before we tell you why and how first know that Dinsmore is one of Arizona's more prolific social media influencers. He is also Arizona Farm Bureau's 2022 Ag Communicator of the Year.
A Yuma native, Jon Dinsmore, along with his family, owns and operates Dinsmore Farms. Between farming, family and community engagement, you can find this young farmer also engaging on social media to tell his personal agriculture story and even help followers understand Arizona farming.
In the farming community, many are already familiar with Dinsmore's beautiful photos highlighting the many facets of Yuma agriculture. Jon has also used drones to create amazing aerial images and videos of agricultural practices and systems in action. His photos and videos along with attention-grabbing captions have been shared far and wide on social media platforms like Facebook, Twitter, and Instagram. On Instagram alone, Jon has nearly 10,800 followers. 
Managing his social media presence for several years now, he's known better to his followers as @TheFarmerJon. He's always been willing to engage with those who comment on his posts and does so in a positive, engaging and sometimes humorous manner. Late last year, many commenters on Jon's TikTok videos began debating whether the lettuce fields in the background were real or a green screen, Jon leaned into the concept and began setting up his shots specifically to create this effect. 
The idea worked and the ensuing videos went viral bringing a lot of attention to Yuma agriculture, specifically produce farming. Jon now has over 337,000 followers on TikTok and has generated 12.3 million "likes." Additionally, Jon began using the hashtag "#GreenScreenFarmer," which had never been used before 2021. The hashtag has been linked to 40 or so of Jon's videos and has been viewed 86.5 million times. 
Jon's intentional presence on social media sharing images, videos and anecdotes about his experience farming has showcased Yuma agriculture to a wide and diverse audience. Very few people, in particular farmers, are willing to be in the public eye. Thank you, Jon, for the time you commit to promoting Yuma agriculture.