A Conversation about How to Celebrate Arizona Wine
Prior to embarking on a new adventure in the world of wine, Valeree Halsey Ibarra was an international business development consultant, working with government agencies and the private sector in Canada, the U.S., and Mexico. In 2005, she decided to follow her passion for food and wine earning her sommelier diploma. Halsey Ibarra has extensive experience in the planning and production of TAPAS (Tempranillo Advocates Producers and Amigos Society) events in San Francisco as well as several events here in Arizona.
Originally from Canada and fluent in Spanish and Dutch, Halsey Ibarra has been part of a variety of associations. She has extensive experience in the planning and production of TAPAS Grand Tasting events in San Francisco as well as several events for the Arizona Wine Growers Association, Wine Competition (2009) and Festival at the Farm (2010) and the Arizona Vignerons Alliance (AZVA) – Certification Tasting Panels.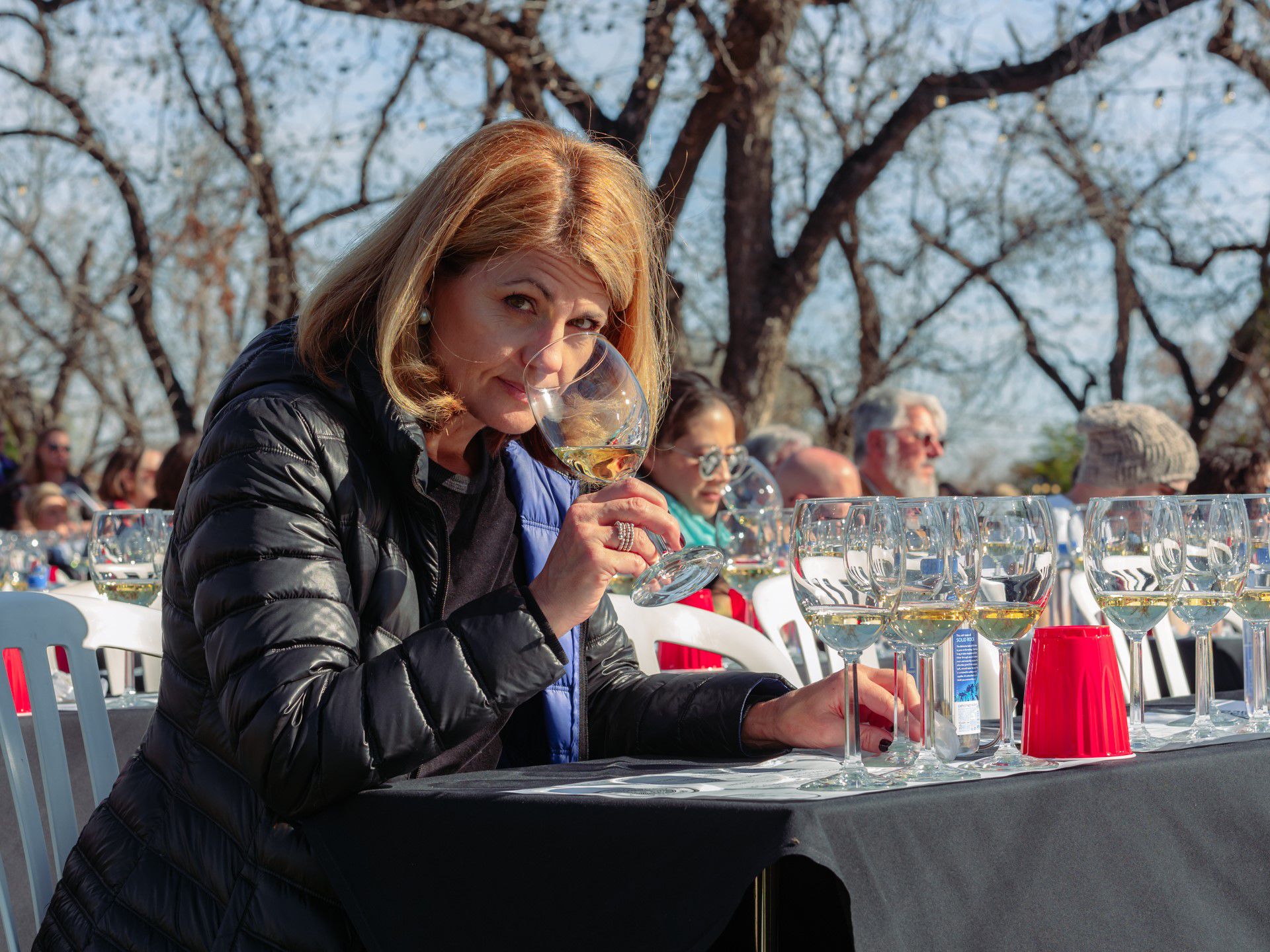 Arizona Sommelier Valeree Halsey Ibarra suggests, "talking with a wine steward at your favorite retail stores or restaurants and have them suggest or guide your purchasing decisions based on your preferences and what kind of wine you gravitate towards."
With her love for food and wine, Halsey Ibarra made a point to make her interest in wine certifiable. She has her International Sommelier Guild (ISG) Diploma, Sommelier, the Sommelier Guild - Wine Fundamentals Certificate Level 1 & 2, and the Culinary Institute of America, Career Discovery: The Professional World of Wine.
We met a few years back at the first AZVA event in Arizona and I was intrigued by Halsey Ibarra's insights on wine and food and especially what she believes Arizona wine brings to the mix. Since then, I've learned so much more about good wine and the potential of Arizona's wine industry has in this great state.
And since so many of my farmers and ranchers told me during our "Taste of Arizona" during last November's Annual Meeting that they actually wanted to be a bit more familiar with wine, I immediately thought of Valeree. Here, she gives insight on how Arizona's wine ranks quite well, along with the more established wine regions of the world.
Arizona Agriculture: What got you so interested in wine?
Halsey Ibarra: I love wine and I am passionate about it! But I guess my journey to wine first started with food. I love to cook and experiment with recipes and ethnic cuisines. The more I cooked the more I wondered how wine fit into the equation. At a certain point, I imagined there had to be much more to this food and wine experience. I thought I needed to explore beyond a typical cabernet or merlot. There is something quite magical about tasting a glass of wine on its own and then pairing it with the right food. When you make that match, it's heavenly.
Arizona Agriculture: And, you're a certified sommelier some would call a wine steward. What made you pursue this?
Halsey Ibarra: One day as I was reading a Bon Appétit magazine and I saw a very small ad: if you love wine but don't know how food and wine go together, take our course. So, I enrolled in a week-long immersion at the Culinary Institute of America in the Napa Valley. What an incredible place to start this journey! I was scared I wouldn't fit in or understand what they were talking about, but I was so excited to branch out into something completely different. One thing led to another and I was hooked. The International Sommelier Guild was conducting classes at the Art Institute in Phoenix, so I enrolled in Level One, then Level Two and much to my surprise I ended up completing my Sommelier diploma. The focus of this program is not just wine, but the food and wine component and how they are intricately meshed. Also, I didn't realize when I started that studying wine meant that I would learn about the history, geography, geology, climate, and languages in wine regions. This also appealed to me as I love all those subjects and speak Spanish and Dutch with a decent understanding of French. Today, I spend most of my time on the event management, wine tasting and marketing side of the business. That is what I enjoy and where I feel happiest.
Arizona Agriculture: You've lived all over North America and Europe. What makes Arizona wine special, or at least interesting from your perspective?
Halsey Ibarra: One of the things that contribute to quality wine in Arizona is the diurnal temperature variation or how the temperatures heat up and cool down over the course of a day. The acidity levels in the grapes remain relatively high which gives balance and allows for real freshness and age-ability in the wine. The selection of wine produced in Arizona is amazing, from sparkling, rosé, white to bold reds and everything in between and even dessert wines. There is a wine here for all palates and occasions and we're working on spreading the word. The other, and perhaps most important thing, is the quality and talent of winemakers here in the state.
Arizona Agriculture: Hoping you say Arizona wine is your favorite … but, what's your next favorite wine region and why?
Halsey Ibarra: I have been very fortunate in that the two places I call home are fantastic wine producing regions. British Columbia, specifically the Okanagan Valley, produces amazing wine as does Arizona and in both places, I have the luxury of drinking excellent local wines. It just makes sense to eat and drink local and support locally produced products. That doesn't mean I don't explore some of the classic wine regions though! Spain would be my next favorite wine region, having very similar climates and growing conditions, with Tempranillo and Garnacha (Grenache) being some of my favorite reds and Albariño and Viognier being favorite whites.
Arizona Agriculture: What should Arizona consumers do to get what they really want in an Arizona wine?
Halsey Ibarra: I believe that the supply of excellent Arizona wine will continue to grow. There are new wineries coming on board with really excellent talent in winemaking. When the vines mature after a few years, the complexity of the wine really shows through. As a consumer, I always suggest talking with a wine steward at your favorite retail stores or restaurants and have them suggest or guide your purchasing decisions based on your preferences and what kind of wine you gravitate towards. After you've nailed down a few favorites then go exploring. The three major wine regions in the state, Sonoita, Verde Valley, and Willcox have wineries and tasting rooms relatively close together, so make a day of it or even a weekend wine tasting adventure.
Arizona Agriculture: And, on that point, what's the best advice as a sommelier that you can give someone trying to develop a taste for wine. Or, give wine more of a chance?
Halsey Ibarra: When approaching wine and talking with a wine professional it's important to just say what you like or don't like about the wine. Don't be intimidated by wine speak. Those terms can and will come later but think about what the wine does in your mouth. For example, when we talk about the body or fullness of the wine, think about milk, from skim to whole, it feels and tastes differently in your mouth. It's the same with wine, there are light and full-bodied wines. For example, last weekend at our Grand Tasting event, someone asked me to recommend a wine that replaced the beef that she ate very little of. She wanted a big beefy red. I love that! Comparing a glass of wine to a food group! Wine tasting is a very sensory experience and unique to each individual. The more you taste, the more you will develop a palate for what you like. Wine can be serious or fun. It depends on how you want to approach it. Make it yours and you will enjoy it.
Arizona Agriculture: Talk about our wine growers that you know. What makes them special in your eyes?
Halsey Ibarra: Arizona is a relative newcomer to the wine regions of the world. The first question I am always asked wherever I travel is, "Arizona makes wine? Isn't it too hot!" We need to continue educating the general public on what is happening here, and it is happening in a serious way. Our winemakers are talented, dedicated and eager to try new things and push the boundaries. They are open to sharing their experiences with other winemakers, both their successes and failures.
Arizona Agriculture: Do you have any unique marketing advice to give to our wine growers?
Halsey Ibarra: I would suggest to new wine growers to find their own identity. Take advantage of Arizona and what it offers with its unique microclimates, soils, and temperatures. The grapes that grow the best in our regions will also make the best wine as wine is largely made in the vineyard and only completed in the winery.
One of the things I love about the wine industry is that it has such a rich history. I'm very fortunate that I took the leap and got involved here in Arizona. There is such a pioneering attitude here, kind of Zane Grey-wild west atmosphere influenced by the early Spanish Jesuit priests who planted vineyards in the 16th century. The industry keeps evolving and there are new wineries being added all the time. The people I have met and the relationships that I've made are very special. And, to top it all off, at the end my day, I get to enjoy an amazing glass of Arizona wine!
Editor's Note : This article originally appeared in the February 2019 issue of Arizona Agriculture. Many of our winemakers that happen to be members of Farm Bureau, encourage the wine industry to also consider the Arizona Wine Growers Association. As my father, Pat Murphree, once said, "We belong to commodity-specific organizations and Farm Bureau both because of the breadth and depth of what these organizations offer the industry."
Join Our Family