A Conversation about Water Strategy in Pinal County: Bryan Hartman
By Julie Murphree, Arizona Farm Bureau: Thanks to strategic planning by our farming forefathers, MSIDD and many Arizona irrigation districts possess the infrastructure and technology to effectively manage agriculture water in both times of scarcity and times of plenty. This article below first appeared in the August 2015 issue of Arizona Agriculture. We republish it here in its entirety.
Knowing the west's water challenges and certainly Arizona's water concerns, I was prompted to ask long-time friend and fellow Pinal County farm kid, Bryan Hartman, how his area was going to handle the expected "call on the river" recently during a social gathering. Since Hartman is current president of the Maricopa Stanfield Irrigation and Drainage District (MSIDD), created in 1962 for the purpose of providing irrigation water for agricultural use in the area, I was certain he'd have an opinion. In his familiar persuasive, mild-tempered tone he said, "Julie, we're going to do fine."
Director of the Maricopa Economic Development Alliance and a principal of the Santa Cruz Ranch Partnership, Hartman is a fourth-generation farmer who assumed the mantle of the family farming tradition during young adulthood. As a principal in the Santa Cruz Ranch Partnership, Hartman is responsible for the management of a 2,000-acre farm operation whose major crops include alfalfa, corn, cotton and sorghum. In addition, he is the owner of the C Spear Ranch, located in Benson, Arizona, where primary operations are comprised of pasture crops and a cow calf operation. Previously, Hartman was manager of the Hartman Ranch Partnership, consisting of his family's original homestead and farming operations.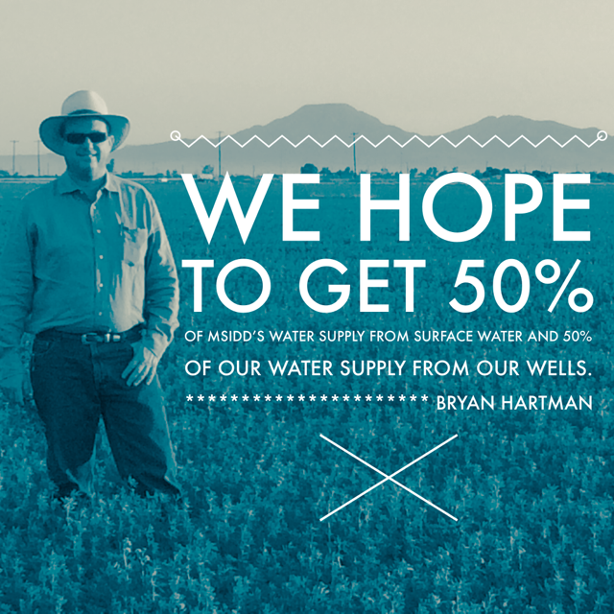 Serving on several boards at the local, regional and state levels, his leadership as MSIDD president allows him to work with a dedicated board and staff to manage MSIDD's system of more than 200 miles of distribution facilities, which includes delivering surface water from the Central Arizona Project as well as water from wells that are operated and maintained by the district. In addition, he serves as Vice Chairman of the Electrical District No. 3 Board of Directors. Former Arizona Governor Jane Hull appointed Hartman to serve on the Best Management Practices for Irrigation Committee, and he served on the University of Arizona's Farm Board.
With a Bachelor of Science in General Agriculture from the University of Arizona, Hartman and his wife, Mary, and their four sons reside in Maricopa.
In this context, I sat down with him to more fully understand what MSIDD and other irrigation districts are doing to manage Arizona's precious water resource.
Arizona Agriculture: What's Happening in Pinal County and MSIDD? In other words, since there is an expected Colorado River water shortage declaration, how are farmers preparing for the shortage?
Hartman: We've been planning for this as far back as the 2004 Arizona Water Settlement Act. In 2017 our surface water will be reduced anyway. CAP's [Central Arizona Project] agriculture pool is 400,000 acre-feet. That's what the irrigation districts in central Arizona got in return for giving up their subcontract water. Of the 400,000 acre-feet of CAP water, MSIDD farmers get 27%. So, we get 110,000 acre-feet of CAP surface water per year to grow crops in MSIDD. In 2017, because of the way the settlement agreement worked out – planning for fewer farmers due to development – a scheduled decrease of 25% will occur. So instead of 110,000 acre-feet, that becomes around 80,000 acre-feet; and that's under a no-shortage situation. In total, MSIDD provides almost 300,000 acre-feet per year to the area's landowners and farmers. We provide the rest of the water from our irrigation wells located throughout the district that are leased by MSIDD until 2030 from the landowners.
My point is, we've already been preparing for a reduction in Central Arizona Project surface water for farming in this area. We have a lot of dairies in the area now and our crop mix has changed from cotton to alfalfa and corn and sorghum.
As a result, we've been revamping dormant wells - fixing the wells – for some time now. In the last two years we've gotten even more aggressive because of a chance for a shortage declared on the river by the Bureau of Reclamation.
In Maricopa and Stanfield we have 278 irrigation wells that have potential production capabilities. Of those, more than 139 are currently ready to operate. MSIDD has more than 180 miles of canal system to move water anywhere in the district.
The MSIDD staff is sleeping and breathing this every day to be ready and we feel we'll be where we need to be to have enough wells online for irrigation requirements. In the next year's budget, we'll have the potential to deliver and sell 171,000 plus-acre-feet of ground water. Our target production in well water is 200,000 acre-feet.
Last year, we delivered and sold 285,000 acre-feet in our district, of which 119,000 was ground water, about 121,000 was CAP ag pool, and 45,000 was recharge water and other miscellaneous surface water that came available.
Arizona Agriculture: Having shifted away from cotton to alfalfa and other crops, can we reconcile all the agriculture water needs?
Hartman: Alfalfa is our most profitable crop and while it may take more water than even cotton we factor that in. We budget by setting aside some fallow ground. For example, a farmer might have 1,000 acres but he's only planting 50% of it in alfalfa. This allows him to have enough water to irrigate his most valuable crops and at the same time maximize the use of his allocation.
Arizona Agriculture: This is a complete reversal from the 1980s, when farmers in the area agreed to turn off the wells and purchase CAP surface water. And while in the last nearly 40 years the ground water has been allowed to recharge, won't pumping for agriculture negatively deplete groundwater supplies similar to what Cochise County is currently experiencing?
Hartman: CAP did its job and is still doing its job. Before the irrigation district was established we were overpumping the area. Groundwater was our only source of irrigation water. The technology has improved also, with level-irrigation basins, drip irrigation and modern sprinkler pivots. Through MSIDD we have an established water district with an elected board and staff which enables us the opportunity to manage the entire area's waters as opposed to individual landowners drilling new wells independently.
CAP has been working over the last 30 years. The groundwater table has come up. The other benefit in our area is that the Ak Chin Indian Community has CAP Colorado River water for perpetuity. They will always have CAP because they are a higher priority than farmers so we'll always have agriculture in some form or fashion in the Maricopa/Stanfield area. Plus, as a result since they'll be using surface water through CAP, instead of well water, they'll always be recharging the groundwater table below our area.
Additionally, the Gila River Indian Community [GRIC] has been leasing surface water to MSIDD which allows recharge, benefiting GRIC as well because the water naturally flows to their lands underground.
Arizona Agriculture: This water dance between management and use, sounds like the potential to farm in Pinal County looks fairly bright partly because less land will actually be farmed.
Hartman: Yes. While it's sad to see farmland go to development, you also have to look at it in terms of land going to best and highest use or value. While we may be biased and see it as a bad thing to lose farms to development, you also have to think of what makes sense business-wise to the individual landowner or family.
As long as farming is profitable, we'll plan to stay in business as long as possible and as long as we have water available.
The other thing most people don't realize is that Arizona is prepared. Water has always been the most critical factor for farmers in Arizona. When the Spanish came here they named it Arizona: Arid Zone. We're used to being as efficient as possible. With the technology and the wells and the remaining allotment of surface water, I believe there will always be farming here especially if people want and desire to farm.
Arizona Agriculture: What has been MSIDD's investment in rehabilitating these wells.
Hartman: It's a lot of money (chuckling). We're refurbishing as many wells as we can afford to. It will be in the millions before we're done. The cost of a simple repair job on a well, the low end is $30,000. On the high end it's $100,000. If we know the well is a top producer we could go as high as $200,000.
Wells out here were 400 to 1,000 feet. A lot of the wells we're rehabilitating are drilled to 800 feet, some as much as 1,000.
If we could get half of our water supply from surface and half of our water supply from our wells, life would be good. We could do well. It would be good if we did not have to go over 50% water use from well production.
It's critical that the district talk to our stakeholders to partner in the effort to maximize our water management. For example, talking with our Gila River Indian Community partner in continuing our leasing agreement. Also, it's really important that we continue to partner with the cities and private water companies.
In Arizona, agriculture is very efficient in water use and management. We were some of the first in the country to use land leveling technology for basin irrigation, a technology that dramatically reduced water use per acre. And, where most appropriate putting in drip, pivots and any other technologies that allow us to make the use of water more efficient. Arizona's climate allows us to be some of the highest producing farmers on the globe.
We are concerned about the Colorado River water shortage. You always wonder how bad a drought can get. As one of my U of A professors once said, "The Arizona desert is in a perpetual drought followed by periodic times of flooding." But, we know how to manage under a 15-year drought. Farmers in the desert know how to handle drought. Plus, we've seen floods. So we have learned to anticipate times of little water and times of too much. That's the beauty of our system, our forefathers foresaw these challenges and knew we'd have to manage this precious resource.
Arizona Agriculture: So, you're confident what crops you've budgeted and planned for in Pinal County will have enough water to grow?
Hartman: Yes. Looking into next year, depending on what the irrigation district allots us, I may have to grow less corn and less silage milo because that's an annual crop and I may have to use that water for alfalfa, which is more like a four- or five-year crop. But each farmer will have a different plan depending on what their crop mix requires.
Arizona Agriculture: How is the irrigation district paying for the refurbishing of these pumps?
Hartman: We are using our reserves and considering borrowing money in the near future. Also, our electrical district is assisting under a federally-approved energy efficiency program since it sells the electricity to the wells.
The beauty of MSIDD and others is that we have the infrastructure built here because of our forefathers and all those that helped build CAP, we can rehab these wells that have basically been allowed to be moth balled and sit and we can distribute this water to the canal system and make water available to all the growers. It's a very cooperative district where we're all working together; we're partners.
Editor's Note: This conversation and others is part of our ongoing conversation with stakeholders in Arizona's continuing water management and planning effort.