Advances in Water Technology Reduce Ag Water Use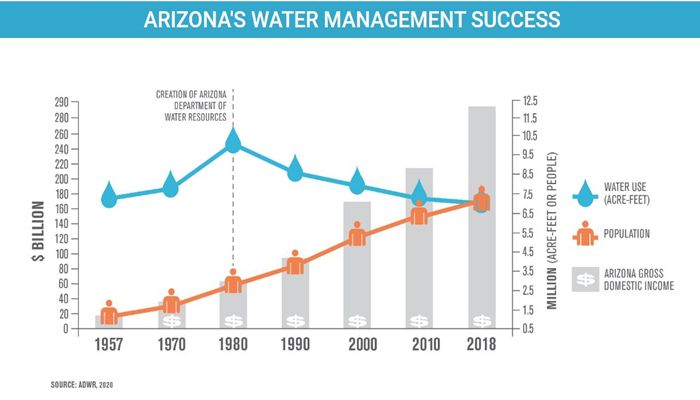 Arizona's farming and ranching industry is an extremely efficient water user, in addition to the state's success in water management in general. For example, while Arizona's population has increased, our acre-feet of water use have decreased since 1980, according to the Arizona Department of Water Resources. 
The best method of irrigation depends on a variety of factors including soil type, region of the state, and more. In other words, not all soil types are conducive to drip irrigation, one of the most efficient methods of watering farm crops. 
As a result, technology (both existing and yet to exist) will play a key role in saving water while keeping farms and ranches in business.
Over the last three decades, ag water withdrawals have fallen by 35% in Arizona. Urban withdrawals have increased by 68%, also according to the Arizona Department of Water Resources. Obviously, most of this shift results from farmland moving to development.
The Top Water Reducing Technologies include …
Drip

Sprinkler
Soil Monitors
Flood Irrigation
Seed Technology that includes breeding for drought resistance

Crop Rotation
You can rest assured that Arizona Farmers and ranchers are working to make every drop per crop matter. Beyond preserving this important natural resource, it also means farmers, with the latest tools, can reduce the cost of water. 
To understand more, check out this water video and this one about how water makes us thrive in more ways than one.