AgPAC Announces Endorsements for 2020 General Election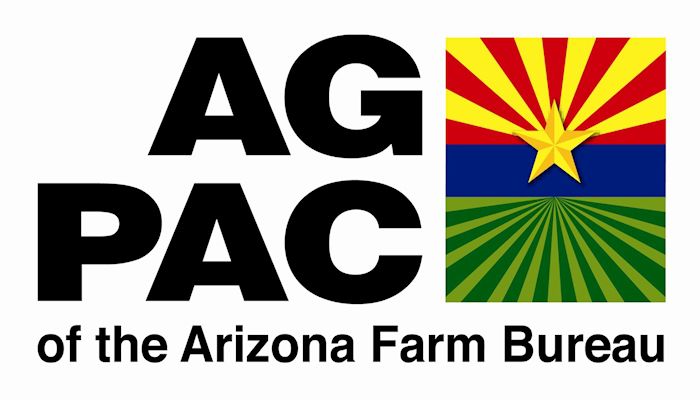 Today, AgPAC of the Arizona Farm Bureau announced its endorsement of candidates running for positions in the Arizona State Senate and Arizona House of Representatives.
AgPAC Chairwoman Sherry Saylor issued the following statement:
"As Arizona Agriculture's Political Action Committee, AgPAC of the Arizona Farm Bureau is committed to promoting and supporting candidates who support the polices of the Arizona Farm Bureau. The candidates we endorse today have proven their commitment to preserving agriculture's access to water and protecting private property rights. If elected in November, we look forward to working with each of them toward a more prosperous future for Arizona agriculture."
Arizona State Senate
Karen Fann, LD1
Lisa Otondo, LD4
Jamescita Peshlakai, LD7
T.J. Shope, LD8
Vince Leach, LD11
Warren Petersen, LD12
Sine Kerr, LD13
David Gowan, LD14
Nancy Barto, LD15
J.D. Mesnard, LD17
Sean Bowie, LD18
Lupe Contreras, LD19
Rick Gray, LD21
David Livingston, LD22
Kate Brophy-McGee, LD23
Lela Alston, LD24
Tyler Pace, LD25
Rebecca Rios, LD27
Kate Brophy-McGee, LD

Arizona House of Representatives
Judy Burgess, LD1
Daniel Hernandez, LD2
Rosanna Gabaldon, LD2
Alma Hernandez, LD3
Joel John, LD4
Leo Biassuci, LD5
Regina Cobb, LD5
Brenda Barton, LD6
Walter Blackman, LD6
Arlando Teller, LD7
Jim Parks, LD7
Frank Pratt, LD8
Bret Roberts, LD11
Mark Finchem, LD11
Travis Grantham, LD12
Tim Dunn, LD13
Joanne Osborne, LD13
Becky Nutt, LD14
Gail Griffin, LD14
Justin Wilmeth, LD15
Jeff Weninger, LD17
Diego Espinoza, LD19
Anthony Kern, LD20
Shawnna Bolick, LD20
Kevin Payne, LD21
Ben Toma, LD22
Frank Carrol, LD22
Rusty Bowers, LD25
Michelle Udall, LD25
Robert Meza, LD30
In addition, AgPAC is proud to endorse the following county and local candidates:
Stephen Miller, Supervisor: Pinal County District 3
Clint Hickman, Supervisor: Maricopa County District 4
Mark Freeman, City Councilman: City of Mesa
Becky Hays Rovey, Town Councilman: Town of Wickenburg
AgPAC was established to provide individuals interested in the future of the agricultural industry a way to contribute to the support of worthy candidates for Arizona's Federal, State, and Local offices. AgPAC raises funds to support the candidates of any party affiliation who are committed to working for the best interests of Arizona agriculture. For more information, visit www.azfb.org/AgPAC.