Arizona Agriculture Finally Gets a Vet School at a Public University
By Julie Murphree, Arizona Farm Bureau: A $9 Million gift to support the University of Arizona's (UA)Veterinary Medical and Surgical Program means veterinary students aiming for their Doctors of Veterinary Medicine may be showing up in Tucson for classes as early as fall semester 2015. Certainly the wait is over and many are to be thanked and congratulated for the effort.
The foundational gift of $9 million from the Kemper and Ethel Marley Foundation will support the state's first public veterinary medical and surgical program to train Doctors of Veterinary Medicine at the University of Arizona. While the program targets a 2015 fall semester launch, The UA College of Agriculture and Life Sciences team has been tirelessly engaged in developing the program to address Arizona's critical veterinary needs, including training more veterinarians, and improving animal and public health for some time. A consultative site visit by the American Veterinary Medical Association occurred in January. A comprehensive AVMA site visit for program accreditation will happen soon.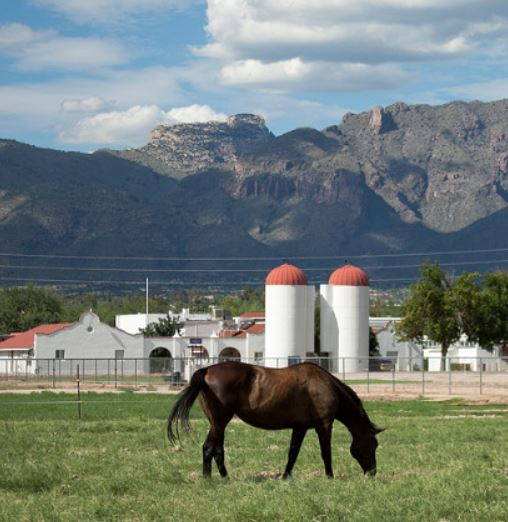 The 160-acre Campus Agricultural Center is the site for the UA Veterinary Medical & Surgical Program (Photo courtesy of UA/Judy A. Davis)
"This program is incredibly important to Arizona, and I thank the Kemper and Ethel Marley Foundation for their generous support," said Ann Weaver Hart, UA president. "This innovative program will help the UA to meet a critical need for veterinarians throughout Arizona, and provide a vital talent base for the state's growing workforce needs."
"Arizona students pay higher costs through non-resident or private tuition, incur more debt and often stay in the practices, or seek employment with the out-of-state veterinary practices and companies where they intern as part of the out-of-state education," said Shane Burgess, vice provost and dean of the UA College of Agriculture and Life Sciences. "We need the smart and dedicated people we train to stay here. Arizona's hard-earned tax dollars need to promote Arizona's future."
An earlier conversation with UA's Shane Burgess highlighted how important to Arizona's economy this program will be in the future.
In the agriculture community, cheers are also being heard. "We applaud the Marley foundation once again for stepping up and supporting an outstanding and needed educational program for Arizona," said Arizona Farm Bureau President Kevin Rogers, cotton wheat and alfalfa farmer in Maricopa County. "The animal agriculture industry in Arizona has needed this new vet program for many years and with Dean Burgess and others at the helm we know it will be revolutionary. The Arizona Farm Bureau is excited to work with this new program and our hats are off thanking the great folks at the Marley Foundation for being there to fund this program."
"Large animal vets put in long, strenuous days and a lot of miles on their trucks," added First Vice President Stefanie Smallhouse, a rancher in southern Arizona. "Plus, we have a shortage of them in Arizona. This vet school will create a greater opportunity in Arizona to fill this need. It's critical for food safety and animal care that ranchers have these vets available when needed. Additionally, Arizona's environment and livestock require that we have vets familiar with our area."
Currently, Arizona students interested in becoming veterinarians must compete for veterinary school admissions at out-of-state institutions, many of which favor resident students. For example, 1,600 applicants competed for 138 seats at Colorado State University. Only 55 of these seats are open to applicants outside Colorado, and just a handful of these are filled by Arizonans.
This gift, which will be counted toward the university's $1.5 billion Arizona NOW campaign, exemplifies the Marley Foundation's goals of backing health and human services, supporting education and advancing medical research and facilities. The Kemper and Ethel Marley Foundation Veterinary Medical and Surgical Program, as the new program will be called, will help address the critical veterinarian shortage in rural Arizona communities and tribal nations, benefit bioscience businesses and promote public health.
"The Marley Foundation gets it," added Rogers. "Even though this new program will benefit the entire state, it's also a big win for rural Arizona."
Arizona Agriculture's Program Designed for Rapid Movement of Vets into the Industry
The program will run year-round so students complete their degrees faster, incur less debt and enter the workforce more rapidly. In what is called a distributive model, the final two semesters will be spent working in private veterinary practices, government agencies or other community partnerships to secure hands-on, real-world learning in communities throughout the state.
Other clinical training partners will include federal and state animal health labs and regulators, U.S. Border Patrol and Homeland Security, and animal shelter and rescue agencies. The UA already has letters of interest from many prospective partners.
Editor's Note: Established in 1990, the Kemper and Ethel Marley Foundation has previously invested in the UA by providing private support for the Marley Building and endowing Project CENTRL, a rural leadership initiative. In 2012, the foundation also made a $4.5 million gift to the UA Foundation to endow a research and extension program in sustainable rangeland stewardship.