Arizona Agriculture Gives 5 Tips for Great Grilling
By Peggy Jo Goodfellow, Arizona Farm Bureau: Anytime is grilling time in the desert southwest! Have you ever noticed that the only thing better than the smell of meat grilling on the barbeque, is eating it? And your favorite meat always tastes better when it's grilled to perfection, right?
Since we're still in the middle of grilling season, it's worth talking about. Several of Arizona Farm Bureau's members have become expert at grilling and barbequing. In fact, one of our members and Yuma County grain and vegetable farmer, Tim Dunn, has turned it into a passion. He and wife, Eileen, just launched BBQ's Dunn, a special sauce for any barbeque enthusiasts.
Says Eileen, "The signature sauce is awesome! Sweet with just enough bite to keep it savory. It is excellent on all meats."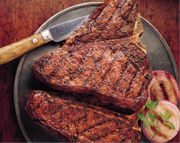 It's time to prepare the grill for some yummy steaks!
Regardless of what sauce you decide to use for your barbeque, it's important to get set up right prior to putting your meat on the grill. I'll bet you didn't know that the first step toward perfection is to prepare your grill.
Here's five helpful tips:
1. Charcoal vs. Gas!
It's the age-old debate over which grilling method is "better." While no study proves that either method is healthier than the other, gas does burn cleaner. From a taste perspective, many people prefer the smokier, richer taste of food cooked on a charcoal grill.
2. Additive-Free
If you choose charcoal grilling, try additive-free lump charcoal, which is actually just charred wood.
3. Get it Hot!
It's best to preheat your grill 15-20 minutes before cooking. This will make sure it reaches the right temperature and will kill any bacteria left from the previous time you used the grilled.
4. Brush it Off
Once the grill has preheated it's the perfect time to remove any debris. Using a long-handled wire grill brush, scrape your grill rack to clean off charred debris from prior meals. Scrape again immediately after use too.
5. Oil the Grill
Even on a clean grill, lean meats can stick when placed directly on the rack. Reduce sticking by oiling your hot grill rack with a vegetable-oil-soaked paper towel. Do not use cooking spray. For safety, hold the oiled paper towel with long-handled tongs and rub it over the rack.
Arizona Farm Bureau's Fill Your Plate has a list of where you can buy locally grown meat, vegetables, fruits and more! Go to www.fillyourplate.org and enjoy!
Join our Family!