Arizona Agriculture Top Leafy Greens Producer in Winter!
By Julie Murphree, Arizona Farm Bureau: Did you know that Arizona agriculture becomes the top producer of leafy greens during the winter months. According to the Arizona Leafy Greens Food Safety Committee, Arizona's leafy greens industry employs more than 20,000 people and generates an estimated $1 billion in financial impacts to our state's economy. Nearly 90% of the leafy greens lettuce consumed in the United States and Canada between the months of November through March is generated right here in Arizona.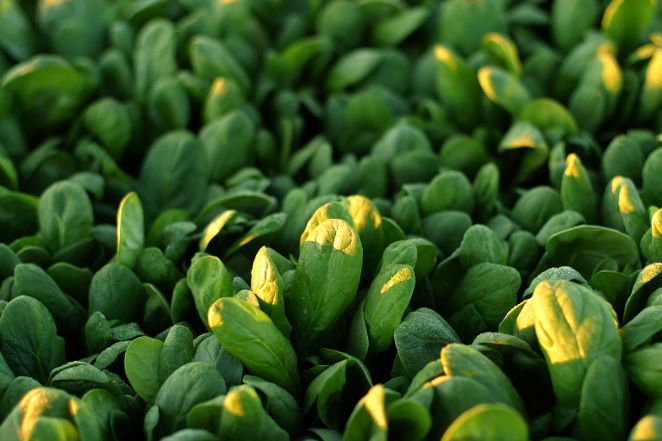 Some Arizona Spinach above ...
So, can you guess Arizona's 15 leafy greens covered by the Arizona Leafy Greens Agreement (AZ LGMA)?
Endive
Escarole
Spring Mix
Cabbage
Romaine Lettuce
Butter Lettuce
Arugula
Iceberg Lettuce
Green Leaf Lettuce
Red Leaf Lettuce
Baby Leaf Lettuce
Spinach
Kale
Chard
Radicchio
Developed in 2007, the AZ LGMA program enforces mandatory good agricultural practices, developed by a panel of industry experts and reviewed by government regulators. This program means you and I can be assured of safe food handling practices in this area.
It's a good time to celebrate what AZ LGMA does for us since November is Arizona Leafy Greens Month! The Arizona Leafy Greens Food Safety Committee and Safeway stores have come together to celebrate the advent of Arizona's lettuce harvest throughout the month of November, marked by a gubernatorial proclamation and messages about the impact that leafy greens vegetables have on our state's economy.
"Those who are embedded in Arizona's lettuce industry realize the importance of our home-grown produce, but many of our state's residents are largely unaware of the impact of leafy greens in Arizona," said Safeway Arizona President Dan Valenzuela. "By partnering with Arizona Leafy Greens we are reinforcing our commitment to boosting Arizona-grown products and educating our shoppers on the importance of this commodity to our state," he added.
Governor Jan Brewer proclaimed the month of November Arizona Leafy Greens Month. The month celebrates the kick off of Arizona's leafy greens season, with abundant growth, harvest and shipments of Arizona-grown lettuce throughout the United States and Canada.
"This is an ideal time to reflect on the fertile ground that Arizona offers, the increased focus on healthy eating, the continued demand for local leafy greens, and the safe practices that help this industry thrive in Arizona," said Arizona Leafy Greens Food Safety Committee Chair Arnott Duncan and produce farmer from Buckeye, Arizona. Duncan is also a member of Arizona Farm Bureau.
Arizona Leafy Greens graphics will be displayed throughout Safeway's 115 Arizona stores, and through recipes and promotions announced on the Arizona Leafy Greens Facebook site.
Although product labels may indicate commodities were shipped from other places, in fact most of the leafy greens products consumed from mid-November through mid-March are grown and harvested in Arizona. Because of the proprietary nature of the grower/shipper relationship, the shipper oversees all marketing and selling of the items, and procures its lettuces from growers in Arizona. Following Arizona's leafy greens season's end in March most of the leafy greens is grown in Salinas, Calif.
Members of the Arizona Leafy Greens Food Safety Committee, a volunteer consortium comprised of 96% of Arizona's shippers and growers, work collaboratively to ensure uniform safe food handling practices are employed throughout the industry. The group represents various leafy greens products grown in Arizona, demonstrating their commitment to maintain safety of lettuces grown in Arizona from field to fork.
The members of Arizona Leafy Greens agree to a rigorous set of standards and practices. Shippers and growers are subject to regular inspections by USDA-certified auditors. The Arizona Leafy Greens Food Safety Committee can impose sanctions on those who are out of compliance.
"It's important to protect this industry not only because of what it contributes to Arizona's economy, but because it's what we're feeding our own families," Duncan said.
A caveat to the produce industry's commitment to safety, even before President Obama signed a new food safety law into effect on January 4th, 2011, Yuma-area farmers had been voluntarily taking steps to ensure the healthy vegetables they produce don't end up being a healthy risk instead.
Not long after an E. coli outbreak of bagged spinach in 2006, California and Arizona each came up with leafy greens marketing agreements that established certain guidelines to prevent contamination in vegetables while growing and processing them. The agreements have served as models for other states.