Arizona Agriculture's 2014 Ag Fest A Great Success!
By Julie Murphree, Arizona Farm Bureau:This year's Arizona Farm Bureau Legislative Agricultural Festival (Ag Fest) yesterday at the Arizona Department of Agriculture drew 57 Arizona Legislators. Additionally, 78 Farm Bureau member leaders were on hand to host their state senators and representatives and introduce them to agricultural products, families and issues from counties throughout Arizona. Special guests including representatives of the various agricultural commodity groups numbered 44 this year.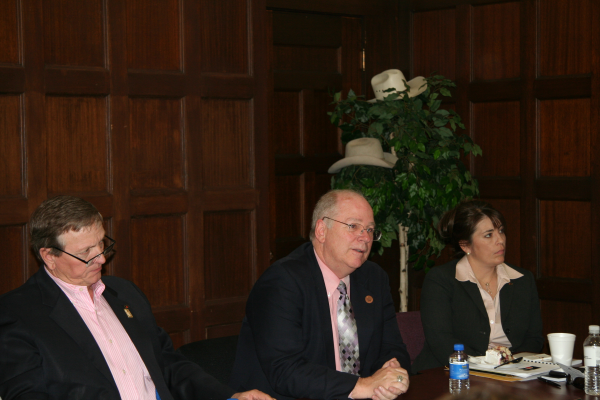 Arizona Farm Bureau President Kevin Rogers (left), House Speaker Andy Tobin (R-Dist 1) and First Vice President Stefanie Smallhouse during our Arizona Farm Bureau Board of Directors meeting prior to Ag Fest. Tobin spoke to the Farm Bureau board for a few minutes about the issues before the 2014 Arizona Legislature. Note the Board room "Hat tree" that suddenly grew some hats during the meeting.
It happens to be one of my favorite events Arizona Farm Bureau hosts, despite the long day and tired feet. I have several reasons for this. They follow.
1. It's one big Arizona agriculture party with the 13 active Farm Bureau counties featuring creative booths about their county's agriculture and food to boot!
2. County Farm Bureau leaders meet up with their state representatives and senators and take them around to the various booths talking about Arizona agriculture and the issues.
3. Spending the day with Arizona's Farmers and Ranchers is a highlight of the event. They're like family so it's like catching up on what's going on in everyone's life.
4. Every time I'm at this event I learn another little tidbit about Arizona agriculture and go away with a myriad of story ideas.
5. It's actually an event that allows us to visit a bit. Sometimes at our various Farm Bureau events we're running around so much like chickens with our heads cut off that we don't have time to visit.
6. It's fun to see our Farm Bureau leaders in action with their legislators talking about one of Arizona's most important industries!
Thanks to our Farm Bureau leaders we're staying engaged with key influencers. Every effort counts. Our businesses and the success of Arizona agriculture depends on it.
Thank you Arizona Department of Agriculture and staff for letting us host the event at your building!