Arizona Agriculture's Water Key to this Desert State
By Julie Murphree, Arizona Farm Bureau: No question that water is vital to our desert state. And when it comes to agriculture and water, our farmers and ranchers will tell you that they know its importance every day.
Arizona Farm Bureau has been on a recent quest to hear from various voices throughout the state on water through a series of conversations.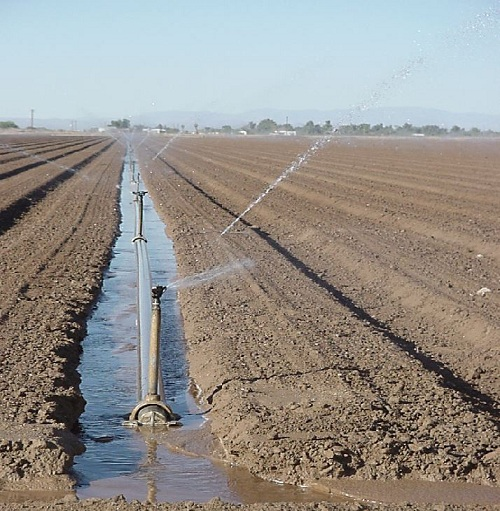 In one recent conversation, Sandy Fabritz-Whitney, Director of the Arizona Department of Water Resources, shares a hopeful perspective on our state's water resource. "There has been so much done throughout Arizona's history to aggressively acquire, secure and protect Arizona's water and get it put to use. I base the future on that same determination. What I see still in Arizona are people who are dedicated to the long-term economic development and security of the state. So, coming at it from that perspective, I'm very hopeful and feel that our future is very promising; not that it's not without its challenges. That same resolve we've previously used to secure and develop water supplies, construct reservoirs and dams that maintain those water supplies and reduce variability, must be applied to our future efforts."
As we continue the conversation about water, we're also talking to our agriculture leaders about their perspective too. Those following the conversation will get to see what the agriculture community is saying about protecting and conserving our water in Arizona.
In the meantime, Arizona Farm Bureau is working with agriculture leaders to hone our water policy and make sure it's representative of our modern-day water management, protection and conversation practices.
Maricopa County Farm Bureau proposed an Ad Hoc committee and put before the delegate body some guiding principles on behalf of committee members. Their motion follows.
Sense of the Delegation:
Maricopa County Farm Bureau moves that the Arizona Farm Bureau Federation form an ad hoc committee to study all Arizona Farm Bureau policies regarding water, with the goal to streamline, organize and make recommendations regarding water policy. This committee will report their work to the County Farm Bureaus of the state in time for consideration during the policy development process that will conclude with the 2014 Arizona Farm Bureau annual meeting.
The work of the committee would be generally guided by the following basic principles:
There is public benefit to preservation of agriculture in urbanizing areas.
Where development occurs, it should be on land having a historical use of water.
New development should pay for its economic costs.
No government policy should be used to interfere with agricultural use of water, as long as a source of water is available.
We support "water augmentation" efforts for communities and watersheds, where those efforts enhance supplies, without negatively impacting another area.
Water transfers should be transparent, consider all community impacts and be subject to local control.
The Department of Water Resources should be adequately funded to meet public expectations and legal obligations.
We need statewide efforts as to water planning, but subject to local community support.
The value of this special committee's efforts cannot be state strongly enough as water is such a vital resource to every community.
The motion passed and next steps will be to form the ad hoc water committee.